BIOWARE AND DARK HORSE COMICS EXPAND AND UNVEIL NEW DRAGON AGE COMIC MINISERIES
05/01/12 @ 1:38 pm EST
Source:
Dark Horse
|
Comments
(0) |
E-mail Article
|
Add a Comment
BioWare, a label of Electronic Arts Inc., and Dark Horse Comics today announced
Dragon Age™: Those Who Speak
,
a three-issue comic miniseries based on the award-winning
Dragon Age™
fiction.
Written by David Gaider, lead writer of the
Dragon Age
series, and Alexander Freed, senior writer for
Star Wars™: The Old Republic
™,
Those Who Speak
expands on the story of King Alistair, as he travels to an empire of evil mages to uncover the fate of his lost father. Accompanied by the pirate captain Isabela and the underworld merchant Varric, King Alistair will stop at nothing to learn the truth, even if it means battling an army of cultists single-handedly. The first issue of
Dragon Age: Those Who Speak
will be available on comic book stands on August 22.
Additionally,
Dragon Age™: The Silent Grove
will be available in a hardcover edition on July 25. Previously available only in the Dark Horse Digital store,
Dragon Age: The Silent Grove
is the perfect companion to the
Dragon Age
universe.
To learn more about
Dragon Age: Those Who Speak
and
Dragon Age: The Silent Grove
, visit
DarkHorse.com
. To learn more about
Dragon Age
, visit
DragonAge.com
.
NEW DETAILS CONNECT ANT-MAN AND CAPTAIN MARVEL IN MARVEL CINEMATIC UNIVERSE
05/25/17 @ 8:35 pm EST
Source:
ComicBook
| Categories:
Marvel
|
Comments
(0) |
E-mail Article
|
Add a Comment
The
Captain Marvel
movie coming from Marvel Studios has revealed minimal details ahead of its production. The film will follow up the titular heroine's introduction in
Avengers: Infinity War
, with Brie Larson in the role under the direction of Anna Boden and Ryan Fleck.
Now, the scientist behind some of the Marvel Cinematic Universe's most detailed and intriguing moments has revealed a connection between
Captain Marvel
and an already released Marvel Studios film:
Ant-Man
. As the story goes, Captain Marvel's powers will be better understood with explanation of the Quantum-verse introduced in
Ant-Man
, according to Dr. Spiros Michalakis, a quantum physicist and staff researcher at the California Institute of Technology.
"This is exciting for the future," Michalakis said. "There are different ways that some of these ideas appear on-screen in a few years. Not just for
Ant-Man
, but also for
Captain Marvel
and all of the Marvel Cinematic Universe."
With the tease of Captain Marvel's powers being explained, the immediate conclusion to jump to is the film telling an origin story. While Michalakis was unable to go into further detail about Captain Marvel, he did tease what it takes to take flight, in the closest thing to terms us non-scientists can wrap our brains around.
"Gravity, as Einstein said, is nothing but the curvature of space-time," Michalakis said. "The curvature of space-time is the curvature of something we call the manifold, like a 4-dimensional structure like the sphere, or a globe. So, if you understand that, and manipulate that, you can change the curvature of space-time. Hence, changing gravity."
MARVEL AVENGERS: SECRET WARS PREMIERE DATE ANNOUNCED
05/25/17 @ 8:31 pm EST
Source:
ComicBook
| Categories:
Marvel
|
Comments
(0) |
E-mail Article
|
Add a Comment
Marvel is kicking off their fourth season of Avengers with a special one-hour premiere, and the anticipated season will take on the events of the popular Secret Wars.
Marvel Avengers: Secret Wars
will pick up immediately after the cliffhanger seen in season three's Ultron Revolution finale this June. On June 2nd Marvel will release six original animated shorts that will set up the new season, followed by the one-hour premiere on Disney XD June 17th.
The shorts will focus on the new members of the team, including Captain Marvel, Black Panther, The Wasp, Ms. Marvel, Vision, and Ant-Man. As for the premiere, Tony is stranded in another dimension, but the team doesn't have much time to figure out how to get him back thanks to an all-new threat that will require the help of the Avengers' new recruits.
X-MEN: NEW MUTANTS REPORTEDLY EYEING TWO STARS FOR MIRAGE
05/25/17 @ 8:28 pm EST
Source:
ComicBook
| Categories:
Marvel
|
Comments
(0) |
E-mail Article
|
Add a Comment
Earlier today, more casting news broke about
X-Men: New Mutants
. The upcoming superhero film is still in development as 20th Century Fox rounds up a stellar cast of up-and-coming talent. Not long ago, reports surfaced that Henry Zaga was cast as the mutant Sunspot. Now, new rumors have hit the Internet which report that two actresses are in the mix to play the X-Men character Mirage.
According to Omega Underground, the site's sources have said that Blu Hunt and True O'Brien are in the mix for Mirage. The first actress is best known for her work on
Originals
whilst the latter is starred in
Days of Our Lives
.
So far, reports are leaning towards Hunt when it comes to Mirage given her recent social media activity. The actress recently followed director Josh Boone, Maisie Williams, Anya Taylor-Joy, and co-writer Knate Lee on Instagram. Boone and Henry Zaga recently followed the actress back as well.
Coincidence?
PATTY JENKINS EXPLAINS HOW THEY WORKED REAL HISTORY INTO WONDER WOMAN
05/25/17 @ 8:24 pm EST
Source:
ComicBook
| Categories:
DC
|
Comments
(0) |
E-mail Article
|
Add a Comment
When watching a comic book adapted into a movie which sees super heros soaring through the air and taking on hundreds of enemies at a time, the thought of how realistic the film is does not often cross viewers' minds.
In Wonder Woman, however, elements of real world history are brought to the big screen with the titular heroine's origin story. She trots through World War I, squashing evil forces along the way, meaning some characters are based on evil men and women from the real world.
For director Patty Jenkins, playing around with true world history was a treat in
Wonder Woman
.
"It was prety incredible because all of the events are very close to what really happened," Jenkins said. "What she ends up being involved in in the story are all kind of the way things really happened. So, it's an alternate version but not by much. It was cool and also incredible to find real evil in our world, the source of real evil which of course, as always, is just an ordinary man with an oridnary belief system that makes sense to him. To make that our great villain was such a wonderful journey."
Video:
https://youtu.be/oYKNQRWIbMM
NEW SPIDER-MAN: HOMECOMING TRAILER SHOWS OFF NEW SUIT & CIVIL WAR FLASHBACKS
05/25/17 @ 8:15 pm EST
Source:
ComicBook
| Categories:
Marvel
|
Comments
(0) |
E-mail Article
|
Add a Comment
Later this summer, Spider-Man will be swinging back into theaters following his appearance in
Captain America: Civil War
. Tom Holland will suit back up as the teenage hero, but the star will be getting one improved suit. Thanks to Tony Stark, the Queens vigilante has enough upgraded tech to take down any run-of-the-mill baddie. And, now, fans can get a better look at the hero's suit in a new trailer.
Trailer:
https://youtu.be/01Fv8ctDthw
ARROW: JOHN BARROWMAN CONFIRMS HE'S DONE WITH THE ARROWVERSE
05/25/17 @ 8:08 pm EST
Source:
ComicBook
| Categories:
DC
|
Comments
(0) |
E-mail Article
|
Add a Comment
Warning! Spoilers for Arrow's season five finale are below!
Last night. Arrow wrapped up its current season with one very explosive finale. "Lian Yu" brought the superhero drama full circle as Oliver Queen return to the island he was shipwrecked on years ago. Determined to save his son William, the vigilante teamed up with Slade Wilson to find the boy and rescue his loved ones as they'd been taken to the island.
However, Green Arrow's plan didn't go as expected, leaving the lives of many major characters in the balance.However, it looks like one of the show's fan-favorite characters will not be making a comeback in Arrow's sixth season. Taking to Instagram, John Barrowman has confirmed he is finished with the Arrowverse.
In a video posted for fans, Barrowman addressed viewers who were left stunned by Malcolm Merlyn's apparent death on Arrow. The character was seen sacrificing his life for daughter Thea Queen after she stepped on a land mine. Merlyn took her spot, giving Team Arrow enough time to escape before he was cornered by some of Talia's agents. The scene then shifted to Thea as she turned and watched the mine explode, presumably killing Merlyn off-screen.
Apparently, the scene was really meant to signal the end of Merlyn's time in the Arrowverse. Here's what Barrowman had to say about his exit:
"I am very sad to be leaving the Arrowverse. I love playing Malcolm Merlyn, and you know - that's it really. As sad as it may be, I understand how shows must change and also characters must change and develop. But that doesn't mean I'm not very sad and upset about it. I appreciate your support and love you all," the actor told fans.
Of course, when it comes to the Arrowverse, it is hard to keep characters dead for long. On Arrow, several leads have been killed off only to be brought back. Sara Lance was suspected to have died before Arrow resurrected her not once but twice during her stint as the Black Canary. Laurel Lance was also killed on Arrow, marking another end to the Black Canary legacy, but the show recently brought the character back in an alternate reality form.
NEW STAR WARS STANDALONE FILM TO BE DECIDED NEXT MONTH
05/25/17 @ 8:04 pm EST
Source:
ComicBook
| Categories:
Star Wars
|
Comments
(0) |
E-mail Article
|
Add a Comment
With
Star Wars: A New Hope
celebrating its 40th anniversary today, its safe to assume that the extended universe sparked by the film is bigger than ever. Following the recent success of
Star Wars: The Force Awakens
and
Rogue One: A Star Wars Story
, LucasFilm has several significant movies planned on their upcoming slate.
And with previously unexplored corners of the
Star Wars
universe being explored in standalone films such as
Rogue One
, fans have created an infinite number of theories as to what standalone will be next. While
Han Solo: A Star Wars Story
is currently in production, and a Boba Fett film is still on the dock for 2020, fans have no idea what to expect next.
According to LucasFilm president Kathleen Kennedy, the company is currently floating around a few different ideas - but plan to make a decision in the very near future."We haven't identified it yet, but yes [another spinoff is in development]." Kennedy explained to Vanity Fair.
"We have a couple of things right now that we're circling, and we'll make a decision between the two pretty shortly. It's probably for 2020, and we will make a decision by June."
This is sure to excite the Star Wars fandom - especially those speculating as to which anthology film would be next. Popular suggestions have included solo films for Obi-Wan Kenobi and Ahsoka Tano, as well as films covering events such as the Sith Wars and the Birth of the Jedi. With both San Diego Comic-Con and Disney's D23 expo occurring in the coming months, there's a very good chance that fans won't have to wait long to find out what LucasFilm's decision is.
LEGENDS OF TOMORROW SEASON 3 POSTER REVEALED
05/25/17 @ 8:01 pm EST
Source:
ComicBook
| Categories:
DC
|
Comments
(0) |
E-mail Article
|
Add a Comment
As of last night's
Arrow
season finale, the DCTV universe on The CW is currently on hiatus until the fall. But the fan-favorite universe of shows is still providing awesome new content for its fans, thanks to a new poster for
Legends of Tomorrow
.
The poster was shared on Twitter earlier today by one of the series' stars, Brandon Routh. Routh, who plays Ray Palmer/The Atom, hinted that this is fans' first tease of
Legends
' upcoming third season.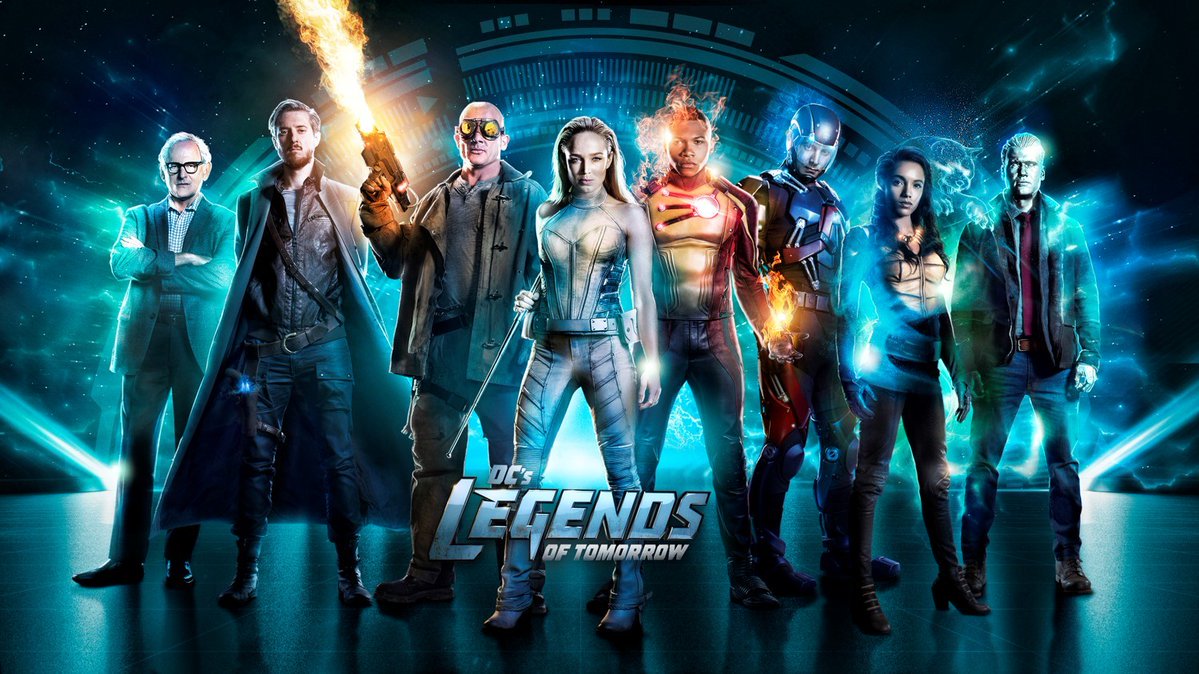 REPORT: ROSARIO DAWSON TO MAKE JUMP FROM MCU TO FOX'S NEW MUTANTS
05/25/17 @ 7:56 pm EST
Source:
Newsarama
| Categories:
Marvel
|
Comments
(0) |
E-mail Article
|
Add a Comment
Rosario Dawson may be the next actor to make the jump from the Marvel Cinematic Universe to 20th Century Fox's X-Men films, as
The Hollywood Reporter
now reports the actress is in talks to join
New Mutants
as Cecilia Reyes, a mutant doctor with a protective force field who was once a member of the X-Men.
Dawson plays Claire Temple in Marvel and Netflix's
Defenders
series, reprising her role from
Daredevil, Luke Cage, Jessica Jones
, and
Iron Fist
as the character that ties the team together.
New Mutants
is due out in theaters April 13, 2018.
DARK DAYS: THE FORGE #1 GETS MIDNIGHT RELEASE
05/25/17 @ 7:53 pm EST
Source:
Newsarama
| Categories:
DC
|
Comments
(0) |
E-mail Article
|
Add a Comment
DC Comics has announced to Diamond retailers that
Dark Days: The Forge #1
, the first tie-in for its Batman-centric summer event
Dark Nights: Metal
, can go on sale at midnight, June 14.
Along with the midnight release of
Dark Days: The Forge #1
, DC has also authorized the early sale of its other titles hitting shelves June 14.
DARK DAYS: THE FORGE #1
Written by SCOTT SNYDER and JAMES TYNION IV • Art by JIM LEE, ANDY KUBERT, JOHN ROMITA JR. and othersCover by JIM LEE and SCOTT WILLIAMS • Variant cover by ANDY KUBERT • Variant cover by JOHN ROMITA JR.Retailers: This issue will ship with three covers. Please see the order form for details. Includes a code for a free digital download of this issue.DARKNESS COMES TO THE DC UNIVERSE WITH THE MYSTERY OF THE FORGE! Aquaman, The Flash and more of DC's pantheon of heroes suspect Batman of hiding a dark secret that could threaten the very existence of the multiverse! It's an epic that will span generations—but how does it connect to the origins of one of DC's most legendary heroes?
The great comics event of summer 2017 is about to begin courtesy of superstar writers Scott Snyder and James Tynion IV and illustrated by a master class of comics artists: Andy Kubert, Jim Lee and John Romita Jr.! You do not want to miss this one!ONE-SHOT • On sale JUNE 14 • 40 pg, FC, card-stock covers, $4.99 US • RATED T