BIOWARE AND DARK HORSE COMICS EXPAND AND UNVEIL NEW DRAGON AGE COMIC MINISERIES
05/01/12 @ 1:38 pm EST
Source:
Dark Horse
|
Comments
(0) |
E-mail Article
|
Add a Comment
BioWare, a label of Electronic Arts Inc., and Dark Horse Comics today announced
Dragon Age™: Those Who Speak
,
a three-issue comic miniseries based on the award-winning
Dragon Age™
fiction.
Written by David Gaider, lead writer of the
Dragon Age
series, and Alexander Freed, senior writer for
Star Wars™: The Old Republic
™,
Those Who Speak
expands on the story of King Alistair, as he travels to an empire of evil mages to uncover the fate of his lost father. Accompanied by the pirate captain Isabela and the underworld merchant Varric, King Alistair will stop at nothing to learn the truth, even if it means battling an army of cultists single-handedly. The first issue of
Dragon Age: Those Who Speak
will be available on comic book stands on August 22.
Additionally,
Dragon Age™: The Silent Grove
will be available in a hardcover edition on July 25. Previously available only in the Dark Horse Digital store,
Dragon Age: The Silent Grove
is the perfect companion to the
Dragon Age
universe.
To learn more about
Dragon Age: Those Who Speak
and
Dragon Age: The Silent Grove
, visit
DarkHorse.com
. To learn more about
Dragon Age
, visit
DragonAge.com
.
DYNAMITE WELCOMES GILLEN AND ARTIST ANTONIO FUSO FOR JAMES BOND: SERVICE, COMING THIS MAY
02/20/17 @ 12:29 pm EST
Source:
Dynamite
| Categories:
Dynamite
|
Comments
(0) |
E-mail Article
|
Add a Comment
Dynamite Entertainment introduces an all-new take on the icon of espionage in an upcoming oversized special written by Kieron Gillen (
The Wicked + The Divine
,
Star Wars: Darth Vader
) and drawn by Antonio Fuso (
Torchwood
,
Drive
)!
In contemporary politics, where Britain's world standing is often more zero than 007, an assassin plans to exterminate the "special relationship," and lead Britain and the United States into a very dark place...especially when he does so by aiming down the sights of an ancient Enfield rifle! It'll test Bond's deadly talents to their limits, in order to defeat the assassin and avert certain geopolitical disaster...
"A chance to write a British icon is something that's basically irresistible," says writer Kieron Gillen. "This is like getting to write the sun rising. You've known it all your life, but this time it's yours. I wanted to do a story that was classically Bond, but spoke to Britain as it is, and Britain as it was. In short: I was looking for any excuse for Bond to use a Sten-gun."
Artist Antonio Fuso says, "
James Bond
means England, and I love England. I also love spy stories, black suits, deadly pocket guns, smart smiles, and Kieron's scripts. Read this book, spread the love, and God save the Queen."
Regarding his collaboration with artist Antonio Fuso, Gillen adds, "It's a thrill working with Antonio, whose modern lines lean into a realistic take on a modern Bond."
"Kieron Gillen is undoubtedly one of the best writers, and among the best-loved, in comics today, and it's an absolute honor to now work with him on one of Dynamite's most celebrated titles," says Dynamite CEO and Publisher, Nick Barrucci. "Ian Fleming's
James Bond
is perhaps the most elevated of intellectual properties in the history of pop culture, an icon whose mere mention evokes a sense of class and distinction. We're proud to bring such high caliber writers to this franchise: Warren Ellis, Andy Diggle, James Robinson, Benjamin Percy, and now Kieron Gillen. Partner him with a hot talent like Antonio Fuso, and we've got the perfect team for an explosive, done-in-one thriller!"
"I'm delighted to be working with Kieron for the first time," says Joe Rybandt, Executive Editor. "He's a fantastic writer and a tremendous asset to the ever-expanding world of
James Bond
comics from Dynamite."
James Bond: Service
will be released as a 48-page special, solicited in Diamond Comic Distributors' March 2017
Previews
catalog, the premier source of merchandise for the comic book specialty market, and slated for release in May. Comic book fans are encouraged to reserve copies with their local comic book retailers.
James Bond: Service
will also be available for individual customer purchase through digital platforms courtesy of Comixology, Dynamite Digital, iVerse, and Dark Horse Digital.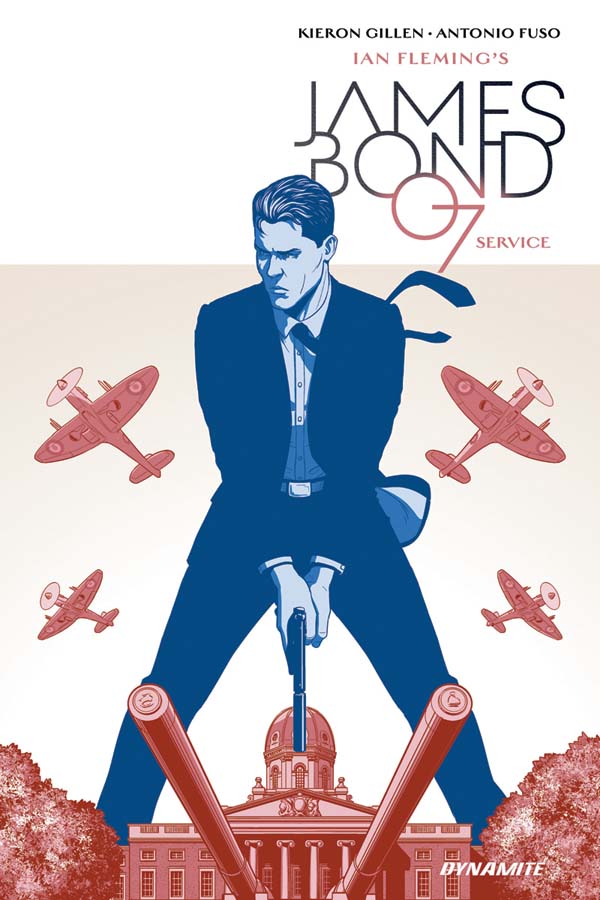 MR. MXYZPTLK GETS TRIGGER HAPPY IN NEW SUPERGIRL CLIP
02/19/17 @ 8:17 pm EST
Source:
Comicbook
| Categories:
DC
|
Comments
(0) |
E-mail Article
|
Add a Comment
Even though she has enough on her plate already with an unwanted suitor who won't take no for an answer, Supergirl still finds time to go after three thieves. And since most criminals in National City aren't very bright, this trio pulls out their guns and fire upon the Woman of Steel. Of course, like always, the bullets just bounce right off of her.
She should have them subdued in a moments notice, but then Mr. Mxyzptlk arrives and makes the situation ten times worse. With snap of his finger, he magically holds the thieves in one place and turns their guns on them. Things get really intense when he cocks back the guns' triggers.
Clip:
https://youtu.be/3LnwSSQfVdM
MARVEL STUDIOS CASTS MALAYSIAN ACTRESS IN MYSTERIOUS ROLE
02/19/17 @ 8:11 pm EST
Source:
Comicbook
| Categories:
Marvel
|
Comments
(0) |
E-mail Article
|
Add a Comment
Marvel fans love few things more than a puzzle, and the company's studio has been all too happy to take fans for a spin. There's no denying that Marvel Studios is protective of its secrets, and the company is selective with spilling beans. As the Marvel Cinematic Universe heads into its next phase, fans of the franchise are already digging into its projects' deepest secrets and rumors. And, now, a surprise casting revelation has fans on-edge.
If you have never heard of Raja Ilya, you will soon. The Malaysian actress may not be well-known in the U.S., but the star will be making her Western debut soon enough thanks to Marvel. Recently, the actress did an interview with a hometown newspaper Star2 and announced she had nabbed a very secretive role in the MCU. While Ilya could not say much about her involvement, the star say she was directed to fly out to Hollywood for more shooting information.
"I can't get any accurate shooting location for now. I've just been informed to fly to Hollywood by the end of the year for role selection and for which Marvel title [I'll be working on]," she explained.
When asked about how she got involved with Marvel Studios, Ilya said it was through personal connections. "The offer came from someone I know from Indonesia who has already acted in a few Marvel and Disney movies...Now I just have to get prepared for the moment of my life."
NAOMI SCOTT LOVES BEING THE PINK POWER RANGER
02/19/17 @ 8:07 pm EST
Source:
Comicbook
| Categories:
MIsc
|
Comments
(0) |
E-mail Article
|
Add a Comment
Despite starring in Disney's 2011 musical film
Lemonade Mouth
and the British teen drama
Life Bites
, at this very moment, Naomi Scott isn't a household name. That could soon change if the upcoming
Power Rangers
movie, which arrives in theaters next month, is a box office success that guarantees a string of sequels. The English actress/singer is playing Kimberly (a.k.a. the Pink Ranger), a former Queen Bee of Angel Grove High who is struggling to find her identity after ditching the popular clique.
"I have an opportunity here to maybe delve a little bit deeper," Scott toldW Magazine, recalling her reaction after reading the script. "I love her because I think she's real. I think she's really smart. And I think she's got a maturity as well." After pausing for a moment, she added, "If they wanted a flipping gymnast, they shouldn't have cast me."
She also revealed an on-set mishap in W Magazine:
Facing off against a stunt double during a screen test, she underestimated her strength—and whacked him in the face. "They say that's quite normal the first time. Your adrenaline just goes," said the 23-year-old musician and actress, who stars in director Dean Israelite's character-driven reimagining of Power Rangers. "I'd never punched anyone in the face in my life."
HAS LOGAN BEEN GIVEN A LAST-MINUTE POST-CREDIT SCENE?
02/19/17 @ 8:03 pm EST
Source:
Comicbook
| Categories:
Marvel
|
Comments
(0) |
E-mail Article
|
Add a Comment
When it comes to shared superhero universes and franchise films, many producers and executives have to take a few extra steps to keep some of the secrets hidden before a movie hits theaters.
Marvel Studios has been known to leave out some of their post-credit scenes from press and fan screenings before a movie's release date. And Fox might be employing the same tactic with the latest Wolverine film.
According to Mike Sampson, the Sr. Marketing and Promotions Director of the Alamo Drafthouse, Fox has provided theaters with an updated runtime for
Logan
, about three minutes longer than the screening version that's been making the rounds.
The aforementioned screenings of James Mangold's film did not contain any credits scenes, but the newly updated runtime will clock in at 140 minutes according to Sampson's screen cap of the email.
WONDER WOMAN: FIRST LOOK AT VILLAIN ARES
02/19/17 @ 7:59 pm EST
Source:
Comicbook
| Categories:
DC
|
Comments
(0) |
E-mail Article
|
Add a Comment
Hot off the heels of a rumor's fresh arrival, Wonder Woman is the latest film to have aspects of its plot and characters spoiled by toy companies showing off upcoming products.

While word spreads of David Thewils being cast as the villain Ares, we haven't had a good look of the character. The only visual reference came in the packaging of the Wonder Woman toys, were separate parts were collected to make a buildable figure.

But now, thanks to people snapping pictures at the New York Toy Fair, we finally have a good look at the character's appearance in the film.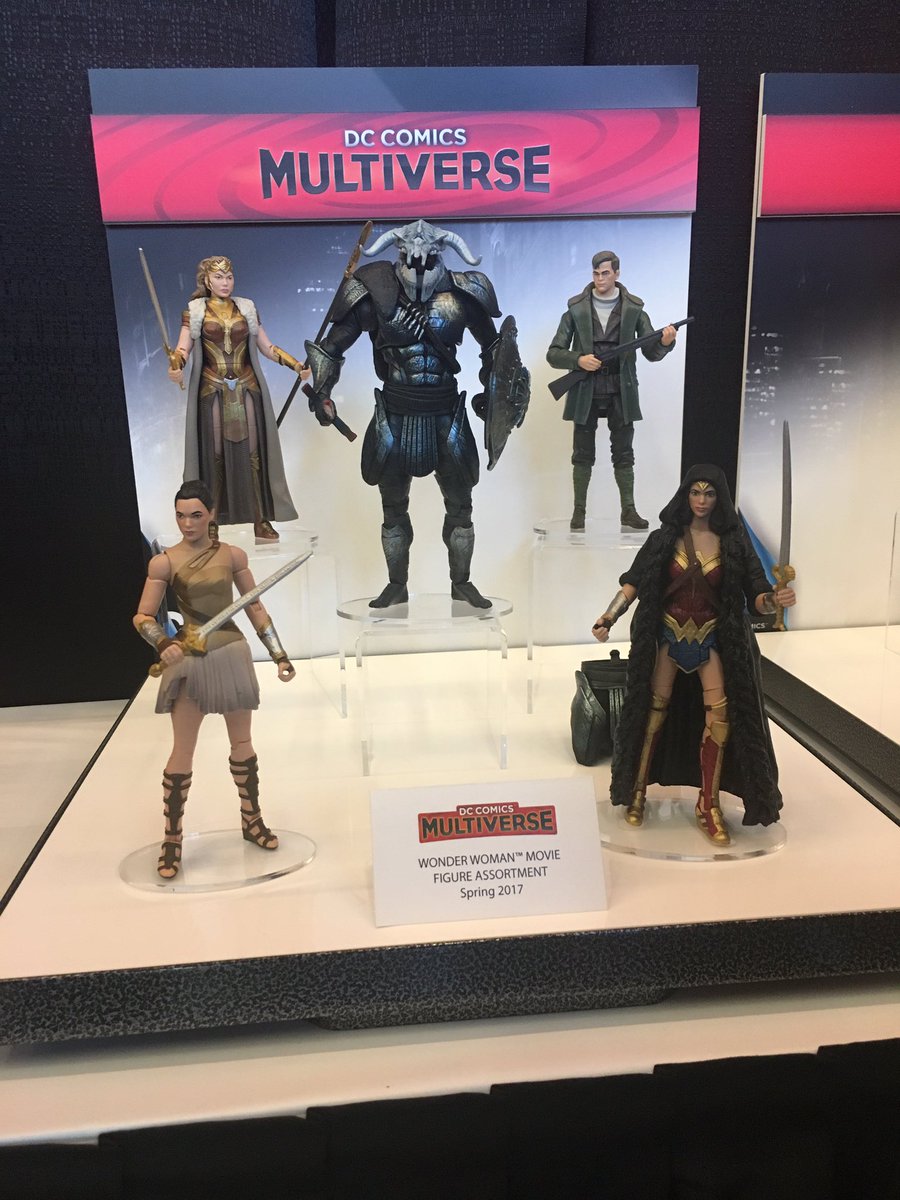 THE WALKING DEAD'S KHARY PAYTON LIVE ON AFTER THE DEAD SUNDAY NIGHT
02/19/17 @ 7:55 pm EST
Source:
Comicbook
| Categories:
Walking Dead
|
Comments
(0) |
E-mail Article
|
Add a Comment
Following
The Walking Dead
's new episode on Sunday night, ComicBook.com will host its live recap show
After the Dead
. Joining the show this week will be King Ezekiel actor Khary Payton.
Payton joined AMC's
The Walking Dead
for its seventh season, debuting as the extravagant leader of the Kingdom in Episode 7x02 (The Well). After being sidelined for the following six episodes which rounded out the first half of Season 7, Payton returned to Sunday nights with the midseason 7 premiere a week ago in Rock in the Road. His role will only continue to grow with the New Best Friends episode on February 19.
After the Dead is hosted by ComicBook.com's
The Walking Dead
insiderBrandon Davis, who is joined by experts Torri Yates-Orr and Janell Wheeler. Davis, Yates-Orr, and Wheeler will offer their expert opinions on the new episode as well as exclusive info from upcoming episodes of the AMC series from recent interviews with executive producer Greg Nicotero and cast members Andrew Lincoln (Rick Grimes), Tom Payne (Paul "Jesus" Rovia), Karl Mekinen (Richard) and insight from a surprising new cast member.
FIRST LOOK AT SHOCKER'S COSTUME IN SPIDER-MAN HOMECOMING
02/19/17 @ 7:52 pm EST
Source:
Comicbook
| Categories:
Marvel
|
Comments
(0) |
E-mail Article
|
Add a Comment
Eric Cameron, a self-described "real-life Peter Parker," has snapped the first photograph of what Herman Schultz's (Bokeem Woodbine) finished Shocker costume will probably look like in
Spider-Homecoming
. Yes, set photos of a Shocker costume did indeed leak online back in September, but that was almost undoubtedly a pre-CGI version of it.
The photo itself, which was taken on Saturday at Hasbro's off-site event, is of promotional artwork featured on
Homecoming
merchandise. Of course, the toy artwork might be slightly (or perhaps even substantially) different from the post-CGI version in the film.
LEGO BUILDS LEGO BATMAN MOVIE COLLECTION
02/19/17 @ 7:47 pm EST
Source:
Licensemag.com
| Categories:
DC
|
Comments
(0) |
E-mail Article
|
Add a Comment
The LEGO Group and Warner Bros. Consumer Products have joined forces for a series of collectibles and lifestyle merchandise inspired by
The LEGO Batman Movie
, in theaters now.
Upcoming toys and games for the film include: 13 building sets featuring The Joker, Catwoman, Mr. Freeze, Scarecrow, The Penguin, The Riddler, Clayface, The Batmobile, Killer Croc, The Scuttler, the Batcave and Arkham Asylum; a series of 20 collectible LEGO minifigures for each construction set; BrickHeadz featuring stylized versions of characters from the film, including Batman, Batgirl, Robin and The Joker; the Excalibur Batman fun pack expansion for "LEGO Dimensions"; and
The LEGO Batman Movie
story pack expansion for "LEGO Dimensions."
Additionally, LEGO has partnered with a series of licensees for lifestyle merchandise including: Scholastic and DK Publishing for sticker books, activity books and movie guides; Bioworld Disguise, Evy, Fast Forward, Franco, Handcraft, Isaac Morris and SGI Apparel for costumes and clothing; Sakar for phone and tablet accessories; Hallmark, Trends International and Amscan for paper goods; IQ/Santoki for school items; Room Copenhagen for storage items such as lunchboxes, thermos cups, and more; and Clic Time for alarm clocks and watches.
"We're thrilled to offer a collection of building sets and merchandise that brings children's imaginations to life and furthers their engagement in the story and characters featured in
The
LEGO
Batman
Movie
," says Michael McNally, senior director, brand relations, LEGO Systems. "From classic building sets that recreate scenes from the film to new collectibles and lifestyle goods, fans of any age will find the perfect complements to fuel their creative play."
BOX OFFICE: 'LEGO BATMAN' FLIES HIGH OVER 'GREAT WALL,' 'FIST FIGHT'
02/19/17 @ 7:43 pm EST
Source:
Variety
| Categories:
MIsc
|
Comments
(0) |
E-mail Article
|
Add a Comment
"The Lego Batman Movie" is dominating the North American box office with an estimated $44 million this President's Day weekend — nearly matching the combined haul of "Fifty Shades Darker" and "The Great Wall."
Universal's second weekend of "Fifty Shades" is heading for $24 million at 3,714 sites and its action-fantasy "The Great Wall" was projected to wind up with $21 million at 3,325 locations for the Friday-Monday period. Lionsgate's second weekend of "John Wick: Chapter 2" is finishing in a solid fourth place with $19.5 million at 3,113 venues as holdovers propped up the holiday weekend business.
New Line's opening of high school comedy "Fist Fight" showed only a modest punch in fifth with around $14 million at 3,185 locations. And Fox's horror-thriller "A Cure for Wellness" was scaring up a modest $4.9 million at 2,704 screens as it was projected to finish 11th.