CARLA SPEED MCNEIL WINS LA BOOK PRIZE!
05/01/12 @ 2:46 pm EST
Source:
Dark Horse
|
Comments
(0) |
E-mail Article
|
Add a Comment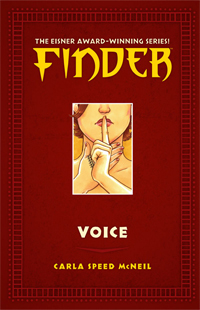 Finder: Voice
continues to be one of the most talked about books of 2011, and word of its story and artwork has spread far and wide. So far, in fact, that Carla Speed McNeil has been awarded the prestigious
Los Angeles Times Book Prize
in the Graphic Novel category for
Finder: Voice
!
Praise for Carla Speed McNeil's
Finder
:
"I love Carla Speed McNeil's
Finder
, and I imagine the reason I love it is the same reason it doesn't get more attention in the comics press: it's simultaneously straightforward and labyrinthine, genre-based and uncategorizable . . . For me, and for other readers who have gotten pulled into McNeil's weird and woolly far-future world,
Finder
is one of those comics."—
The Comics Journal
"It's been entirely too long since we were able to experience Carla Speed McNeil's unique brand of sociological science fiction with its emphasis on character, class and culture. Once again McNeil immerses you in her meticulously detailed world and you're immediately caught up in a beautifully drawn and deftly written story."—
ICv2
"You'll keep turning the pages in
Voice
to put the pieces of the puzzle together and to see what Grosvenor does next. It is an intricate tale, and Carla Speed McNeil is a master storyteller—with her words and art."—
ScienceFiction.com
"McNeil conveys more emotion and depth through the slick line of a raised eyebrow than most can with an entire book, played out in a world that is unquestionably familiar and unshakably alien."—
Bleeding Cool
"McNeil excels at tying her many character and story elements together and anchoring them in the same increasingly familiar universe, making her fictional world, its inhabitants and their issues and experiences all the more real to the invested, gratified reader."—
No Flying No Tights
Awards and nominations:
Unshelved Book Club's Book of the Month, February 2012—
Unshelved
#1 on Comics Worth Reading's Best Graphic Novels of 2011—
Comics Worth Reading
#2 on Comics Bulletin's Top 10 Best Graphic Novels of 2011—
Comics Bulletin
#4 on Publishers Weekly's Best Books of 2011, Comics—
Publishers Weekly
#4 on ComicsAlliance's 11 Best Comics of 2011—
ComicsAlliance
#29 on Comic Book Resources' Top 100 Comics of 2011—
Comic Book Resources
About Dark Horse
: Founded in 1986 by Mike Richardson, Dark Horse Comics has proven to be a solid example of how integrity and innovation can help broaden a unique storytelling medium and establish a small, homegrown company as an industry giant. The company is known for the progressive and creator-friendly atmosphere it provides for writers and artists. In addition to publishing comics from top talent such as Frank Miller, Mike Mignola, Neil Gaiman, Brian Wood, Gerard Way, Felicia Day, Guillermo del Toro, and comics legends such as Will Eisner, Neal Adams, and Jim Steranko, Dark Horse has developed its own successful properties such as
The Mask
,
Ghost
,
Timecop
, and
SpyBoy
. Its successful line of comics and products based on popular properties includes
Star Wars
,
Mass Effect
,
Buffy the Vampire Slayer
,
Aliens
,
Conan
,
Emily the Strange
, Tim Burton's Tragic Toys for Girls and Boys,
Serenity
, and Domo. Today Dark Horse Comics is the largest independent comic book publisher in the US and is recognized as one of the world's leading publishers of both creator-owned content and licensed comics material.
HEAVY METAL TO PUBLISH NATASHA ALTERICI'S HEATHEN
06/25/16 @ 4:52 am EST
Source:
Bleeding Cool
| Categories:
MIsc
|
Comments
(0) |
E-mail Article
|
Add a Comment
Last year, Natasha Alterici digitally published Heathen, a Viking fantasy comic book about Aydis, a young female hunter banished from her village for being gay, who finds a parallel in the Norse story of Brynhild, cursed by Odin to live in exile . And Aydis as the one who might free her from her fiery prison at the top of a mountain in exchange for marriage.
Alyterci successfully Kickstartered the publication of the comic as a print collection earlier in the year, and now it is to be published again by Heavy Metal, serialised as single issues. Which could find the comic a whole new audience.
HEATHEN #1
(W/A/CA) Natasha Alterici
Banished Viking warrior Aydis is leaving her small-minded village far behind to embark upon a quest. Her big idea? To right the wrongs of corrupt God-King Odin, that's all. The first step of her journey is to find the cursed Valkyrie Brynhild and set her free, but a deadly shape-shifting spy stands in Aydis's way. Hail Heathen! The critically-acclaimed debut of Natasha Alterici that defies feminine archetypes while cleaving the skull of genre conventions. (STL016132)
32pgs, FC $3.99
"BOTH METE OUT A KIND OF JUSTICE." – DAVID AVALLONE ON THE CONNECTION BETWEEN THE TWILIGHT ZONE AND THE SHADOW
06/25/16 @ 4:44 am EST
Source:
Bleeding Cool
| Categories:
Dynamite
|
Comments
(0) |
E-mail Article
|
Add a Comment
Dynamite
has sent us a new Writer 2 Writer interview, this time
Frank Barbiere
, writer of
Dejah Thoris
#5, talks with writer
David Avallone
about
Twilight Zone: The Shadow
#3, both in stores now. Cover is by
Francesco Francavilla
with interiors by
Dave Acosta
.
FRANK BARBIERE: It's always interesting when two different worlds collide in a comic. What do you feel are a few of the most important concepts/themes of The Shadow and The Twilight Zone that you were hoping to infuse into this book?DAVID AVALLONE:
The Twilight Zone and The Shadow have certain elements in common. I thought about that a lot when I was working on the book. Both are encountered by ordinary human beings at points of crisis in their lives, and judge them by how the react to their circumstances. Whereas The Twilight Zone is completely abstract, The Shadow is very present and personal… but both mete out a kind of justice. The big challenge here was that it's the Shadow being "judged" inside the Twilight Zone. And how does a guy with his powers and his responsibilities and his mission take to being toyed with by a seemingly omnipotent power, and judged? In issue #4, I finally answer that question. Stay tuned.
FB: You have a lot of fun with a surreal sequence in the book involving a writer becoming part of his work. What was your inspiration for this specific part of the story?DA:
It is notoriously difficult to dramatize writing, as an action. Ultimately it's a guy staring off into space, and then typing for a few minutes, and then staring off into space for a while. But what's happening in his head while he's staring off into space? That's where the drama is. And because I have the trappings of sci-fi/fantasy/horror to play with, I can make the internal psychodrama real: the writer inhabits his own memories, fantasies and nightmares.On a beat-by-beat level, Art getting sucked into his typewriter was inspired to some degree by David Cronenberg's Naked Lunch film. Lots of anthropomorphized typewriters in that one. Kent Allard on the blank page, menaced by shifting characters, lost… that was actually inspired by a Daffy Duck cartoon: "Duck Amuck". And the giant typebars smashing down to spell the word "Justice" was inspired by Franz Kafka's short story "In The Penal Colony"…. which, like our story here, is about degrees of punishment, mercy and justice.
FB: You open the book with some great captions. How do you feel about the caption works in tandem with the comic art page? Do you try to subvert the art with the text, or really treat it as a companion?DA:
Thanks! I actually try to eschew captions as much as I can: sort of like using voice over or title cards in movies, it seems like a short cut to me, or an admission that I couldn't get an idea across with dialogue or visuals. I like to do as little hand-holding of the audience as humanly possible, and let them "get it" without me coming out and explaining too much.There are plenty of genius comics writers – I'm thinking of Alan Moore, for example – who can write thick paragraphs of prose captions that add tremendously to the book. For me, comics are a visual medium, and in the stories I've written so far, I have wanted to stick to images and dialogue as much as possible.But. This is The Twilight Zone. And as a big fan of the original show, one of the highlights was always Rod Serling's introductions and final summations. They were always beautiful and poetic and thoughtful. Since The Twilight Zone – as a franchise – is pretty much just an abstract idea, I felt like the one concrete connection I could make to the series was to open and close each issue with my best approximation of Serling's style and "voice". If I weren't writing these, and just reading them like any other fan, I would want that.
FB: Do you feel this is leaning towards a more Shadow story or a Twilight Zone story? Do you feel any predominant elements rising to the surface?
DA:
As above, the Twilight Zone is more of a format than a franchise: a person encounters an uncanny circumstance and their character is revealed in their reaction to it. If possible, with a twist ending. The attempt here was to make the Shadow that character, who encounters the uncanny. The trick is that he's a pretty uncanny guy himself. Ultimately I asked myself, "What story would Rod Serling or Richard Matheson want to tell about the Shadow? What lesson can Kent Allard learn about himself, and does that change him or not?" I was concerned (and still am, somewhat) that the average Shadow reader is going to expect a little more gunplay and detective work than I provide here. I'll say this: issues #1 and #4 are more Shadow than Twilight Zone and issues #2 and #3 are more Twilight Zone than Shadow.
FB: What makes the comic medium a good fit for this story? Can you talk about how you approach deciding what to show on the page vs. text?DA:
I think I answered the second question back in my answer to number three, because I am – ironically – long-winded on the subject of not-being-long-winded-in-comic-books. As to the first, I think you could tell variations of this story in other formats, but when I'm plotting out a comic book issue or miniseries I give a lot of thought to the pacing, and that's where it gets tailored to the medium. This series in particular is designed to be episodic: The Shadow jumps into three different perspectives, with one issue devoted to each new perspective, ending in a cliffhanger revealing the next incoming change. Then in issue #4 we find out how that experience affected him.If it was a single half hour Twilight Zone episode, it would probably have forced me to pick one of the perspective changes and run with that. In a novel, I'd have had a lot more time to explore the individual perspectives. In comic books, I find page 22 or 20 comes pretty fast and I'm always trying to get as much story in there as possible. I hope that pays off for the reader.
MICHAEL SHEEN TO DIRECT ADAPTATION OF DARK HORSE'S GREEN RIVER KILLER
06/25/16 @ 4:38 am EST
Source:
Bleeding Cool
| Categories:
Dark Horse
|
Comments
(0) |
E-mail Article
|
Add a Comment
QC Entertainment
announced Friday that actor
Michael Sheen
of
Twilight
,
Masters of Sex
and a score of other projects will make his directorial debut with an adaptation of
Dark Horse Comics
'
Green River Killer: A True Detective Story
by
Jeff Jensen
, based on his father
Tom Jensen
, and artist
Jonathan Case
.
The story centers on the elder Case, who spent twenty years looking for the Green River Killer. In addition to directing, Sheen will play Gary Ridgway the man Case eventually caught. But in an interesting twist, after a two-decades and forty-nine official murders, the two are forced to live and work together in a dark alliance to uncover the truth.
"This is a dark story but one that ultimately finds hope and meaning in that darkness," said Sheen in a statement. "The story of Tom and Gary, and how they are bound together in time, pulled me in from the beginning and wouldn't let go. I hope that by now bringing it to life on screen it can make audiences feel the same way."
The film will be produced by Dark Horse Entertainment's
Mike Richardson
and
Keith Goldberg
with Sheen and QC Entertainment's
Sean McKittrick
and
Ray Mansfield
. QC's E
dward H. Hamm Jr.
and
Shaun Redick
will serve as Executive Producers.
GAMORA MUST BATTLE IN THE GRANDMASTER'S GAMES
06/25/16 @ 4:30 am EST
Source:
Bleeding Cool
| Categories:
Guardians of the Galaxy
|
Comments
(0) |
E-mail Article
|
Add a Comment
With the recent casting of
Jeff Goldblum
to play the
Grandmaster
in
Thor Ragnarok
, it's interesting to see the character also showing up in the
Guardians of the Galaxy
animated series in a very similar role to what is expected from him in the
Thor
film. In the clip below, he is running a gladiatorial style arena battle that
Gamora
must fight in to save a planet as
Ronan
and
Nebula
look on.
The theory for
Ragnarok
is that part of the film will borrow from the
Planet Hulk
storyline having
Hulk
in the gladiatorial games and Grandmaster running them.
Marvel's Guardians of the Galaxy
airs Sunday at 8 AM on
Disney XD
.
Video:
https://www.youtube.com/watch?feature=player_embedded&v=f63i7hvBpCQ
"LUKE CAGE" ACTOR SAYS SERIES' DIVERSITY WILL INSPIRE KIDS
06/25/16 @ 4:06 am EST
Source:
Comic Book Resources
| Categories:
Power Man
|
Comments
(0) |
E-mail Article
|
Add a Comment
"Luke Cage" villain Mahershala Ali("House of Cards," "Hunger Games") has opened up about the upcoming Marvel-Netflix series, saying he believes it will be a major influence to kids who haven't been exposed to a leading black superhero.
In an interview with USA Today, Ali said of the series, "There are going to be so many kids out there who get to see a black man on that screen and aspire to be like him. We didn't have that. They get to be included."
Ali's villainous character on the series, Cornell "Cottonmouth" Stokes, is described as "a Harlem nightclub owner" who will "become an unexpected foe in Luke's life when Stokes' criminal activities threaten Luke's world." The character is based on the heroin-dealing crime boss Cottonmouth, created for 1974's "Power Man" #19.
Starring Colter as Cage, Alfre Woodard as a powerful politician, Theo Rossi as the criminal Shades, Simone Missick as Misty Knight, and Rosario Dawson reprising her role as Claire Temple from "Daredevil" and "Jessica Jones," "Luke Cage" drops September 30 on Netflix instant-streaming.
"SUICIDE SQUAD" WRAPS FINAL EDITS, AYER CALLS COMPLETED FILM "A BEAST"
06/25/16 @ 3:58 am EST
Source:
Comic Book Resources
| Categories:
Suicide Squad
|
Comments
(0) |
E-mail Article
|
Add a Comment
"Suicide Squad" is just over a month away from release, and director David Ayer has revealed that the film is all wrapped and ready to meet the world. The director took to Twitter to make the announcement, praising the final version of the film as totally unique:
"Squad is completed! Finished final mix and coloring. Now it's off to the lab and then the world. Nothing like it out there. It.Is.a.Beast."
With its release date fast approaching, the PR around "Suicide Squad" has picked up considerably. Music videos from the film's soundtrack have been released, including ones from artists like Lil Wayne and twenty one pilots. And even more posters have arrived online.
Directed by David Ayer and starring Jared Leto, Will Smith, Margot Robbie, Viola Davis, Jai Courtney and many, many more, "Suicide Squad" opens on August 5.
TELLTALE'S "BATMAN" GAME WILL BE COMPLETE BY THE END OF THE YEAR
06/25/16 @ 3:47 am EST
Source:
Comic Book Resources
| Categories:
Batman
|
Comments
(0) |
E-mail Article
|
Add a Comment
Hot off our first look at the game from E3, it's now been confirmed that Telltale Games' take on "Batman" will wrap its first season by the end of the year.
According to Games Radar, Telltale exec Job Stauffer confirmed, "...we'll have all five episodes out before the end of the year," with the unspecific summer release date remaining. Based on the end date of Season One, it looks like each episode of Telltale's "Batman" will release on a monthly basis.
Telltale's also got a third season of its "Walking Dead" game in the pipeline for later this year, in addition to Marvel and "Game of Thrones" series that haven't been given release dates.
"Batman: The Telltale Series" debuts this summer on PS4, Xbox One, PC and mobile devices.
FRACTION, ZDARSKY AND WU TEAM ON
06/25/16 @ 5:09 am EST
Source:
Comic Book Resources
| Categories:
MIsc
|
Comments
(0) |
E-mail Article
|
Add a Comment
Matt Fraction and Chip Zdarsky, the writer and artist behind the Eisner-award winning "Sex Criminals," are teaming up with artist Annie Wu for a new comic book called "The Recidivist."
Fraction announced the new title at HeroesCon in North Carolina during a panel dedicated to his company, Milkfed Criminal Masterminds. According to Fraction, he and Zdarsky will write the book while Wu will handle the art. Fraction described "The Recidivist" as, "A superhero book, but it's us, so, y'know," referencing "Sex Criminals'" genre-bending take on traditional sex comedies and its sly and off-beat sense of humor.
Fraction and Wu worked together on Marvel Comics'"Hawkeye," which focused on the problems that Marvel's superheroes face in their off-hours. "Hakweye" featured a rotating art team; David Aja drew the sections of the book that starred Clint Barton, the original Hawkeye, while Wu illustrated the adventures of Kate Bishop, a young woman who moves to Los Angeles and solves crimes in the style of the 1970s detective drama "The Rockford Files." Wu also drew DC Comics' most recent"Black Canary" series and provides storyboards for Adult Swim's superhero parody "The Venture Bros."
Zdarsky is no stranger to superhero comics, either. Zdarsky wrote the recently cancelled "Howard the Duck" series for Marvel Comics, and collaborated with writer Ryan North on "Howard's" crossover with "The Unbeatable Squirrel Girl."
More details about "The Recidivist" will be revealed once the comic enters production.
GAL GADOT DIFFERENTIATES BETWEEN WONDER WOMAN OF "JUSTICE LEAGUE" AND SOLO FILM
06/25/16 @ 3:40 am EST
Source:
Comic Book Resources
| Categories:
Wonder Woman
|
Comments
(0) |
E-mail Article
|
Add a Comment
In a short time, Gal Gadot has accumulated a lot of experience playing Wonder Woman -- first in this spring's "Batman v Superman: Dawn of Justice," then in 2017's "Wonder Woman" and now in the currently filming "Justice League" film. Gadot briefly chatted with reporters at a press visit to the London set of "Justice League," attended by CBR, and shared her insight on the differences between the Wonder Woman of "Justice League" and the upcoming solo film.
"The Wonder Woman we see in 'Justice League' is similar to the Wonder Woman that we saw in 'BvS,'" Gadot told reporters. "The Wonder Woman that you will see on the solo movie, she's different. It's the coming of age story, it's about her become an adult, really. From a child to an adult, and understanding the complexities of life."
Gadot's comments are only logical given the setting of the "Wonder Woman" solo film, which takes place during World War I -- as alluded to by the archival photo of the immortal character seen in "Batman v Superman." Gadot also talked briefly about how the "Justice League" team dynamic operates -- and her use of the word "fun" reflects the overall message of the set visit, that"Justice League" aims to be comparatively less dark and grim than the critically maligned "Batman v Superman."
"I think we found a very interesting dynamic," Gadot said. "It's fun, it's funny. It's different, each and every character brings their own flavor and color to the team. And for me, you know, personally it's really fun to play with them. They're great, they're talented, and I'm having a great time."
In "Justice League," Gadot will be joined by Batman (Ben Affleck), Aquaman (Jason Momoa), The Flash (Ezra Miller), Cyborg (Henry Cavill), though exactly how the Man of Steel -- whose fate was left ambiguous at the end of "BvS" -- will figure into the film is currently unknown. At the set visit, reporters observed the filming of scene on the Gotham City Police Department rooftop, with Commissioner Gordon (J.K. Simmons) addressing Batman, Wonder Woman and The Flash, who are subsequently joined by Cyborg.
Directed by Patty Jenkins, "Wonder Woman" is scheduled for release on June 2, 2017. "Justice League," directed by Zack Snyder, is due out five months later on Nov. 17, 2017.
'DORY' DENTS ALIEN UFO SEQUEL 'RESURGENCE'
06/25/16 @ 3:34 am EST
Source:
Deadline
| Categories:
MIsc
|
Comments
(0) |
E-mail Article
|
Add a Comment
20th Century Fox's UFO movie
Independence Day: Resurgence
is getting crushed by Disney/Pixar's animated sequel
Finding Dory,
with the latter tearing up its pre-weekend projections for a huge second FSS that's estimated at
$74.5M
, dipping an amazing -45% and flying past $287M by Sunday.
Resurgence
is looking to land at the lower end of its expectations with $45M this weekend after a $17.5M Friday. That isn't spectacular for a sequel to a 20-year old beloved blockbuster that Fox counted as one of its summer pillars. If there's any prayer for
Resurgence
's domestic box office apocalypse to cease, then it lies abroad where this $165M-$200M Roland Emmerich film is expected do draw $100M-$150M this weekend.