CARLA SPEED MCNEIL WINS LA BOOK PRIZE!
05/01/12 @ 2:46 pm EST
Source:
Dark Horse
|
Comments
(0) |
E-mail Article
|
Add a Comment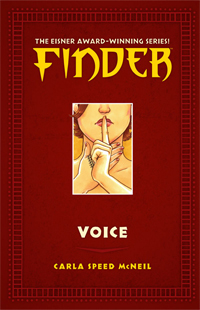 Finder: Voice
continues to be one of the most talked about books of 2011, and word of its story and artwork has spread far and wide. So far, in fact, that Carla Speed McNeil has been awarded the prestigious
Los Angeles Times Book Prize
in the Graphic Novel category for
Finder: Voice
!
Praise for Carla Speed McNeil's
Finder
:
"I love Carla Speed McNeil's
Finder
, and I imagine the reason I love it is the same reason it doesn't get more attention in the comics press: it's simultaneously straightforward and labyrinthine, genre-based and uncategorizable . . . For me, and for other readers who have gotten pulled into McNeil's weird and woolly far-future world,
Finder
is one of those comics."—
The Comics Journal
"It's been entirely too long since we were able to experience Carla Speed McNeil's unique brand of sociological science fiction with its emphasis on character, class and culture. Once again McNeil immerses you in her meticulously detailed world and you're immediately caught up in a beautifully drawn and deftly written story."—
ICv2
"You'll keep turning the pages in
Voice
to put the pieces of the puzzle together and to see what Grosvenor does next. It is an intricate tale, and Carla Speed McNeil is a master storyteller—with her words and art."—
ScienceFiction.com
"McNeil conveys more emotion and depth through the slick line of a raised eyebrow than most can with an entire book, played out in a world that is unquestionably familiar and unshakably alien."—
Bleeding Cool
"McNeil excels at tying her many character and story elements together and anchoring them in the same increasingly familiar universe, making her fictional world, its inhabitants and their issues and experiences all the more real to the invested, gratified reader."—
No Flying No Tights
Awards and nominations:
Unshelved Book Club's Book of the Month, February 2012—
Unshelved
#1 on Comics Worth Reading's Best Graphic Novels of 2011—
Comics Worth Reading
#2 on Comics Bulletin's Top 10 Best Graphic Novels of 2011—
Comics Bulletin
#4 on Publishers Weekly's Best Books of 2011, Comics—
Publishers Weekly
#4 on ComicsAlliance's 11 Best Comics of 2011—
ComicsAlliance
#29 on Comic Book Resources' Top 100 Comics of 2011—
Comic Book Resources
About Dark Horse
: Founded in 1986 by Mike Richardson, Dark Horse Comics has proven to be a solid example of how integrity and innovation can help broaden a unique storytelling medium and establish a small, homegrown company as an industry giant. The company is known for the progressive and creator-friendly atmosphere it provides for writers and artists. In addition to publishing comics from top talent such as Frank Miller, Mike Mignola, Neil Gaiman, Brian Wood, Gerard Way, Felicia Day, Guillermo del Toro, and comics legends such as Will Eisner, Neal Adams, and Jim Steranko, Dark Horse has developed its own successful properties such as
The Mask
,
Ghost
,
Timecop
, and
SpyBoy
. Its successful line of comics and products based on popular properties includes
Star Wars
,
Mass Effect
,
Buffy the Vampire Slayer
,
Aliens
,
Conan
,
Emily the Strange
, Tim Burton's Tragic Toys for Girls and Boys,
Serenity
, and Domo. Today Dark Horse Comics is the largest independent comic book publisher in the US and is recognized as one of the world's leading publishers of both creator-owned content and licensed comics material.
AMERICAN FLAGG! BEING DEVELOPED AS A TV SERIES
09/25/17 @ 10:46 pm EST
Source:
ComicBook
| Categories:
MIsc
|
Comments
(0) |
E-mail Article
|
Add a Comment
EuropaCorp has acquired the rights to Howard Chaykin's '80s cult hit
American Flagg!
, and plans to develop it as a television series from executive producer Luc Besson.
Besson, who is best known for movies like
Leon the Professional
and
The Fifth Element
, brought a graphic novel adaptation to theaters earlier this year in the form of
Valerian and the City of a Thousand Planets
.
American Flagg! centered on a dystopian near-future where the world's elite had been shuttled out into space, ruling Earth by remote while the remaining working class all toiled under a single, all-consuming corporation.
As is often the case with satire from the '80s, many of its core concepts have become a part of American daily life, from the elevation of corporate power in government to the militarization of the police force to the resurgence of Neo-Nazi and fascist groups in the American mainstream.
Deadline reports that Matthew Bankston, EuropaCorp's Vice President of Development, U.S. Television, is supervising
American Flagg
's development for television. Chaykin will serve as an executive producer on the series, along with Besson, Mark Wheeler and Rick Alexander.
As the original story describes it, "The saga's hero, Reuben Flagg, is a former TV star with a naive understanding of the American dream who is drafted into law enforcement in an utterly corrupt, shopping mall-like Chicago."
'THOR: RAGNAROK' POSTER PROMISES "THE BIGGEST FIGHT IN THE UNIVERSE"
09/25/17 @ 10:42 pm EST
Source:
ComicBook
| Categories:
Marvel
|
Comments
(0) |
E-mail Article
|
Add a Comment
Get hyped for
Thor: Ragnarok
's main event with the newest poster.
Marvel's Australia and New Zealand marketing team is selling the film's fight between Thor (Chris Hemsworth) and Hulk (Mark Ruffalo) with a boxing match-style poster. In this case, the Marvel Cinematic Universe's God of Thunder adorns the new poster, which you can check it out below.
'SUPERGIRL' IS A WORKAHOLIC IN NEW TRAILER
09/25/17 @ 10:37 pm EST
Source:
ComicBook
| Categories:
DC
|
Comments
(0) |
E-mail Article
|
Add a Comment
After successfully fending off the Daxamite invasion and exiling her lover from Earth in the process, Supergirl is trying to say goodbye to Kara Danvers.
A new trailer for the show's Season Three premiere teases that Supergirl is diving headfirst into heroics and forgoing her personal life in an attempt to cope with Mon-El's absence.
Check it out in the video here:
https://youtu.be/0g4e7WxKHUI
'STAR TREK: DISCOVERY' SEASON 2 UNLIKELY TO DEBUT BEFORE 2019
09/25/17 @ 10:33 pm EST
Source:
ComicBook
| Categories:
Star Trek
|
Comments
(0) |
E-mail Article
|
Add a Comment
Star Trek: Discovery
may have just premiered last night, but fans may have to wait quite a while when it comes to season 2. According to executive producer Alex Kurtzman the most likely target for the show's second season is early 2019.
Though there has been no official offering of a second season of the ambitious CBS series yet, Kurtzman told The Hollywood Reporter that should there be a second season he wants to make sure there is plenty of time to get things right instead of rushing the show's production.
"There have been preliminary conversations about when and how [a second season could air] and we've been very consistent in our message, which is that rather than announce a date and have to push again, let's take into consideration everything we've learned from this season," Kurtzman explained. "Now we know what we can do and where the sand traps are, so let's give ourselves ample time to announce a date that makes sense to everybody — both the needs of production and CBS. Breaking story is, in some ways, the easier and faster thing; it's the ability to execute on it that's much harder. We want to take the right amount of time and don't want to rush."
'TEEN TITANS GO!' MOVIE HITS THEATERS NEXT SUMMER
09/25/17 @ 10:31 pm EST
Source:
ComicBook
| Categories:
DC
|
Comments
(0) |
E-mail Article
|
Add a Comment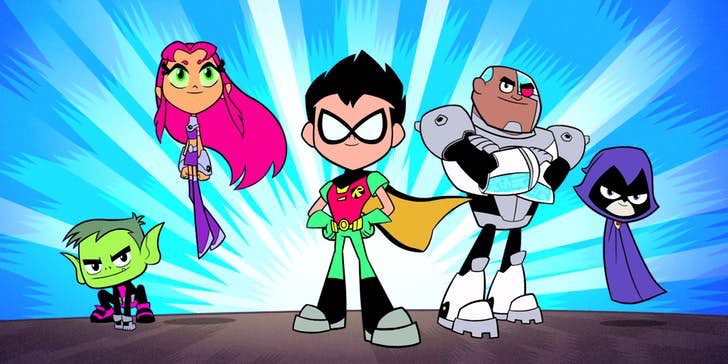 The Teen Titans are ready to go to the big screen!
Warner Bros. just announced their animated project on the calendar for next summer, revealing that
Teen Titans GO!
would be premiering in movie theaters with an original movie on July 27, 2018.
An untitled animated film from Warner Bros. was originally scheduled to premiere June 1, 2018, but the announcement of
Teen Titans GO!
indicates that it's being pushed back until the end of July, according to Heroic Hollywood and Umberto Gonzalez.
Details on the picture are scarce at this point, though it's expected to feature the same cast and characters as the Cartoon Network animated series.
AVENGERS WEEKLY EVENT COMING IN 2018
09/25/17 @ 10:27 pm EST
Source:
ComicBook
| Categories:
Marvel
|
Comments
(0) |
E-mail Article
|
Add a Comment
The Avengers are about to become embroiled in a story so big it will have to be told on a weekly basis.
New promotional art reveals that January 2018 will be the kickoff for the "No Surrender" story beginning in
Avengers
#675. The story is being teased as "The Beginning of the End" and "A Weekly Epic."
Readers began scratching their heads when "Avengers #675" first appeared in Marvel's solicitations for December books as a poster. It looks like we now know what is coming at the start of the new year.
Here's a photo of the promotional artwork.
'SUPERGIRL' SEASON 3 PREMIERE PHOTOS RELEASED
09/25/17 @ 10:22 pm EST
Source:
ComicBook
| Categories:
DC
|
Comments
(0) |
E-mail Article
|
Add a Comment
The CW has released their preview photos for "Girl of Steel", the season 3 premiere of
Supergirl
.
The episode dives right in on the aftermath of Season 2's finale - with Kara (Melissa Benoist) coping with the loss of Mon-El (Chris Wood) by fully focusing her energy on being Supergirl.
MATTHEW VAUGHN REVEALS WHICH 'KINGSMAN: THE GOLDEN CIRCLE' SCENES WERE MOST DIFFICULT TO SHOOT
09/25/17 @ 9:26 pm EST
Source:
ComicBook
| Categories:
MIsc
|
Comments
(0) |
E-mail Article
|
Add a Comment
Kingsman: The Golden Circle
hit theaters last Friday and now that fans have had a chance to take in the film, director Matthew Vaughn is revealing the scenes from the sequel that were the hardest to film.
In a recent interview with Vulture, Vaughn immediately noted that the opening taxicab fight scene was the hardest to shoot, but the movie's most controversial scene was equally difficult.
"The opening taxicab fight," Vaughn said. "That opening scene was very difficult. The scene with Eggsy trying to place a bug into a person was incredibly hard to shoot as well."
According to Vaughn, making the taxicab scene required a "a lot of planning" and "a lot of taxis" as well as for the crew to build special cabs for the scene that frequently broke down during night shoots in London. Despite the difficulty of that specific scene, however, Vaughn went even further, explaining that when it came to making a sequel -- any sequel -- it wasn't just individual scenes that stood out to him but that the whole of making the movie presented its own challenges, especially when it came to fan expectations.
"And just making a sequel," Vaughn said. "By the way, the whole thing was very hard. This was the hardest movie I've ever made. It's not easy making sequels. What's hard about making a sequel is people see a sequel expecting to see what they liked in the first film, but if you do too much of what they liked in the first film, you're boring and unoriginal and repetitive. It's a balancing act, so that was hard."
SUPERGIRL CASTS BOLLYWOOD STAR AMY JACKSON AS SATURN GIRL
09/25/17 @ 9:24 pm EST
Source:
ComicBook
| Categories:
DC
|
Comments
(0) |
E-mail Article
|
Add a Comment
Amy Jackson, a British-born actress who has established herself as a Bollywood star, has been cast in the role of Imra Ardeen -- the superhero known as Saturn Girl -- on The CW's
Supergirl
.
The CW has confirmed the casting, which indicates the Legion of Super-Heroes is coming soon to the series. Imra, whose previous live-action appearance came in an episode of Smallville, was one of the founding members of the super-team, a group of teenagers from the future who were inspired by Superman's example and sought to help the world and the universe.
On
Supergirl
, Saturn Girl, aka Imra Ardeen, is a kind, smart, and strong-willed hero who uses her telekinetic ability to help those in need. She was born on Titan, one of Saturn's moons, and arrives on Earth to help Supergirl battle one of her biggest threats.
There is no specific mention of the Legion of Super-Heroes in Imra's bio, but it would be difficult to imagine introducing her without touching on that aspect of her character.
'IT' SEQUEL CARVES OUT 2019 POST-LABOR DAY RELEASE
09/25/17 @ 9:21 pm EST
Source:
Deadline
| Categories:
MIsc
|
Comments
(0) |
E-mail Article
|
Add a Comment
The sequel to New Line's
It
will be hitting the screen on Sept. 6, 2019. That's the same post-Labor Day frame that the first chapter launched in, racking up an unprecedented $123.4M domestic opening — the best September has ever seen.
Andy Muschietti directs the second half of Stephen King's novel which focuses on the Loser's Club, 27 years later, when they've grown up and away. But then a devastating phone call brings them back.
The latest news puts the Warner Bros./New Line
sequel in a game of chicken with Blumhouse's untitled horror film which moved on to that date last week. We hear that the Blumhouse title moving forward on that Friday isn't the Akiva Goldsman-directed reboot of Stephen King's
Firestarter,
rather an original horror pic from the genre label.
It
has been an unprecedented success at the September box office in ways that no one ever imagined. Among some of the records that
It
owns: largest opening for a horror film stateside, biggest opening for an R-rated film, largest opening for a pic based on a book, best preview night for a horror film ($13.5M), best IMAX opening for September and horror pic, and best opening for a New Line release. Worldwide
It
is nearing close to a half billion, and at the domestic B.O., it's already the largest horror film ever with $266.1M, beating
The Exorcist
late last week.
In addition, Warner Bros. announced today that the untitled animation film on June 1 next year has moved to July 27 and is now known as
Teen Titans Go!