CARLA SPEED MCNEIL WINS LA BOOK PRIZE!
05/01/12 @ 2:46 pm EST
Source:
Dark Horse
|
Comments
(0) |
E-mail Article
|
Add a Comment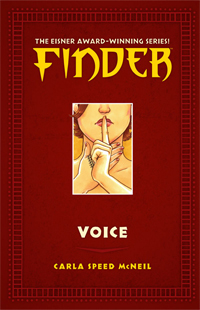 Finder: Voice
continues to be one of the most talked about books of 2011, and word of its story and artwork has spread far and wide. So far, in fact, that Carla Speed McNeil has been awarded the prestigious
Los Angeles Times Book Prize
in the Graphic Novel category for
Finder: Voice
!
Praise for Carla Speed McNeil's
Finder
:
"I love Carla Speed McNeil's
Finder
, and I imagine the reason I love it is the same reason it doesn't get more attention in the comics press: it's simultaneously straightforward and labyrinthine, genre-based and uncategorizable . . . For me, and for other readers who have gotten pulled into McNeil's weird and woolly far-future world,
Finder
is one of those comics."—
The Comics Journal
"It's been entirely too long since we were able to experience Carla Speed McNeil's unique brand of sociological science fiction with its emphasis on character, class and culture. Once again McNeil immerses you in her meticulously detailed world and you're immediately caught up in a beautifully drawn and deftly written story."—
ICv2
"You'll keep turning the pages in
Voice
to put the pieces of the puzzle together and to see what Grosvenor does next. It is an intricate tale, and Carla Speed McNeil is a master storyteller—with her words and art."—
ScienceFiction.com
"McNeil conveys more emotion and depth through the slick line of a raised eyebrow than most can with an entire book, played out in a world that is unquestionably familiar and unshakably alien."—
Bleeding Cool
"McNeil excels at tying her many character and story elements together and anchoring them in the same increasingly familiar universe, making her fictional world, its inhabitants and their issues and experiences all the more real to the invested, gratified reader."—
No Flying No Tights
Awards and nominations:
Unshelved Book Club's Book of the Month, February 2012—
Unshelved
#1 on Comics Worth Reading's Best Graphic Novels of 2011—
Comics Worth Reading
#2 on Comics Bulletin's Top 10 Best Graphic Novels of 2011—
Comics Bulletin
#4 on Publishers Weekly's Best Books of 2011, Comics—
Publishers Weekly
#4 on ComicsAlliance's 11 Best Comics of 2011—
ComicsAlliance
#29 on Comic Book Resources' Top 100 Comics of 2011—
Comic Book Resources
About Dark Horse
: Founded in 1986 by Mike Richardson, Dark Horse Comics has proven to be a solid example of how integrity and innovation can help broaden a unique storytelling medium and establish a small, homegrown company as an industry giant. The company is known for the progressive and creator-friendly atmosphere it provides for writers and artists. In addition to publishing comics from top talent such as Frank Miller, Mike Mignola, Neil Gaiman, Brian Wood, Gerard Way, Felicia Day, Guillermo del Toro, and comics legends such as Will Eisner, Neal Adams, and Jim Steranko, Dark Horse has developed its own successful properties such as
The Mask
,
Ghost
,
Timecop
, and
SpyBoy
. Its successful line of comics and products based on popular properties includes
Star Wars
,
Mass Effect
,
Buffy the Vampire Slayer
,
Aliens
,
Conan
,
Emily the Strange
, Tim Burton's Tragic Toys for Girls and Boys,
Serenity
, and Domo. Today Dark Horse Comics is the largest independent comic book publisher in the US and is recognized as one of the world's leading publishers of both creator-owned content and licensed comics material.
'EI8HT' #1 SELLS OUT, GOES TO SECOND PRINT
02/28/15 @ 8:57 am EST
Source:
Dark Horse
| Categories:
Dark Horse
|
Comments
(0) |
E-mail Article
|
Add a Comment
Dark Horse Comics is proud to announce that Rafael Albuquerque and Mike Johnson's critically acclaimed
EI8HT #1
has sold out at the Diamond level and gone to a second printing.
Welcome to the Meld, an inhospitable dimension in time where Joshua, a chrononaut, finds himself trapped. With no memory or feedback from the team of scientists that sent him, he can't count on anything but his heart and a stranger's voice to guide him to his destiny.
The past is green, the present is purple, the future is blue—but the Meld is something else entirely. Emphasizing the incredible concept of the Meld, the second-printing cover by Rafael Albuquerque invites readers to experience a new adventure.
Find out why fans and critics are traveling in droves to the Meld. Order your second printing of
EI8HT #1
today from your local comics retailer!
EI8HT #1 (2nd Printing
(of 5) (DEC148728) Rafael Albuquerque (W/A/Cover) and Mike Johnson (W) On sale Mar 25FC, 32 pages$3.50Miniseries
NOELLE STEVENSON REVIVES MARVEL'S "RUNAWAYS" DURING "SECRET WARS"
02/28/15 @ 8:51 am EST
Source:
Comic Book Resources
| Categories:
Marvel
|
Comments
(0) |
E-mail Article
|
Add a Comment



When you're an adolescent, overbearing parents and teachers can seem like agents of evil. If you're a teen in the Marvel Universe, there is a distinct possibility that the authority figures keeping you down are literally supervillains. Writer Brian K. Vaughan and artist Adrian Alphonaperfectly demonstrated this premise with their 2003 series "Runaways", which introduced a team of all-new teen heroes and followed them as they went on the run from their supervillain parents.

The members of the Runaways became fan favorite characters upon their introduction and have starred in multiple volumes of their own self-titled series as well as being featured in books like"Avengers Arena" and "Avengers Undercover." Yet there hasn't been a "Runaways" series at Marvel since 2009 -- though that's about to change.

This May, the Marvel Universe as we know it will be no more with the onset of "Secret Wars."The event finds the remnants of the multiverse assembled into one patchwork planet calledBattleworld, but that doesn't mean the rebellious spirit of young heroes like the Runaways will be gone. This June, writer Noelle Stevenson ("Lumberjanes") and artist Sanford Greene ("Uncanny Avengers") will introduce a new incarnation of Marvel's defiant band of teen heroes with a new "Runaways" series set on Battleworld.
FOX'S DC COMICS TAKE 'LUCIFER' CASTS ITS STAR
02/28/15 @ 8:46 am EST
Source:
Hollywood Reporter
| Categories:
DC
|
Comments
(0) |
E-mail Article
|
Add a Comment
Fox has found its Lucifer.

Rush alum Tom Ellis will star in the DC Comics adaptation, The Hollywood Reporter has learned.

The drama centers around Lucifer (Ellis), the Lord of Hell, who, bored and unhappy, resigns his throne and abandons his kingdom for the gorgeous, shimmering insanity of Los Angeles, where he gets his kicks helping the LAPD punish criminals.

The character of Lucifer was modeled after David Bowie and has appeared in Sandman and its spinoff via DC's Vertigo imprint. Lucifer made his debut inSuperman's Pal Jimmy Olsen No. 65 in 1962 before being revived in Neil Gaiman's critically praisedSandman in 1989.

Californication creator Tom Kapinos will pen the script for the Warner Bros. Television entry and exec produce via his Aggressive Mediocrity banner. Jerry Bruckheimer and his Jerry Bruckheimer Television topper Jonathan Littman will executive produce, while the company's KristieAnne Reed is set as a co-executive producer. Len Wiseman will executive produce and direct the pilot after serving in the same capacity on Fox's Sleepy Hollow.

EastEnders alum Ellis, repped by CAA, Hamilton Hodell and Anonymous Content, previously starred on USA Network medical drama Rush and played Victor Frankensteinon ABC's monster drama pilot Gothica two years ago.
CATWOMAN WRITER CONFIRMS SELINA KYLE IS BISEXUAL
02/28/15 @ 8:37 am EST
Source:
Vanity Fair
| Categories:
Catwoman
|
Comments
(0) |
E-mail Article
|
Add a Comment
There was some speculation following 2012's
Dark Knight Rises
that Selina Kyle, the Catwoman character played impeccably by Anne Hathaway, might be attracted to women. Christopher Nolan's film depicted the villainess as using her sexuality to prey on and manipulate males, Bruce Wayne among them. The most tenderness she showed, it seemed, was directed towards her female flatmate, played byJuno Temple. And now, three years after those sexually confusing undertones, current
Catwoman
writer Genevieve Valentine has confirmed that Kyle—who first surfaced in a 1940s
Batman
issue, and has had many a romantic encounter with the caped crusader—is indeed bisexual.
In the newest issue of
Catwoman
, Kyle, who has bequeathed her iconic cat suit to a character named Eiko Hasigawa, is seen kissing her Catwoman successor. (Let's not even delve into the psychological significance of Catwoman kissing Catwoman.) In a blog postpublished today, Valentine writes that confirming Kyle's bisexuality had been a goal of hers.
"When I was first plotting out what I expected to be a six-issue arc, there were a few emotional beats I considered indispensable," Valentine said of her work on the series, which began in October. "[O]ne was establishing Selina as canon bisexual . . . She's flirted around it—often quite literally—for years now; for me, this wasn't a revelation so much as a confirmation. And as [editor] Mark Doyle and I were first hashing out the relationships in this arc, Eiko seemed like the right person: intelligent, driven, in that uncanny valley of Almost Catwoman, and knows enough about Selina that their honesty has become something of a shelter in a situation that's getting increasingly dishonest for everybody involved. The more we talked about it, the more it was something I wanted to make happen."
Kyle, however, is not the first Catwoman to reveal herself as not being heterosexual. Kyle's protégé Holly Robinson, who once wore the iconic cowl, is gay, and even earned
Catwoman
a GLAAD Media Award for its portrayal of Robinson as an openly homosexual character.
BATMAN'S VILLAINS TO THE RESCUE?!
02/28/15 @ 8:28 am EST
Source:
DC
| Categories:
DC
|
Comments
(0) |
E-mail Article
|
Add a Comment
The ultimate standoff between good and evil is about to commence in BATMAN #39, the second to last issue of Scott Snyder's thrilling ENDGAME story arc.
But - as Batman has learned through his hunt for The Joker – he can't do it alone. Batman will need to recruit others to help him save Gotham from The Joker's lethal virus.
With a shrinking pool of allies and no other options, Batman makes a deal with the devil(s) and plays his final card: Shining the Bat-Signal upside-down, attracting several of his most dangerous foes.
That's Right. Knowing the upside-down batsignal is a secret pact between his enemies – signaling the death of Batman - Batman turns to his adversaries for help!
Shocking his Bat-Family, see below as Batman asks his past villains to join him and his allies to stop The Joker from destroying the city. Will they succeed? What will become of The Joker?
BATMAN #39, scripted by Scott Snyder and illustrated by Greg Capullo is available in stores now!
SUPERGIRL CASTS TWO FACES FROM KRYPTON'S PAST
02/28/15 @ 8:22 am EST
Source:
DC
| Categories:
DC
|
Comments
(0) |
E-mail Article
|
Add a Comment
The awesome
Supergirl
news continues to break, as two very familiar faces have been cast in mysterious roles in the show's pilot episode.
Dean Cain, who played Superman in the 1990s TV series
Lois & Clark: The New Adventures of Superman
, and Helen Slater, who played Supergirl in the 1984 film
Supergirl
, have joined the cast of the CBS/Warner Bros. pilot. Details about the roles they'll be playing are being kept under wraps (but we know that's not going to keep you from speculating!).
For a generation of TV viewers, Dean Cain is more or less Superman. While he's continued to carve out a successful career since
Lois & Clark
wrapped, it's his playful banter with Teri Hatcher (who played Lois on the show) and rugged good looks at the Man of Steel that first made him a household name. Similarly, Helen Slater first grabbed attention as Kara Zor-El in the Supergirl theatrical film, but that's not the only time she's dipped into the DC Universe. She also memorably voiced Talia al Ghul in
Batman: The Animated Series
and played Lara-El on
Smallville
.
This is just the latest
Supergirl
casting news to break in what's been a very busy week. Yesterdays, actors David Harewood and Chyler Leigh were announced in key roles, while on Monday, Calista Flockhart was cast in the role of Cat Grant.
MARVEL'S AGENTS OF S.H.I.E.L.D. UNLEASHES THE ART OF EVOLUTION
02/26/15 @ 11:51 pm EST
Source:
Marvel
| Categories:
SHIELD
|
Comments
(0) |
E-mail Article
|
Add a Comment
After last year's popular "Art of Level 7" initiative, in which celebrated artists created brand new poster art for each of the final six Season 1 episodes for "Marvel's Agents of S.H.I.E.L.D.," we decided to double down with "The Art of Evolution"!
Once again, some of the greatest artists in the industry will create new posters for each episode of "Marvel's Agents of S.H.I.E.L.D.," but this time we'll have 12 new posters to commemorate each episode in the second season's back half!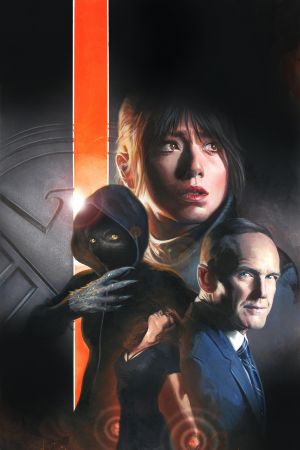 AFTERSHOCKS PRINT BY GABRIELE DELL'OTTO
With the series returning this Tuesday, March 3 at 9:00 p.m. ET, Gabriele Dell'Otto--the co-creator of Agent Skye's true character, Daisy Johnson--has brought the episode to life in a gorgeous new print that you can check out right here.
Each poster released in this series will be available as limited edition high quality prints with the first print of the series to go on sale Friday, February 27 at 12:30 a.m. PT. These individually numbered prints are strictly limited to 100 copies.
Tune in on Tuesday, March 3 at 9:00 p.m. ET to catch the return of "Marvel's Agents of S.H.I.E.L.D." on ABC.
HULK DOMINATES IN NEW POSTER FOR MARVEL'S AVENGERS: AGE OF ULTRON
02/26/15 @ 11:46 pm EST
Source:
Marvel
| Categories:
Avengers
|
Comments
(0) |
E-mail Article
|
Add a Comment
Hulk takes control in a brand new poster for Marvel's "Avengers: Age of Ultron"! Check out the poster below before seeing the film when it hits theaters on May 1.
In "Avengers: Age of Ultron," Bruce Banner (Mark Ruffalo) uses his advanced intelligence to solve the most difficult situations. When Ultron (James Spader) appears with plans of destruction, Banner's anger takes over and transforms him into the rage-fueled Hulk!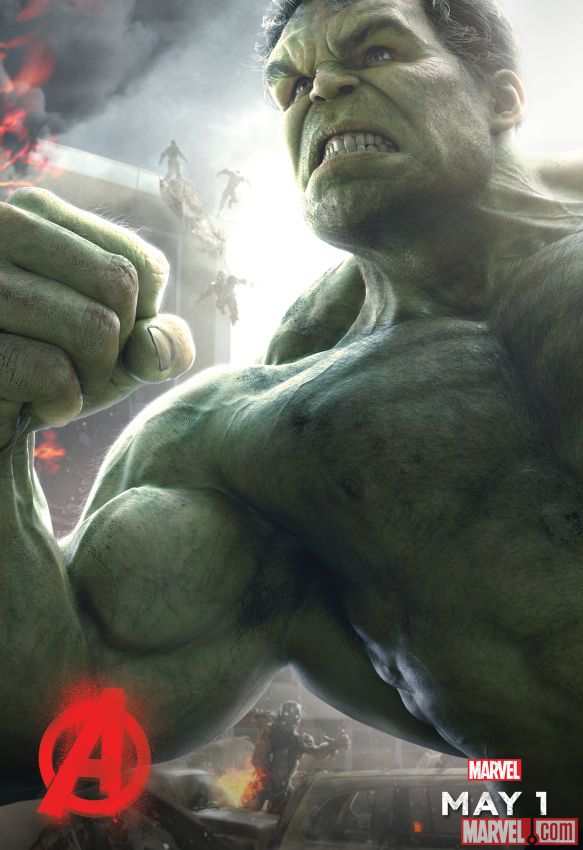 MATT MURDOCK GETS BLOODY IN NEW MARVEL'S DAREDEVIL POSTER
02/26/15 @ 11:41 pm EST
Source:
Marvel
| Categories:
Daredevil
|
Comments
(0) |
E-mail Article
|
Add a Comment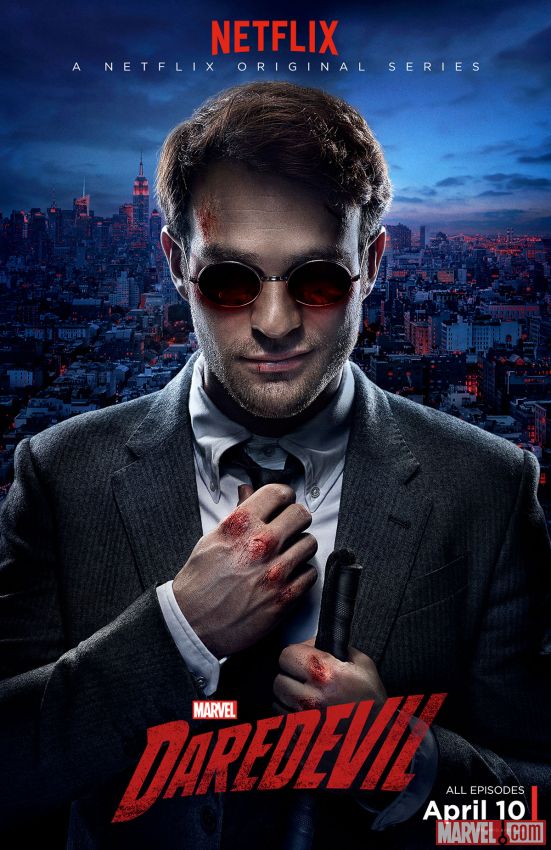 Matt Murdock gets rough in the latest poster and motion poster for "Marvel's Daredevil," only on Netflix April 10!
Taking on an enemy as powerful as Wilson Fisk can have a physical toll, as evidenced by Matt's cuts and bruises in the poster above
Series star Charlie Cox shows the bloody side of Matt's war on crime in the upcoming original series as we prepare to launch all 13 episodes in less than two months!
THE SUPERGIRL CAST ADDS TWO NEW MEMBERS
02/26/15 @ 11:23 pm EST
Source:
DC
| Categories:
DC
|
Comments
(0) |
E-mail Article
|
Add a Comment
The cast of CBS's
Supergirl
just picked up two intriguing new members—one of whom may potentially have a dark future.
Photo by Paul Gregory Photography
Actress Chyler Leigh (
Grey's Anatomy
) has been cast in the role of Alexandra "Alex" Danvers, Kara's foster sister on the show. Fascinated by Kara's powers from a young age, Alex developed a lifelong obsession with science which inspired her to become a doctor. Of note to fans is the last name—longtime Supergirl readers know that "Danvers" is a last name which has occasionally been used by Kara in the comics.
At the same time, David Harewood (
Homeland, Selfie
) has been announced in the role of Hank Henshaw. A onetime CIA agent, Hank now runs the Department of Extra-Normal Operations (DEO), which tracks extraterrestrial threats on the planet Earth. Fans of the comics will also know that Hank Henshaw is known in DC Comics lore for being Cyborg Superman.
This news arrives after the announcement earlier this week that Calista Flockhart will be playing Cat Grant on the show, and also came with the news that
Arrow
and
Flash
Executive Producer Andrew Kreisberg will be joining Greg Berlanti and Ali Adler as an Executive Producer on
Supergirl
.
DEO? Cat Grant? Cyborg Superman?! Man, we can't wait to see this one!