DYNAMITE'S THE SPIDER MAKES NEWSARAMA'S MUST-READ LIST!
05/01/12 @ 10:43 am EST
Source:
Newsarama
| Categories:
The Spider
|
Comments
(0) |
E-mail Article
|
Add a Comment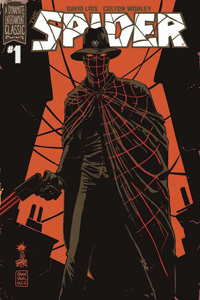 Following the incredible success of Dynamite's
The Shadow
by Garth Ennis, another pulse-pounding pulp hero returns to comics as Dynamite unleashes
The Spider
by writer David Liss with art by Colton Worley! The Spider's Dynamite debut comes complete with covers by Alex Ross, John Cassaday, Francesco Francavilla and Ron Lesser. The book also made Newsarama's Wednesday Watch: MUST-READ New Releases For 5/2/12; here's what they had to say:
Historical fiction novelist David Liss made an impact in the comic book world in recent years with Mystery Men and Black Panther at Marvel.
His latest project is The Spider at Dynamite, reviving a long-running pulp fiction hero.
"I think The Spider is hugely influential and has shaped a lot of what we consider standard elements of comic book heroes and villains, but the character's influence has held up better than the character itself," Liss told Newsarama. "I'm very excited to have the chance to reintroduce readers to a very cool hero who they ought to know if they don't already."
FIRST LOOK AT VALIANT'S LIVE-ACTION NINJAK
09/28/16 @ 10:34 pm EST
Source:
Comic Book Resources
| Categories:
MIsc
|
Comments
(0) |
E-mail Article
|
Add a Comment
Valiant Entertainment has debuted the first official image of Colin King as Ninjak, in the publisher's upcoming feature-length original digital series starring the character.
Valiant is set to unveil further details for the project at New York Comic Con next week.
NEW AGENTS OF SHIELD PROMO TEASES AN 'UPRISING' IN S4E3
09/28/16 @ 10:29 pm EST
Source:
Comic Book Resources
| Categories:
Marvel
|
Comments
(0) |
E-mail Article
|
Add a Comment
Someone is out to turn off the lights — literally — in the third episode of
"Agents of S.H.I.E.L.D.'s"
fourth season.
And to paraphrase what your old man probably told you as a teenager — nothing good happens in the dark.In anticipation of the episode, ABC and Marvel have released a new promo.
Check it out here:
https://youtu.be/bKC8bNiCuWE
DC ANNOUNCES NEW BATGIRL ARTIST, UNVEILS PROMO ART
09/28/16 @ 10:24 pm EST
Source:
Comic Book Resources
| Categories:
DC
|
Comments
(0) |
E-mail Article
|
Add a Comment
"Gotham Academy" artist Christian Wildgoose will join writer Hope Larson as they bring Batgirl back to Burnside in "Batgirl" #7, titled "Son Of Penguin." Wildgoose will be taking over from seasoned veteran, and exclusive artist for DC and Vertigo, Rafael Albuquerque.
"After Rafael's run, I know I have some pretty big yellow boots to fill," Wildgoose said in a press release. "I'm feeling a mixture of excitement and nerves as I take on one of my favorite characters."
You can check out the promo art by Wildgoose here:
You can catch up with "Batgirl" in issue #3 by Larson and Albuquerque, available now.
AMELL TEASES ARROW/SUPERGIRL CROSSOVER IN NEW PHOTO
09/28/16 @ 10:19 pm EST
Source:
Comic Book Resources
| Categories:
DC
|
Comments
(0) |
E-mail Article
|
Add a Comment
Stephen Amell
has been
teasing for some time
that we may finally see the Green Arrow and Supergirl cross each other's path on
The CW
, and now it looks like it's finally happening.
The
"Arrow"
star tweeted out an image of himself and
"Supergirl"
actress
Melissa Benoist
in costume, standing next to each other atop a very nondescript rooftop… somewhere.
BOOM! STUDIOS TEASES NEW SERIES FROM KINDT & JENKINS
09/28/16 @ 10:15 pm EST
Source:
Comic Book Resources
| Categories:
MIsc
|
Comments
(0) |
E-mail Article
|
Add a Comment
BOOM! Studios
continues it's pre-
New York Comic Con
news and announcements with a teaser image of a new series from
Matt Kindt
and
Tyler Jenkins
, and CBR had the first look.
Unfortunately, the emphasis is on "tease" for now in this teaser image — beyond the creative team and the release date of the series, no further information has been revealed at this time.
Kindt is best known for his work at Dark Horse Comics, on series he's written and drawn including "Mind MGMT" and "Dept H," plus work strictly as a writer at Valiant Entertainment, DC Comics and Marvel. Jenkins has prior history with BOOM! Studios as the artist of the series "Snow Blind," and notably illustrated "Peter Panzerfaust" for Image Comics.
This would be the first collaboration between the two acclaimed creators.
Keep an eye on CBR all next week for the latest news from New York Comic Con.
NEW GOTHAM S3E3 PHOTOS SPOTLIGHT MAD HATTER, BRUCE WAYNE'S TRAINING
09/28/16 @ 10:07 pm EST
Source:
Comic Book Resources
| Categories:
DC
|
Comments
(0) |
E-mail Article
|
Add a Comment
The city of "Gotham" gets a little madder in a slew of new photos from "Mad City: Look Into My Eyes," the third episode of Season 3.
'BLACK PANTHER' TAPS 'PERSON OF INTEREST' ACTOR WINSTON DUKE TO PLAY M'BAKU
09/28/16 @ 10:00 pm EST
Source:
Variety
| Categories:
Marvel
|
Comments
(0) |
E-mail Article
|
Add a Comment
"Person of Interest" actor Winston Duke has landed the key role of the villain M'Baku — aka Man-Ape — in Marvel's upcoming "Black Panther" film starring Chadwick Boseman.
Marvel declined to comment.
The film, directed by "Creed" helmer Ryan Coogler, also stars Michael B. Jordan, Danai Gurira, andLupita Nyong'o. Boseman will play T'Challa, the prince of the African nation of Wakanda, who must take over the mantel after his father's murder. Marvel unveiled the character in "Captain America: Civil War" before the standalone film bows on Feb. 16, 2018.
In the comics, M'Baku was one of Wakanda's most powerful warriors and one of T'Challa's biggest rivals.
Joe Robert Cole is co-penning the script with Coogler. Kevin Feige is producing the movie.
Marvel had been testing several actors for the role over the past week, including "The Get Down" actor Yahya Abdul-Mateen II, before casting Duke. Duke is relatively new to the industry, having recently graduated from the Yale School of Drama. He had recurring roles on several TV shows, including "Major Crimes," "The Messengers," and "Person of Interest."
BABYMETAL TEAMS WITH WARNER BROS ON LIVE-ACTION ANIMATED DIGITAL SERIES
09/28/16 @ 9:56 pm EST
Source:
Deadline
| Categories:
MIsc
|
Comments
(0) |
E-mail Article
|
Add a Comment
Babymetal is moving into the digital series arena. The Japanese pop-metal music sensation is teaming with Warner Bros digital studio Blue Ribbon Content and Japan's Amuse Inc. subsidiary Amuse USA to develop an original hybrid live-action and animated shortform series. Babymetal creator and manager Key Kobayashi, aka Kobametal, also is producing.
The action-adventure will take viewers inside the magical world of heavy metal music as it comes under attack, and one lonely god, Kitsune, forms the warrior band Babymetal to save the day. In the series, Su-Metal, Yuimetal and Moametal join together to ultimately redefine the genre. The series also will feature new live-action performances from the group, who will enter the animated world through a secret portal.
Fronted by three teenage girls with choreographed dance moves to accompany their vocals, Babymetal is making waves in the music industry with two albums that have solidified the Japanese pop-metal band's cross-continent success. The group recently caught the attention of Red Hot Chili Peppers, who are taking them on their first UK tour in five years.
The group's first studio album earned the No. 1 spot on Billboard's World Album chart, and the official live music video for their debut album's lead single,"Gimme Chocolate!!," has garnered more than 60 million views on YouTube (watch it below). Their sophomore album,
Metal Resistance
, made them the first Japanese act in 53 years to make the Billboard 200 album chart's top 40.
"Babymetal have to be seen to believed — a mind-blowing, fun combination of pop vocals, heavy metal music and dance choreography brought to life by three incredibly talented teenage stars," said Sam Register, President of Warner Bros Animation and Warner Digital Series. "We are huge fans here at Blue Ribbon Content and are extremely excited to help bring the Babymetal phenomenon to U.S. audiences through this upcoming digital series."
Video:
https://youtu.be/WIKqgE4BwAY
'LOST IN SPACE': MOLLY PARKER TO STAR IN NETFLIX SERIES REMAKE
09/28/16 @ 9:52 pm EST
Source:
Deadline
| Categories:
MIsc
|
Comments
(0) |
E-mail Article
|
Add a Comment
House of Cards
' Molly Parker is set as the female lead opposite Toby Stephens in
Lost in Space,
Netflix's remake of sci-fi master Irwin Allen's 1965 cult TV classic, from Legendary TV.
Slated for a 2018 premiere, the new
Lost in Space
takes its cues from the original CBS series, revolving around the Robinson family, who is forced to come together in a time of crisis. Stranded light years from their intended destination, the Robinsons find themselves battling a strange new alien environment and their own personal demons.
Parker will play Maureen Robinson, the role played by June Lockhart in the original series, a fearless and brilliant aerospace engineer who makes the decision to bring her family to space for a chance at a new life on a better world. Stephens plays the dad, astrophysicist John Robinson, the expedition commander. Also previously cast are Maxwell Jenkins, who plays Will, the youngest Robinson child, and Taylor Russell, who portrays the Robinsons' eldest daughter, Judy.
HOW FAR WOULD YOU GO TO PROTECT THE FUTURE? YOUR FIRST LOOK AT CIVIL WAR II #6
09/28/16 @ 9:49 pm EST
Source:
Marvel
| Categories:
Marvel
|
Comments
(0) |
E-mail Article
|
Add a Comment
This October, friendships will be pushed to the limit, alliances will be broken – and the Marvel Universe will be shaken. Today, Marvel is pleased to present your first look inside
CIVIL WAR II #6
– the next blistering chapter from creators Brian Michael Bendis and artist David Marquez! They were prepared to stop catastrophes before they happened. But what about a vision so preposterous it couldn't possibly come true? Or could it? As the next glimpse of the future reveals Miles Morales standing over what remains of the original Captain America, Steve Rogers – true convictions will be tested. How far would you go to protect the future? Would you turn on one of your own? The answers may surprise you! Be there as the battle rages on this October in
CIVIL WAR II #6
!
CIVIL WAR II #6 (JUL160889)Written by BRIAN MICHAEL BENDIS
Art by DAVID MARQUEZ
Cover by MARKO DJURDJEVICConnecting Variant G by KIM JUNG GI (JUL160892)Variant Cover by MICHAEL CHO (JUL160892)Character Variant by PHIL NOTO (JUL160891)FOC – 10/03/16, On-Sale – 10/26/16