DYNAMITE'S THE SPIDER MAKES NEWSARAMA'S MUST-READ LIST!
05/01/12 @ 10:43 am EST
Source:
Newsarama
| Categories:
The Spider
|
Comments
(0) |
E-mail Article
|
Add a Comment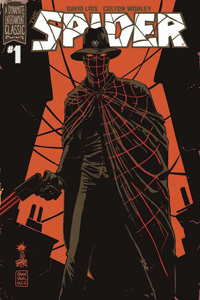 Following the incredible success of Dynamite's
The Shadow
by Garth Ennis, another pulse-pounding pulp hero returns to comics as Dynamite unleashes
The Spider
by writer David Liss with art by Colton Worley! The Spider's Dynamite debut comes complete with covers by Alex Ross, John Cassaday, Francesco Francavilla and Ron Lesser. The book also made Newsarama's Wednesday Watch: MUST-READ New Releases For 5/2/12; here's what they had to say:
Historical fiction novelist David Liss made an impact in the comic book world in recent years with Mystery Men and Black Panther at Marvel.
His latest project is The Spider at Dynamite, reviving a long-running pulp fiction hero.
"I think The Spider is hugely influential and has shaped a lot of what we consider standard elements of comic book heroes and villains, but the character's influence has held up better than the character itself," Liss told Newsarama. "I'm very excited to have the chance to reintroduce readers to a very cool hero who they ought to know if they don't already."
KRYPTON PRODUCER EXPLAINS HOW SUPERMAN FACTORS INTO THE SHOW
07/24/17 @ 8:13 pm EST
Source:
ComicBook
| Categories:
DC
|
Comments
(0) |
E-mail Article
|
Add a Comment
Krypton
created a lot of buzz at Comic-Con by releasing a brand new trailer and announcing that two major DC Comics villains and several DC Comics heroeswould be appearing on the SyFy show.
Still, many fans are wondering how you do a Superman set years before Superman became Superman, but the team behind the show seems confident."Superman being the most famous superhero of all time, he's never absent in terms of the tone and the feel, and also the stakes of the show," executive producer Damien Kindler told ComicBook.com.
"So,
Krypton
is a story that everybody believes they know the ending, but this show really aspires to throw all that on its head and, from the very first episode, make people understand that we're really changing the ending and if you know the ending to story you actually don't and the stakes have much more to do with the present than the do about the past.
"So it's less just going back and telling stories about the past and you know the ending than it is about the past and the future colliding and Superman and his very existence being put on the line," he continues. "It's a very rich world. It will feel a bit familiar, but it will also be a look at Krypton as a place and a civilization through a lens that you've never seen."
Krypton
is a Superman prequel in the mold as Fox's Batman prequel
Gotham.
The show, which has been picked up to series by SyFy, will follow Superman's grandfather as he tries to redeem the honor of the House of El generations before the destruction of the planet.
GODZILLA: KING OF THE MONSTERS DROPS MAJOR MOTHRA TEASE
07/24/17 @ 8:09 pm EST
Source:
ComicBook
| Categories:
Godzilla
|
Comments
(0) |
E-mail Article
|
Add a Comment
Godzilla
fans, it is time you tuned in to Monarch's Twitter page. Legendary Entertainment is working on the sequel to
Godzilla
's 2014 reboot, and the King of Monsters will return to theaters with some very famous kaijus. And, over on social media, fans can check out a major Mothra tease that has come straight from Monarch Sciences mouth.
Not long ago, the film page of Monarch posted an interesting photo that has got fans buzzing. The "classified" picture posted is sourced from the Temple of the Moth from the Yucca province. The image is of cave art which appears to show a carving of Mothra surrounded by larvae and a slumbering cocoon overhead.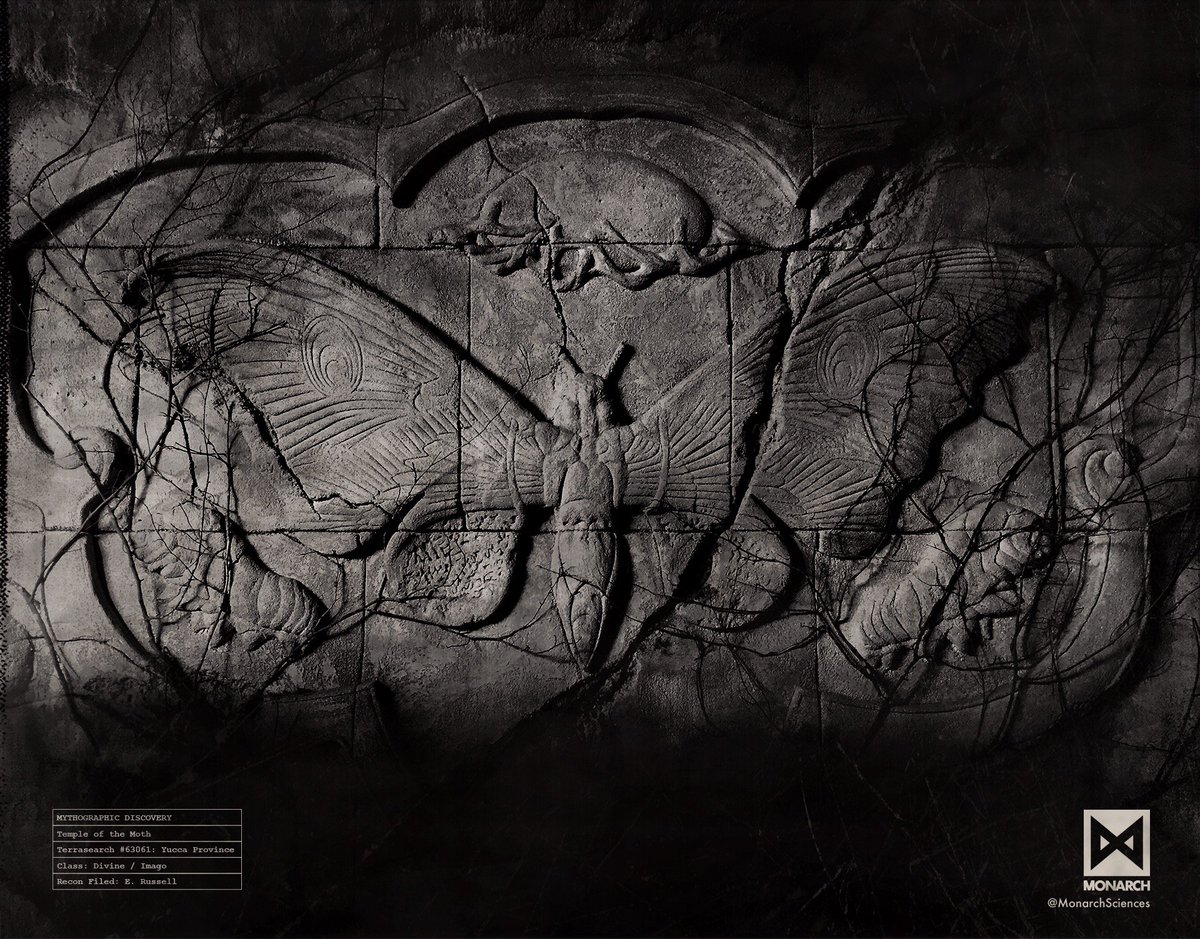 Of course, fans have known for some time that Mothra would be one of a few beasts to sit in on
Godzilla: King of the Monsters
. Legendary hinted the insect kaiju would appear on-screen with other classic creatures like Rodan and King Ghidorah. The hint came in the form of a film reel, and the clip's tease for Mothra included a reference to the Temple of the Moth. However, the cave in question was found in the Yunnan Province of China in 2009, and notes explained a "quickening heartbeat" was detected from within the space.
The reel hasn't been the only teaser for Godzilla's famous opponents.
CANDICE PATTON IS HOPING FOR A WEDDING IN THE FLASH SEASON 4
07/24/17 @ 8:03 pm EST
Source:
ComicBook
| Categories:
DC
|
Comments
(0) |
E-mail Article
|
Add a Comment
Most fans of
the Flash
know that the Scarlet Speedster will not be out of the race for long, but the character's absence will propel Iris West to take on a more proactive role with the team.
And when Barry Allen eventually does make it out of the Speed Force, actor Candice Patton wants to see their relationship continue to grow as it has over the course of the show.
Patton and other cast members of
the Flash
spoke with ComicBook.com about the new season recently and were asked to tease some of the future developments with there characters.
"Hopefully a wedding," Patton said. "Hopefully there's marriage bells for Barry and Iris if we can get him out of the Speed Force."
The Flash
's fourth season premieres on The CW on Tuesday, October 10th, at 8/7c.
THOR: RAGNAROK'S TESSA THOMPSON REVEALS VALKYRIE'S RELATIONSHIP TO THE GRANDMASTER
07/24/17 @ 7:59 pm EST
Source:
ComicBook
| Categories:
Marvel
|
Comments
(0) |
E-mail Article
|
Add a Comment
When
Thor: Ragnarok
hits theaters later this year, it's set to bring a slew of new characters into the Marvel Cinematic Universe. But according to Tessa Thompson, who plays Valkyrie in the film, no sort of romance between her and The Grandmaster (Jeff Goldblum) will be introduced along the way.
Thompson spoke to ComicBook.com, where she reassured that the dynamic between Valkyrie and The Grandmaster will remain platonic.
"I don't have any romantic relationship with The Grandmaster." Thompson explained. "It's a strictly work relationship, which is advantageous, mostly for me."
But according to Thompson, Valkyrie's work relationship with The Grandmaster will hit some unique circumstances during
Ragnarok
.
"I bring the Grandmaster things that may be of interest to him, and one of those happens to be Thor. [The Grandmaster is] always grouping people together in fights, and I brought The Hulk to him, and so I bring Thor as a would-be contender, and hilarity ensues."
ARROW SHOWRUNNER ADDRESSES OLICITY IN SEASON 6
07/24/17 @ 7:56 pm EST
Source:
ComicBook
| Categories:
DC
|
Comments
(0) |
E-mail Article
|
Add a Comment
After two solid seasons of building the relationship between Oliver Queen and Felicity Smoak on
Arrow
, the show's acclaimed fifth season -- which ended in the spring -- saw the writers not just pump the brakes, but slam on them. What's to come in season six?
While executive producer Marc Guggenheim evoked a pair of fan-favorite (and Olicity-favored) episodes from season 5, Guggenheim doesn't expect everyone to get what they want right away in season 6.
"I'm going to give a very unsatisfying answer to the Olicity fans," Guggenheim admitted to ComicBook.com, "which is that we sort of set Oliver and Felicity on a certain trajectory starting with 520, and you saw a little bit of it in 523. We're continuing it. I will say that the events of the finale did throw a little bit of a wrench into their slow rekindling of their relationship."
That wrench, based on the trailer shown at Comic Con last weekend, appears to be William, Oliver's son, who is becoming a much bigger part of his father's life in season 6 -- something that may put the whole dating game on hold for a little while.
JAMES BOND 25 GETS RELEASE DATE
07/24/17 @ 7:47 pm EST
Source:
Variety
| Categories:
James Bond
|
Comments
(0) |
E-mail Article
|
Add a Comment
James Bond will be back in action in 2019, Metro-Goldwyn-Mayer and Eon Productions said Monday.
The 25th film about the legendary super-spy will hit theaters on Nov. 8, 2019. There's no word yet on whether or not Daniel Craig will be asking for his martinis shaken, not stirred. The companies said that additional details regarding the film's distribution, including international release dates, its cast and director, will be announced at a later date. However, some insiders believe that there is a good chance Craig will return for at least one more outing as 007.
Bond won't have the premiere date all to his bespoke-suited lonesome. Disney will be releasing an untitled fairy tale movie on the same date.
MGM and Eon also are looking for a studio to handle the marketing and the distribution of the film. Warner Bros., Fox, Sony, and Universal are among the studios that would like to release the latest Bond, with some insiders giving a slight edge to Warners.
"Spectre," the most recent Bond adventure, reunited Craig with "Skyfall" director Sam Mendes. It grossed $880.7 million globally.
The next film doesn't have a formal title yet. It will be written by Neal Purvis and Robert Wade. The duo is steeped in 007 lore, having previously handled scripts for "Casino Royale," "Quantum of Solace," "Skyfall," and "Spectre." The film will be produced by Michael G. Wilson and Barbara Broccoli.
DOME KARUKOSKI TO HELM J.R.R. TOLKIEN BIOPIC
07/24/17 @ 7:43 pm EST
Source:
Deadline
| Categories:
MIsc
|
Comments
(0) |
E-mail Article
|
Add a Comment
J.R.R. Tolkien, whose Middle-Earth epic novels hatched the Peter Jackson-directed film trilogies
The Lord of The Rings
and
The Hobbit
, now is getting his movie moment. Dome Karukoski has been set to direct
Tolkien
, and casting is underway, with Chernin Entertainment producing for Fox Searchlight.
The script by David Gleeson and Stephen Beresford explores the formative years of the orphaned author as he finds friendship, love and artistic inspiration among a fellow group of outcasts at school. This takes him into the outbreak of World War I, which threatens to tear the "fellowship" apart. All of these experiences would inspire Tolkien to write his famous Middle-Earth novels. Karukoski helmed
The Home of Dark Butterflies
. He is repped by ICM Partners.
ATRIA BOOKS AND SKYBOUND ENTERTAINMENT TO LAUNCH NEW IMPRINT
07/24/17 @ 2:01 pm EST
Source:
Skybound
| Categories:
MIsc
|
Comments
(0) |
E-mail Article
|
Add a Comment


Atria Books, an imprint of Simon & Schuster, Inc., and Skybound Entertainment, the multi-platform entertainment company responsible for such television hits as The Walking Dead, Fear the Walking Dead and Outcast have announced a new co-publishing imprint, Skybound Books, which will focus on science fiction, fantasy and horror properties.

Skybound Books will initially publish four to six titles per year and will include original works of fiction and nonfiction as well as books derived from existing and forthcoming Skybound Entertainment properties.

Entertainment has hired Michael Braff as Senior Editor of the imprint, based in Los Angeles. He comes to Skybound after ten years at Penguin Random House, where he acquired and edited numerous best-selling and award-winning science fiction and fantasy titles for Del Rey Books. Sean Mackiewicz will oversee Braff and all strategic functions of the imprint in his new role as Senior Vice President, Editor-In-Chief at Skybound Entertainment. Sean previously served as Editorial Director at Skybound since 2012.

Judith Curr, President and Publisher of Atria Books, negotiated the world rights deal alongside Atria's Vice President and Editor-in-Chief Peter Borland, and Borland and Senior Editor Jhanteigh Kupihea will be the editorial liaisons.

Judith Curr said, "This dynamic co-publishing partnership with Skybound—one of the most innovative companies in Hollywood- provides an opportunity to build a publishing home within Atria for writers with bold, new voices and creative visions."

"This co-publishing partnership between Skybound Entertainment and Atria Books comes at a really exciting time for the company," said Skybound Entertainment Chairman and The Walking Dead creator Robert Kirkman. "We are on a relentless search to find different ways to tell the stories from some the most creative minds out there, and Skybound Books imprint is a very important component of that endeavor."

Founded in 2010, Skybound Entertainment is a multiplatform entertainment company that houses projects ranging from television, film, digital content, comics, interactive gaming, and live events. Moving into the digital content space, Skybound produced the first-ever narrative VR series, Gone, for Samsung's Milk VR platform and in 2017 will produce VR horror series Lies Within, which is the first project out of Skybound's partnership with interactive theatrical company Delusion. Skybound recently announced the film adaptation of Robert Kirkman's second-longest running comic series Invincible, with Seth Rogen and Evan Goldberg attached to direct, write, and produce the movie for Universal. Additional newly announced Skybound projects include Five Year, Mastermind and Heroes and Villains: The History of Comics.
THOR: RAGNAROK DIRECTOR REVEALS HOW THE FILM REFERENCES PLANET HULK
07/24/17 @ 1:43 pm EST
Source:
ComicBook
| Categories:
Marvel
|
Comments
(0) |
E-mail Article
|
Add a Comment
The Marvel Cinematic Universe will visit "Planet Hulk," both the literal planet of Sakaar and the storyline that made the planet, in
Thor: Ragnarok
this November.
However, director Taika Waititi says that wasn't always his goal. Waititi was just looking to put a bit of himself into the third
Thor
movie and ended up leaning into the fan-favorite Hulk tale.
"I was just trying to inject my tone and sensibility into it, and then those guys who actually know the comics came in and were like, 'Let's just push it in this direction back here,'" Waititi tells IGN. "Korg and Miek, who are two characters from 'Planet Hulk,' there's that stuff."
As with any adaptation, there are also differences as well.
"One difference is we have the Grandmaster ruling Sakaar instead of the Red King, and so there's those things, but I don't really pay that much attention to it," Waititi says. "I'm trying to create cool characters and tone and story instead of it has to be totally authentic to the comic because I think that's when you run into trouble when you can't be creatively free to adjust things."
AVENGERS 4 STARTS FILMING IN TWO WEEKS
07/24/17 @ 1:38 pm EST
Source:
ComicBook
| Categories:
Marvel
|
Comments
(0) |
E-mail Article
|
Add a Comment
The third and fourth
Avengers
movies were first announced as
Avengers: Infinity War
Parts 1 and 2. Marvel has since retitled the films, keeping
Avengers: Infinity War
for the film releasing in 2018 while the fourth
Avengers
movie remains untitled, and that change is more than just a cosmetic one.
Director Joe Russo tells ComicBook.com that the third and fourth
Avengers
movies are different creations, each with their own very different characteristics.
'They're all big," Russo says. "It's important for both movies to be distinctly different. It's important for them to have different tones, and different narratives, and different surprises for the audience. We've worked really hard with [writers Christopher Markus and Stephen McFeeley] at ensuring that the films are tonallydifferent and structurally different."
Russo went on to note the intense filming schedule involved in making these movies, revealing that production on
Avengers 4
is starting sooner than most would have expected.
"It's crazy man, we just wrapped the first movie a week ago and I start shooting the second one in two weeks. It's a crazy schedule," Russo said.
That means
Avengers 4
will enter production a full nine months before
Avengers: Infinity War
opens in theaters. It's a logistical necessity if Marvel Studios wants the fourth
Avengers
movie to open just a year after
Avengers: Infinity War
, as is currently the plan, but it still says something about the confidence that Marvel has in the Russo brothers as directors.