DYNAMITE'S THE SPIDER MAKES NEWSARAMA'S MUST-READ LIST!
05/01/12 @ 10:43 am EST
Source:
Newsarama
| Categories:
The Spider
|
Comments
(0) |
E-mail Article
|
Add a Comment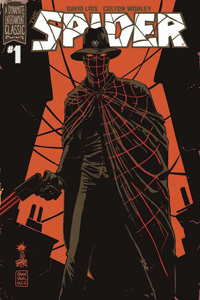 Following the incredible success of Dynamite's
The Shadow
by Garth Ennis, another pulse-pounding pulp hero returns to comics as Dynamite unleashes
The Spider
by writer David Liss with art by Colton Worley! The Spider's Dynamite debut comes complete with covers by Alex Ross, John Cassaday, Francesco Francavilla and Ron Lesser. The book also made Newsarama's Wednesday Watch: MUST-READ New Releases For 5/2/12; here's what they had to say:
Historical fiction novelist David Liss made an impact in the comic book world in recent years with Mystery Men and Black Panther at Marvel.
His latest project is The Spider at Dynamite, reviving a long-running pulp fiction hero.
"I think The Spider is hugely influential and has shaped a lot of what we consider standard elements of comic book heroes and villains, but the character's influence has held up better than the character itself," Liss told Newsarama. "I'm very excited to have the chance to reintroduce readers to a very cool hero who they ought to know if they don't already."
WILLIAM SHATNER CALLS ON STAR TREK FANS TO HELP PAY TRIBUTE TO LEONARD NIMOY
08/03/15 @ 11:50 am EST
Source:
Comicbook
| Categories:
Star Trek
|
Comments
(0) |
E-mail Article
|
Add a Comment
William Shatner is asking for your help to pay tribute to his life-long friend and colleague Leonard Nimoy, who passed away in February at the age of 83.
He needs
Star Trek
fans to take a selfie doing the iconic Vulcan salute, which has become the universal sign for 'Live long and prosper' (LLAP).
"I need everyone's help," Shatner tweeted. "Take a selfie of you doing the LLAP sign and email the photo to
NIMOYTribute@gmail.com."
The salute was devised by Nimoy and first appeared in 1967 in the first episode of season two of the original
Star Trek
television series. Nimoy said that the gesture was inspired by Churchill's victory sign and on the Priestly Blessing performed by Jewish Kohanim, which he witnessed at his grandfather's synagogue as a child.
RONDA ROUSEY DEDICATED HER WIN TO RODDY PIPER
08/03/15 @ 11:45 am EST
Source:
Comicbook
| Categories:
MIsc
|
Comments
(0) |
E-mail Article
|
Add a Comment
On Friday, the world lost WWE Hall of Famer "Rowdy" Roddy Piper, who passed away at age 61. On Saturday, "Rowdy" Ronda Rousey defended her UFC Women's Bantamweight Championship. Both before and after the fight, Rousey paid tribute to the WWE legend, who graciously gave her permission to use his nickname.
What a cool thing to do, on both their parts. We miss ya, Hot Rod!
DEADPOOL TRAILER FOR TRAILER RELEASED ONLINE
08/03/15 @ 11:42 am EST
Source:
Comicbook
| Categories:
Deadpool
|
Comments
(0) |
E-mail Article
|
Add a Comment
Twentieth Century Fox has released a trailer for the trailer for
Deadpool
.
The over the top (and definitely NSFW) trailer trailer has some fun at the expense of the
X-Men Origins: Wolverine
version of Deadpool, as well as the Hollywood trend towards releasing promotional material for other promotional material, and reminds fans that the actual trailer will be online tomorrow.
Check it out here:
https://youtu.be/QPZHBjyUGhQ
SCENES FROM THE WEEKEND'S BOSTON COMIC CON
08/03/15 @ 11:38 am EST
Source:
Boston.com
| Categories:
MIsc
|
Comments
(0) |
E-mail Article
|
Add a Comment
Scenes from this weekend's Boston Comic Con. (via Boston.com):
MARVEL TO ADAPT IRON MAN 3 AND WINTER SOLDIER AS COMICS
08/03/15 @ 11:06 am EST
Source:
Bleeding Cool
| Categories:
Marvel
|
Comments
(0) |
E-mail Article
|
Add a Comment
Will Corona Pilgrim
and
Szymon Krudanski
are to write and draw
Marvel's Captain America: Civil War Prelude
, an MCU prelude to the upcoming
Captain America: Civil War
movie, a four issue series, and additional decampi comic
Marvel's Captain America: Civil War Prelude Infinite Comic.
But it seems to be an adaptation of the previous movies
Iron Man 3
and
Captain America: Winter Soldier
.
Here's the solicit.
Follow the road to Captain America: Civil War with official adaptations of the smash hit films Iron Man 3 and Captain America: Winter Soldier! When The Mandarin strikes at the United States with a series of deadly terror attacks, Iron Man must take action! But can Tony Stark handle the pressure when he has his own demons to face? And when Captain America encounters an assassin named the Winter Soldier, he joins forces with Black Widow and Falcon to uncover a deep seated conspiracy in their very midst! It's spy versus spy as the fate of the country hangs in the balance!
Expect the series, Infinite Comic and an extra Civil War #1 to get collected in April, ahead of the movie.
BATMAN'S EDITOR IS LOOKING INTO DAMIAN'S ETHNIC PORTRAYAL
08/03/15 @ 11:01 am EST
Source:
Bleeding Cool
| Categories:
Batman
|
Comments
(0) |
E-mail Article
|
Add a Comment
At the Boston Comic Con this weekend,
Batman
editor
Mark Doyle
was asked, if Damian's mother is Talia al Ghul, of a Middle Eastern background, why Damian is consistently portrayed as white, like his father Bruce Wayne, rather than biracial.
He told that questioner that he would be looking into it today.
Also,
Brian Azzarello
, in response to questions as to how DC can compete with Marvel at the movies, said that DC Comics is always looking for new ways to tell these stories and many more.
"Why do something that's already been done?" (Via Bleeding Cool)
LOS ANGELES BURNS IN NEW "FEAR THE WALKING DEAD" TRAILER
08/03/15 @ 10:53 am EST
Source:
Comic Book Resources
| Categories:
Walking Dead
|
Comments
(0) |
E-mail Article
|
Add a Comment
The latest trailer/teaser for "Fear the Walking Dead" casts the entire city of Los Angeles in the role of the titular undead. As its lights die out, block by block and building by building, the Southern California metropolis finds itself reborn as fires take the place of their electronic counterparts and LA lurches back to some semblance of life.The trailer:
https://youtu.be/qZ8Dfqyt8d8
'MISSION: IMPOSSIBLE--ROGUE NATION' BOOSTS STAR POWER, BUT CAN'T BEST 'GUARDIANS'
08/03/15 @ 10:46 am EST
Source:
ICv2
| Categories:
MIsc
|
Comments
(0) |
E-mail Article
|
Add a Comment
Mission: Impossible—Rogue Nation surpassed expectations as it easily took the weekend box office crown with $56 million, while the remake of National Lampoon's Vacation disappointed with a second place showing that yielded just $14.8 million. Overall the weekend was down 22.3% from the same frame last year whenGuardians of the Galaxy began its stellar run with a $94.3 million bow.

The successful launch of Rogue Nation, the fifth Mission: Impossible film, continued the franchise turnaround begun by the fourth film in the series Ghost Protocol, and bolstered the star power of Tom Cruise. In a summer that has seen films starring screen icons Arnold Schwarzenegger (Terminator: Genisys) and Adam Sandler (Pixels) crash and burn at the box office, the continuing success of Cruise (at least in the MI pics) demonstrates that "star power" still matters.

Cruise's star power evidently matters even more outside of North America whereRogue Nation made $65 million from 40 territories (roughly half of the overseas market). Ghost Protocol made 70% of its worldwide revenue outside the U.S., and the percentage for Rogue Nation could go even higher, since the film set new franchise records in 27 of the 40 overseas territories in which it debuted.

The opening weekend audience for Rogue Nation was predominantly male (62%), and older with 80% of the crowd over 25—and they liked the film giving it a solid "A-" CinemaScore. With decent word of mouth and its 93% positive rating on review aggregator Rotten Tomatoes, Rogue Nation appears to be poised for fairly long run at the domestic box office where its total might eventually rival Ghost Protocol's $209 million showing.

'MISSION: IMPOSSIBLE 5′ NOTCHES SERIES-HIGH OPENING DAY, EYES $52 MILLION WEEKEND
08/01/15 @ 4:19 pm EST
Source:
Variety
| Categories:
MIsc
|
Comments
(0) |
E-mail Article
|
Add a Comment
Tom Cruise actioner "Mission: Impossible — Rogue Nation" generated $20 million at the Friday box office, marking the biggest opening day in the "Mission: Impossible" franchise.
The Paramount/Skydance release is on track to pull in about $52 million for the weekend in its 3,956 locations, according to studio estimates. The fifth installment in the series, written and directed by Chris Mcquarrie, finds Cruise facing off against a squad of special agents known as the Syndicate. Simon Pegg, Jeremy Renner and Rebecca Ferguson also star.
"This is the rare sequel that leaves its franchise feeling not exhausted but surprisingly resurgent at 19 years and counting,"
Variety
's review says of the pic. Cruise has already announced plans for a sixth film.
"Mission: Impossible — Ghost Protocol," the previous pic in the series, pulled in $209 million in the U.S. and $485 million internationally. The first four "Mission: Impossible" films have totaled more than $2 billion in worldwide grosses.
The "Vacation" remake pulled in $4.5 million in 3,411 locations on Friday night, bringing its cumulative gross to $10.8 million since bowing on Wednesday. The laffer is expected to make about $13 million in the three-day frameNew Line's "Vacation," made on a $31 million budget, bows 32 years after the original trip to Walley World. Helms plays the grown-up Rusty Griswold, who plans a trip to the theme park with his wife, played by Christina Applegate, and their children. Chris Hemsworth also stars.
CHANNING TATUM CLOSES HIS 'GAMBIT' DEAL
08/01/15 @ 4:13 pm EST
Source:
The Hollywood Reporter
| Categories:
X-Men
|
Comments
(0) |
E-mail Article
|
Add a Comment
Channing Tatum
has closed a deal to star in
Gambit
, 20th Century Fox's
X-Men
spin-off movie.
The move, which was widely expected, contradicts reports that appeared last week suggesting the actor would exit the project after failing to come to terms with Fox.
Sources say that Tatum and the studio did hit a sensitive spot in negotiations, but such back-and-forth is a normal part of top-level talent dealmaking. The
Magic Mike
star's participation hardly was in any real danger because the actor already had invested quite a bit in the superhero part. Tatum has been attached to the movie (loosely then officially) as both actor and producer for a few years and even made a surprise appearance at Fox's
X-Men
panel at Comic-Con in July.
One thing that needed figuring out was the extent of Tatum's involvement in the
X-Men
universe. Fox sees Tatum's Gambit, a mutant who harnesses kinetic energy, as one of the anchor characters of the X-universe, akin to
Hugh Jackman
's Wolverine, someone who would anchor his own movies and appear in numerous others. It's a commitment that could theoretically last more than a decade. (Jackman has been portraying Wolverine since 2000, for instance.)
Sources say that backend compensation was also a sticking point.
Rupert Wyatt
, who directed Fox's
Rise of the Planet of the Apes
, will direct
Gambit
.