WRITER BRANDON JERWA JOINS VAMPIRELLA!!! VAMPIRELLA #21 HITS COMIC STORES JULY 2012!!!
05/04/12 @ 4:36 pm EST
Source:
Dynamite Entertainmnet
|
Comments
(0) |
E-mail Article
|
Add a Comment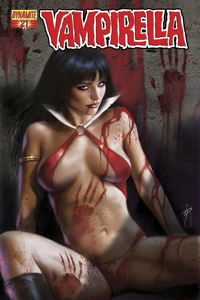 Vampirella gains a new writer this July with Brandon Jerwa! In Brandon's first issue, #21, needs something else here as after here the "after" should start the new sentence. After the startling events of last issue, Vampirella's ready to put everything on the line in an attempt to save one soul and destroy another. Heroes and villains alike are playing toward their own endgame, and the cards are turning with a deadly quickness. We're not kidding when we say that BIG changes are coming, and it all starts here with Part 1 of INQUISITION! Be sure to pick up Vampirella at this great jumping-on point with issue #21!
"I've been a fan of Eric Trautmann's Vampirella since the first issue, and given our ongoing collaboration, this might be one of the easiest handoffs in the history of comics," says writer Brandon Jerwa. "Will my Vampirella book be different? Absolutely. Will I be undoing what has come before? No way. Dynamite has a great franchise here, and I'm going to do my best to turn the amps up to eleven!"
"Eric's told all the stories that he wanted to tell and it's been a great ride. He helped us re-introduce Vampirella and we have been very happy with his stories and we're sorry to see him go," adds Dynamite Entertainment President and Publisher Nick Barrucci. "But Brandon Jerwa has big plans for the series, and it's incredible! I don't want to give too much away but it's a great new direction and fans will be happy."
Brandon Jerwa's comic book career began in 2003, when he submitted a script to Devil's Due Publishing that was accepted, and was eventually published in G.I. Joe: Frontline #11-14. Soon afterwards, he became the main writer on G.I. Joe: A Real American Hero and also wrote several G.I. Joe miniseries. On May 18, 2006, Brandon was featured on episode #24 of the Game Show Network's I've Got a Secret; his secret being that in honor of his work on the G.I. Joe comics, Hasbro used his face as the basis for the G.I. Joe action figure Dragonsky. In 2006 and 2007, Jerwa began writing for Dynamite Entertainment, working on the series Highlander, co-writing the first four issues with Michael Avon Oeming before moving on to a prolific run on Battlestar Galactica. Jerwa and Eric Trautmann collaborated on a project called Wide Awake, which appeared first as a short story in Popgun Vol. 2, then as a Free Comic Book Day special, and then later as a free webcomic. In 2009, the duo pitched an idea for a graphic novel to DC's imprint Vertigo, which was accepted, and soon after Jerwa was contacted about working with DC directly. Jerwa's first work for DC Comics was in September 2009 as the writer of the Inferno co-feature in The Shield, a monthly series that introduced re-imagined versions of the Red Circle Comics superhero characters into the DC Universe.
Brandon Jerwa currently writes Pantha in addition to Vampirella for Dynamite Entertainment!
Become our fan on Facebook at
facebook.com/DynamiteComics
Join the conversation on Dynamite Entertainment's twitter page at
http://twitter.com/DynamiteComics
To find a comic shop near you, call 1-888-comicbook or visit
www.comicshoplocator.com
GODZILLA FACES THE FIERY INFERNO OF HELL ITSELF
03/31/15 @ 7:45 pm EST
Source:
IDW
| Categories:
IDW
|
Comments
(0) |
E-mail Article
|
Add a Comment
In over six decades of battles and triumphs, Godzilla has never faced a challenge as great as what's coming his way this July, when Godzilla goes to hell! In Godzilla in Hell, a five-issue miniseries launching in July, Godzilla will storm through the gates of hell itself, proving that the towering behemoth is King Of The Monsters both above and below!With no warning and no sign of salvation, Godzilla is plummeted to the deepest, darkest bowels of the infernal kingdom. The mystery of what led to Godzilla's damnation, and what it will face, will take readers on a dark and twisted journey unlike any Godzilla story before!A rotating creative team will each take Godzilla through a new and more dangerous layer of Hell, beginning with none other than writer and artist James Stokoe, who is returning to the character for the first time since his haunting stunner of a miniseries, Godzilla: The Half Century War."Drawing Godzilla must be my comfort food, because it feels really great to come back and work on pages with IDW again," said Stokoe, writer and artist on issue 1. "Also, the list of amazing creators they've tapped for this series beyond my issue feels equally great as a fan, especially with the theme everyone gets to play with. You can't get much bigger than Godzilla versus Hell!"Successive issues in this five-part series will feature talents familiar to the Godzilla franchise, including the multi-talented writer/artists Bob Eggleton; and Dave Wachter; Wachter most recently wrapped up the apocalyptic take on Godzilla in Godzilla: Cataclysm.New to the world of Godzilla will be writers Ulises Farinas, and Erick Freitas, together on issue #3 and Brandon Seifert, tackling issue #4; artists will be announced on these issues at a later time."I'm very proud with the level of quality we've brought to all of our Godzilla mini-series," said editor Bobby Curnow. "Godzilla in Hell will prove no exception. It's been incredibly fun seeing the creator's imagination stretch to fully utilize this otherworldly premise."This explosive new series will join a number of other major debuts in July as part of the Five Featured Firsts program, which launches a brand new title each and every week in July. Additionally, the debut issue will feature an EC Comics homage variant cover by Godzilla: Rulers of Earth artist Jeff Zornow as part of EC Cover Month!
'EMPOWERED' VOLUME 9 IS BEYOND YOUR COMEDY IMAGINATION
03/31/15 @ 7:41 pm EST
Source:
Dark Horse
| Categories:
Dark Horse
|
Comments
(0) |
E-mail Article
|
Add a Comment
Get ready to patch up your supersuit for a new challenge, because Adam Warren's Empowered is back, and the stakes are higher than ever for Emp!
Already under official suspicion and suspended from her superteam, costumed crime fighter Empowered finds herself the bewildered target of every major supervillain in the capes-and-tights field for her supposed access to alien technology. With a trick or two up her tattered supersuit's sleeve, can our tirelessly plucky but sadly underestimated heroine outwit her army of tormentors—and escape the long-simmering revenge of the sinister Fleshmaster?
Called "a fantastically rendered book on every conceivable level" by Comic Book Resources,
Empowered
Volume 9 takes Adam Warren's long-running series to a whole new level. Garnering critical acclaim from fans and critics alike,
Empowered
is not only a fantastic story—it's one of the longest-running American graphic novel series currently in publication.
Empowered
Volume 9
Adam Warren (W/A/Cover) $17.99, 978-1-61655-571-9 On sale August 19
CONVERGENCE: SHAZAM HISTORY LESSON FROM DC COMICS
03/31/15 @ 7:33 pm EST
Source:
Comicbook
| Categories:
Shazam
|
Comments
(0) |
E-mail Article
|
Add a Comment
DC Comics provided ComicBook.com with an exclusive first look at the history of Billy Batson, Captain Marvel, as told in the pages of
Convergence: Shazam
#1. These pages give a brief synopsis of Billy Batson, getting you up to speed on the character for DC's big crossover event.
Convergence: Shazam
#1 is written by Jeff Parker and drawn by Doc Shaner and see the world of Captain Marvel crossing over with the universe of
Gotham by Gaslight
.
Convergence: Shazam
#1 goes on sale April 29. Check out the pages in the gallery below.
Convergence: Shazam #1
Publisher:
DC COMICS
(W) Jeff Parker (A/CA) Doc ShanerSTARRING HEROES FROM CRISIS ON INFINITE EARTHS! It's Shazam versus Steampunk, as the world of Gotham by Gaslight takes on the Captain Marvel family and friends!
Item Code:
FEB150230
In Shops:
4/29/2015
SRP:
$3.99
'ARROW' STAR STEPHEN AMELL LANDS CASEY JONES ROLE IN 'TEENAGE MUTANT NINJA TURTLES 2′
03/31/15 @ 7:02 pm EST
Source:
Variety
| Categories:
TMNT
|
Comments
(0) |
E-mail Article
|
Add a Comment
Stephen Amell has been tapped to play Casey Jones in "Teenage Mutant Ninja Turtles 2″ for Paramount and Platinum Dunes.
Megan Fox is set to return as April O'Neil. Will Arnett is also returning. David Green is directing the pic. Plot details and information on other returning cast members are still unknown.
A loner who becomes an ally of the turtles and a love interest for O'Neil, Jones is a fan favorite of the series going back to when Elias Koteas played him in the 1990 New Line pic.
Michael Bay is producing along with his Platinum Dunes partners Brad Fuller and Andrew Form. Josh Appelbaum and André Nemec are penning the script.
Amell tested with a half-dozen actors over the weekend, but it was his chemistry with Fox that led to the studio eventually giving the role to the star of CW's "Arrow." Paramount had no comment on the casting.
The "Turtles" franchise is one of Paramount's top properties following its success last summer, when it earned $191 million domestically — so much so that Paramount dated the sequel for 2016 before even locking down a director or cast.
AKINNUOYE-AGBAJE REPORTEDLY CAST AS BATMAN VILLAIN IN
03/31/15 @ 4:04 pm EST
Source:
Comic Book Resources
| Categories:
Suicide Squad
|
Comments
(0) |
E-mail Article
|
Add a Comment
Killer Croc appears to be the latest DC Comicsvillain in Warner Bros.' "Suicide Squad"ensemble: The Wrap reports that Adewale Akinnuoye-Agbaje has been cast as the well-known Batman adversary, one of multiple DC villains set to appear in the 2016 film.
The Wrap states representatives for Warner Bros. and Akinnuoye-Agbaje did not immediately respond to requests for comment.
Additionally, the outlet reports that Karen Fukuhara -- with no listed IMDb credits, presumably a Hollywood newcomer -- has been cast in an as-yet undisclosed role.
Akinnuoye-Agbaje has a long history in genre fare, famously appearing as Mr. Eko on "Lost," along with roles in "The Mummy Returns," "G.I. Joe: The Rise of Cobra" and "Thor: The Dark World."
He appears with "Suicide Squad" star Will Smith in "Concussion," a sports film scheduled for release late this year.
SCOTT EASTWOOD CONFIRMS ROLE IN DC COMICS MOVIE SUICIDE SQUAD
03/31/15 @ 3:51 pm EST
Source:
People
| Categories:
Suicide Squad
|
Comments
(0) |
E-mail Article
|
Add a Comment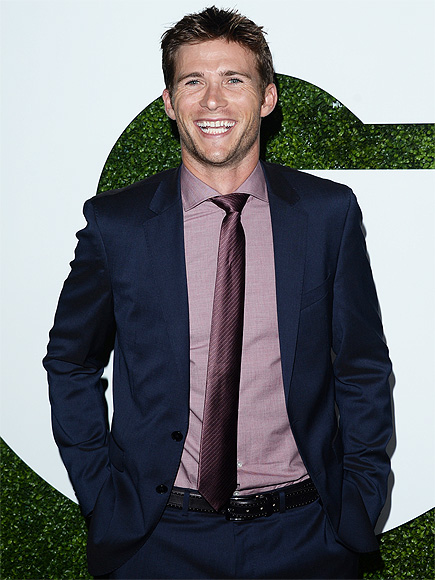 Scott Eastwood is hanging up his cowboy hat and heading to the DC Comics world.

The 29-year-old actor stated once and for all that he will appear in the upcoming supervillain film Suicide Squad – although his character remains a mystery.

"I'm doing a movie called Suicide Squad," Eastwood toldEntertainment Tonight on Monday, confirming the ongoing speculation.

The actor, who is actor-director Clint Eastwood's son, is straying far from his latest romance drama role, in Nicholas Sparks' The Longest Ride, in which he plays a professional bull rider dating a college student.

Suicide Squad is scheduled to hit theaters summer 2016.
STAN LEE GETS LUCKY WITH NEW SUPERHERO TV SHOW 'LUCKY MAN'
03/31/15 @ 3:41 pm EST
Source:
CNET
| Categories:
Stan Lee
|
Comments
(0) |
E-mail Article
|
Add a Comment
As luck would have it, comic book legend Stan Lee is bringing "a different kind of superhero show" to television. Produced by UK broadcaster Sky, "Lucky Man" sees a troubled cop given the power to control chance.
The new show is conceived by Lee and stars James Nesbitt, previously seen as Bofur the dwarf in "The Hobbit" movies and as the titular split-personality in Steven Moffat's "Jekyll".
He plays DI Harry Clayton, a troubled detective with a gambling problem and a wife and kid who've left him -- how novel! Into this innovative set-up comes a mysterious woman who gives Harry an ancient bracelet that controls luck, with no doubt exciting consequences.
CHEO HODARI COKER WILL SERVE AS EXECUTIVE PRODUCER AND SHOWRUNNER OF 'MARVEL'S LUKE CAGE' FOR NETFLIX
03/31/15 @ 3:27 pm EST
Source:
Marvel
| Categories:
Marvel
|
Comments
(0) |
E-mail Article
|
Add a Comment
Netflix & Marvel Television announced today that Cheo Hodari Coker will serve as executive producer and showrunner of the anticipated series, "Marvel's Luke Cage." Coker is writing the first two episodes of the series that will premiere in 2016, everywhere that Netflix is available.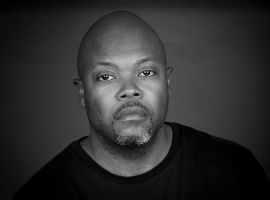 CHEO HODARI COKER
Most recently, Coker served as a co-executive producer on the second season of "Ray Donovan," and prior to that was a supervising producer on the critically-acclaimed, fourth season of the drama "SouthLAnd." Coker was a part of the "SouthLAnd" team that earned the show a 2012 Peabody Award. Coker also garnered a 2013 NAACP Image Award for Outstanding Writing for a Dramatic Series for his work on that show. Coker's feature film credits include Fox Searchlight's rap biopic "Notorious." He authored the book "Unbelievable: The Life, Death, and Afterlife of The Notorious B.I.G." as well. Coker started his writing career in journalism and was a staff writer at the Los Angeles Times and contributed to VIBE, Rolling Stone, Essence, among other publications. He is a graduate of Stanford University.
It was previously announced that Mike Colter ("The Good Wife," "American Horror Story: Coven") will play the charismatic lead character, Luke Cage, in the series.
"Marvel's Luke Cage" is produced by Marvel Television in association with ABC Studios for Netflix.
'TRON 3′ GAINS A TITLE
03/31/15 @ 7:15 am EST
Source:
Comic Book Resources
| Categories:
MIsc
|
Comments
(0) |
E-mail Article
|
Add a Comment
Following a report that director Joseph Kosinski will return to the "Tron" franchise, Production Weekly tweeted out a potential title for the film: "Tron 3: Ascention."
The earlier report also claimed that Garrett Hedlund will also return to reprise the role of Sam Flynn, the son of Kevin Flynn, though there's no word on whether original star Jeff Bridges will reprise his roles as Flynn and Clu. Kosinski's past credits include "Tron: Legacy" and "Oblivion."
"Tron 3″ will begin filming in Vancouver on October 5, 2015. (Source: CBR)
DANIEL CERONE UPDATES US ON CONSTANTINE
03/31/15 @ 7:05 am EST
Source:
Bleeding Cool
| Categories:
Constantine
|
Comments
(0) |
E-mail Article
|
Add a Comment
Executive producer Daniel Cerone has given us a brief update on the fate of the NBC series Constantine.

He tweets that a second season for the show will be pitched to the network executives at the end of April. Which means that we should know the finale fate of the Vertigo adapted series sometime in May.