WRITER BRANDON JERWA JOINS VAMPIRELLA!!! VAMPIRELLA #21 HITS COMIC STORES JULY 2012!!!
05/04/12 @ 4:36 pm EST
Source:
Dynamite Entertainmnet
|
Comments
(0) |
E-mail Article
|
Add a Comment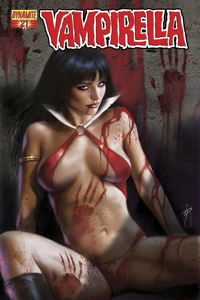 Vampirella gains a new writer this July with Brandon Jerwa! In Brandon's first issue, #21, needs something else here as after here the "after" should start the new sentence. After the startling events of last issue, Vampirella's ready to put everything on the line in an attempt to save one soul and destroy another. Heroes and villains alike are playing toward their own endgame, and the cards are turning with a deadly quickness. We're not kidding when we say that BIG changes are coming, and it all starts here with Part 1 of INQUISITION! Be sure to pick up Vampirella at this great jumping-on point with issue #21!
"I've been a fan of Eric Trautmann's Vampirella since the first issue, and given our ongoing collaboration, this might be one of the easiest handoffs in the history of comics," says writer Brandon Jerwa. "Will my Vampirella book be different? Absolutely. Will I be undoing what has come before? No way. Dynamite has a great franchise here, and I'm going to do my best to turn the amps up to eleven!"
"Eric's told all the stories that he wanted to tell and it's been a great ride. He helped us re-introduce Vampirella and we have been very happy with his stories and we're sorry to see him go," adds Dynamite Entertainment President and Publisher Nick Barrucci. "But Brandon Jerwa has big plans for the series, and it's incredible! I don't want to give too much away but it's a great new direction and fans will be happy."
Brandon Jerwa's comic book career began in 2003, when he submitted a script to Devil's Due Publishing that was accepted, and was eventually published in G.I. Joe: Frontline #11-14. Soon afterwards, he became the main writer on G.I. Joe: A Real American Hero and also wrote several G.I. Joe miniseries. On May 18, 2006, Brandon was featured on episode #24 of the Game Show Network's I've Got a Secret; his secret being that in honor of his work on the G.I. Joe comics, Hasbro used his face as the basis for the G.I. Joe action figure Dragonsky. In 2006 and 2007, Jerwa began writing for Dynamite Entertainment, working on the series Highlander, co-writing the first four issues with Michael Avon Oeming before moving on to a prolific run on Battlestar Galactica. Jerwa and Eric Trautmann collaborated on a project called Wide Awake, which appeared first as a short story in Popgun Vol. 2, then as a Free Comic Book Day special, and then later as a free webcomic. In 2009, the duo pitched an idea for a graphic novel to DC's imprint Vertigo, which was accepted, and soon after Jerwa was contacted about working with DC directly. Jerwa's first work for DC Comics was in September 2009 as the writer of the Inferno co-feature in The Shield, a monthly series that introduced re-imagined versions of the Red Circle Comics superhero characters into the DC Universe.
Brandon Jerwa currently writes Pantha in addition to Vampirella for Dynamite Entertainment!
Become our fan on Facebook at
facebook.com/DynamiteComics
Join the conversation on Dynamite Entertainment's twitter page at
http://twitter.com/DynamiteComics
To find a comic shop near you, call 1-888-comicbook or visit
www.comicshoplocator.com
IT'S GREEN ARROW VS. ... PIANO MAN?
11/22/17 @ 9:05 pm EST
Source:
EW
| Categories:
DC
|
Comments
(0) |
E-mail Article
|
Add a Comment
Oliver Queen welcomes the Piano Man to the Arrowverse for Thanksgiving. And this is guaranteed to be NO turkey!
Big Bad Cayden James (Michael Emerson) wants to celebrate America's holiday by blowing up a concert ... you guessed it, a Billy Joel concert. The iconic singer will appear in the "Arrow" adventure airing Thursday night on The CW via actual concert footage.
"For the Thanksgiving episode of 'Arrow', we wanted Cayden James to threaten a major event at Star City," executive producer Marc Guggenheim told
Entertainment Weekly
. "A variety of ideas were discussed, but when we settled on a rock concert, I knew it had to be Billy Joel."
Longtime Joel fan Guggenheim wrote a letter to the musician asking his permission to feature actual concert footage and a song.
"Having grown up on Long Island — where, as it happens, this episode's concert footage was taken from — I've been a fan of Billy and his music since I was 7 years old," Guggenheim says. "He's always been an inspiration to me, personally and artistically. I told him as much when I wrote to him to ask for his permission to use his concert footage in our episode and when he agreed, it was one of the happiest days of my career. I chose 'No Man's Land' for the episode because I wanted to use an album track and I've always liked how that particular song sounds live."
TURKEY DAY SHOT DOWN BY 'RUNAWAYS'
11/22/17 @ 8:44 pm EST
Source:
YouTube
| Categories:
Marvel
|
Comments
(0) |
E-mail Article
|
Add a Comment
'Marvel's Runaways' is now streaming on Hulu.
Escape the family this Thanksgiving, and begin your run-away with this video from Marvel on
YouTube
.
Video:
https://youtu.be/66Fs06SVOtI
NEW 'THOR: RAGNAROK' POSTER FROM MONDO
11/22/17 @ 8:37 pm EST
Source:
Mondo
| Categories:
Marvel
|
Comments
(0) |
E-mail Article
|
Add a Comment
Mondo
has released a new "Thor: Ragnarok" poster, a VERY colorful illo by artist Matt Taylor.
'CRISIS ON EARTH-X' EXTENDED TRAILER
11/22/17 @ 8:33 pm EST
Source:
ComicBook
| Categories:
DC
|
Comments
(0) |
E-mail Article
|
Add a Comment
The CW has released an extended trailer for the Arrowverse crossover coming later this month (via
ComicBook.com
).
Trailer:
https://youtu.be/du_vAM5TbRc
NEW 'LAST JEDI' JAPANESE TV SPOT
11/22/17 @ 4:11 pm EST
Source:
YouTube
| Categories:
Star Wars
|
Comments
(0) |
E-mail Article
|
Add a Comment
A new Star Wars teaser trailer has hit
YouTube
, this "Last Jedi" clip being a Japanese TV spot.
In the spot, Rey takes the battle to Supreme Leader Snoke with a bit of ... Force!
Spot:
https://youtu.be/5Y3jEfkoZA4
JUDE'S LAW: THE ACTOR'S 'CAPTAIN MARVEL' ROLE REVEALED
11/22/17 @ 4:03 pm EST
Source:
Variety
| Categories:
Marvel
|
Comments
(0) |
E-mail Article
|
Add a Comment
So THAT'S who Jude Law will be in "Captain Marvel"!
Following on the heels Wednesday of news that Law was in talks to take the male lead role in the female-starring Marvel Studios pic,
Variety
has updated its report from saying Law's role is unknown to the following:
"Law will be playing Doctor Walter Lawson, a.k.a. Mar-Vell, who becomes a mentor of sorts to [Carol] Danvers as she tries to figure out her new powers."
In the comics, of course, Mar-Vell is the name of a Kree warrior who himself bore the name Captain Marvel. His death by cancer is a Marvel classic and took place in the company's very first graphic novel by Jim Starlin. Carol Danvers was a supporting character in Mar-Vell's comic long before she gained powers as Ms. Marvel, more recently called Captain Marvel.
NEW TEASER FOR JURASSIC WORLD: FALLEN KINGDOM
11/22/17 @ 3:46 pm EST
Source:
YouTube
| Categories:
MIsc
|
Comments
(0) |
E-mail Article
|
Add a Comment
There is a new clip from the film "Jurassic World: Fallen Kingdom" up on
YouTube
.
Clip:
https://youtu.be/RFwQvQ7iiGU
FROM BOOM! STUDIOS: 'CYANIDE & HAPPINESS: A GUIDE TO PARENTING BY THREE GUYS WITH NO KIDS'
11/22/17 @ 3:28 pm EST
Source:
BOOM! Studios
| Categories:
MIsc
|
Comments
(0) |
E-mail Article
|
Add a Comment
BOOM Studios and Explosm are proud to empower a new generation of parents with
CYANIDE & HAPPINESS: A GUIDE TO PARENTING BY THREE GUYS WITH NO KIDS
in April 2018. In a collection of irreverent and outrageous comic strips and essays by the creators behind one of the most popular, longest-running webcomics of all time, cartoonists Kris Wilson, Rob DenBleyker, and Dave McElfatrick combine all of their knowledge and experience—or lack thereof—for a laugh-out-loud, labor-inducing look into the world of parenthood through the sick and twisted lens of
Cyanide & Happiness
comics.
"My book is the best book out of all the books. It is about parenting," said Dave McElfatrick. "If you don't know what that is, ask your mum or dad."
Featuring a Foreword by
Lunarbaboon: The Daily Life of Parenthood
author Chris Grady,
CYANIDE & HAPPINESS: A GUIDE TO PARENTING BY THREE GUYS WITH NO KIDS
is a definitive and reliable manual that demystifies the complicated world of parenting while delivering crucial tips and sage advice—all from three guys who make comics instead of children. This informative guide for breeders tackles all the big parenting issues: Finding messages in your alphabet soup, drawing the perfect hand turkey, getting away with kidnapping, telling your kids you don't love them anymore, and making out with your kid's best friend's dad.
"A girl I knew in college introduced me to
Cyanide & Happiness
over a decade ago. I've since married that girl and spawned a small, delightful manchild while simultaneously acquiring and editing a
Cyanide & Happiness
parenting book," said Bryce Carlson, Managing Editor, BOOM! Studios. "That, my friends, is the circle of life. It's also the cosmos telling you to buy this book. Trust me, my parenting skills have reached all-new heights since working on this book, regardless of what that girl I married from college says."
CYANIDE & HAPPINESS: A GUIDE TO PARENTING BY THREE GUYS WITH NO KIDS
will be available for sale in April 2018 at local comic book shops; booksellers like Amazon, Barnes & Noble, and Books-A-Million; or through the BOOM! Studios webstore. Digital copies can be purchased from content providers like comiXology, iBooks, Google Play, and the BOOM! Studios app. The previous two
Cyanide & Happiness
books from BOOM! Studios,
Punching Zoo
(2013) and
Stab Factory
(2015), are currently available.
JUDE LAW SOARS INTO 'CAPTAIN MARVEL'
11/22/17 @ 2:58 pm EST
Source:
Variety
| Categories:
Marvel
|
Comments
(0) |
E-mail Article
|
Add a Comment
Brie Larson will not be talking to herself in Marvel Studios' "Captain Marvel" film.
Variety
is reporting Jude Law is in talks to take on the male lead of the film. That exact role is currently unknown, except the characrter will be a mentor of sorts to Larson's Carol Danvers.
Ben Mendelsohn has signed on to play the big-bad in the movie, with "Half Nelson" helmers Anna Boden and Ryan Fleck directing. Kevin Feige is producing.
Marvel had no comment.
Feige announced at this year's San Diego Comic-Con that the film will be set in the 1990s, before the Avengers ever thought of assembling. Samuel L. Jackson is expected to reprise his role as super-spy and sometime SHIELD jefe Nick Fury.
'COCO' SINGS $2.3M TUESDAY NIGHT
11/22/17 @ 2:48 pm EST
Source:
Deadline
| Categories:
MIsc
|
Comments
(0) |
E-mail Article
|
Add a Comment
The battle of the Thanksgiving box office has begun between Disney/Pixar's "Coco" and Warner Bros/DC Films' "Justice League."
The animated story of a boy who dreams of being a musician last night earned $2.3 million (
Deadline
), and is projected to make $60M over the next five days.
"Justice League" showed its super-strength by leading all films in regular release with $10M Tuesday, up 41% over Monday, for a running cume of $111.9M. The Zack Snyder-directed movie is also expected to take in a gross of $60M over the next five days.
The battle continues!