WRITER BRANDON JERWA JOINS VAMPIRELLA!!! VAMPIRELLA #21 HITS COMIC STORES JULY 2012!!!
05/04/12 @ 4:36 pm EST
Source:
Dynamite Entertainmnet
|
Comments
(0) |
E-mail Article
|
Add a Comment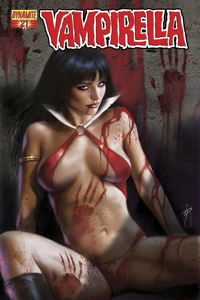 Vampirella gains a new writer this July with Brandon Jerwa! In Brandon's first issue, #21, needs something else here as after here the "after" should start the new sentence. After the startling events of last issue, Vampirella's ready to put everything on the line in an attempt to save one soul and destroy another. Heroes and villains alike are playing toward their own endgame, and the cards are turning with a deadly quickness. We're not kidding when we say that BIG changes are coming, and it all starts here with Part 1 of INQUISITION! Be sure to pick up Vampirella at this great jumping-on point with issue #21!
"I've been a fan of Eric Trautmann's Vampirella since the first issue, and given our ongoing collaboration, this might be one of the easiest handoffs in the history of comics," says writer Brandon Jerwa. "Will my Vampirella book be different? Absolutely. Will I be undoing what has come before? No way. Dynamite has a great franchise here, and I'm going to do my best to turn the amps up to eleven!"
"Eric's told all the stories that he wanted to tell and it's been a great ride. He helped us re-introduce Vampirella and we have been very happy with his stories and we're sorry to see him go," adds Dynamite Entertainment President and Publisher Nick Barrucci. "But Brandon Jerwa has big plans for the series, and it's incredible! I don't want to give too much away but it's a great new direction and fans will be happy."
Brandon Jerwa's comic book career began in 2003, when he submitted a script to Devil's Due Publishing that was accepted, and was eventually published in G.I. Joe: Frontline #11-14. Soon afterwards, he became the main writer on G.I. Joe: A Real American Hero and also wrote several G.I. Joe miniseries. On May 18, 2006, Brandon was featured on episode #24 of the Game Show Network's I've Got a Secret; his secret being that in honor of his work on the G.I. Joe comics, Hasbro used his face as the basis for the G.I. Joe action figure Dragonsky. In 2006 and 2007, Jerwa began writing for Dynamite Entertainment, working on the series Highlander, co-writing the first four issues with Michael Avon Oeming before moving on to a prolific run on Battlestar Galactica. Jerwa and Eric Trautmann collaborated on a project called Wide Awake, which appeared first as a short story in Popgun Vol. 2, then as a Free Comic Book Day special, and then later as a free webcomic. In 2009, the duo pitched an idea for a graphic novel to DC's imprint Vertigo, which was accepted, and soon after Jerwa was contacted about working with DC directly. Jerwa's first work for DC Comics was in September 2009 as the writer of the Inferno co-feature in The Shield, a monthly series that introduced re-imagined versions of the Red Circle Comics superhero characters into the DC Universe.
Brandon Jerwa currently writes Pantha in addition to Vampirella for Dynamite Entertainment!
Become our fan on Facebook at
facebook.com/DynamiteComics
Join the conversation on Dynamite Entertainment's twitter page at
http://twitter.com/DynamiteComics
To find a comic shop near you, call 1-888-comicbook or visit
www.comicshoplocator.com
CIVIL WAR II: THE FALLEN #1 & CIVIL WAR II: THE ACCUSED #1
05/04/16 @ 4:50 pm EST
Source:
Marvel
| Categories:
Civil War II
|
Comments
(0) |
E-mail Article
|
Add a Comment
A pair of CLASSIFIED Civil War II one-shots coming to comic shops and digital devices from Marvel Comics this August!
CIVIL WAR II: THE FALLEN #1
Written by CLASSIFED Art by CLASSIFIED Cover by CLASSIFED
On Sale in August
CIVIL WAR II: THE ACCUSED #1
Written by CLASSIFED Art by CLASSIFIED Cover by CLASSIFED
On Sale in August
RUSSELL CROWE JOINING TOM CRUISE IN 'THE MUMMY' DEADLINE HOLLYWOOD REPLY
05/04/16 @ 4:46 pm EST
Source:
Deadline
| Categories:
MIsc
|
Comments
(0) |
E-mail Article
|
Add a Comment
Russell Crowe is poised to join the growing legion of big stars with global brands taking part in Universal Pictures' classic monsters universe. I'm told that Crowe is in early talks to play a Jekyll-like role opposite Tom Cruise in The Mummy. It is unclear whether this could lead to a future spinoff; right now the discussion is this film. Alex Kurtzman is directing. Jon Spaihts wrote the script and Chris Morgan is overseeing the whole monsters initiative with Kurtzman. Sean Daniel is producing with Morgan and Kurtzman.

The studio recently set a June 9, 2017 release date for The Mummy, and the studiohas taken out an April 13, 2018 release date for an undisclosed monster film. That might well be The Invisible Man, which Deadline revealed Johnny Depp was poisedto play the role originated by Claude Rains. Men In Black scribe Ed Solomon is writing it.
SPOILERS: CLOONAN & DILLON'S "PUNISHER" #1 IS SILENT, DEADLY -- AND CRAZY-VIOLENT
05/04/16 @ 4:39 pm EST
Source:
Comic Book Resources
| Categories:
Punisher
|
Comments
(0) |
E-mail Article
|
Add a Comment
Though it bears the same 12+ rating as most Marvel titles, from "Nova" and Ms. Marvel" to "New Avengers" and "Uncanny X-Men", Marvel's new "Punisher" series has a lot in common with its Marvel MAX predecessor.
Under the creative team of writer Becky Cloonan and artist Steve Dillon, the all-new "Punisher" #1 offers a silent Frank Castle, who makes up for his lack of speech with a creative display of over-the-top, often incredibly bloody, violence.
Check out some of Punisher's relentless badassery in the first issue, below:
Cloonan spoke with CBR about her new series, remarking on Frank Castle as a character she can push beyond his limits: "I found out really quickly that Frank is a character you can push to his limit and beyond. He won't break, and he doesn't have any safe words. As I've challenged him as a character, he's challenged me as a writer. And I think I've come out tougher for it -- and I know a lot more about guns now than I did one year ago! [
Laughs
]."
She added, "I hope people get a few chuckles out of this book! It's a lot of fun -- in a violent, bullet-riddled, bleeding kind of way. I like to think this book walks a line between some very serious moments and situations, balanced by the gallows humor that accompanies them. And as an artist too, I'm trying to write scripts that will be fun to draw -- and Steve is knocking every page out of the park!!"
"Punisher" #1 is in stores today.
KIRKMAN PROMISES "WALKING DEAD'S" CONTROVERSIAL FINALE LEADS TO AN "AWESOME" PAYOFF
05/04/16 @ 4:35 pm EST
Source:
Comic Book Resources
| Categories:
Walking Dead
|
Comments
(0) |
E-mail Article
|
Add a Comment
Weeks after "The Walking Dead's" Season 6 finale, the episode's controversial cliffhanger continues to be a source of discussion among the show's viewers. Executive Producer Greg Nicotero, series co-creator Robert Kirkman and more weighed in on the ending, assuring fans that they never intended the way they handled Negan's introduction to anger the audience.
Now, Kirkman has penned an open letter in the latest issue of his and Charlie Adlard's "Walking Dead" comic. In addition to once again swearing it was never the intent to "game the audience" by not revealing the identity of Negan's victim, Kirkman promises the finale "was setting something up that you probably won't see coming."
"Some people love it. Some people are indifferent. Some people HATE it," Kirkman wrote in the issue's Letter Hacks letter column.
"We weren't trying to game the audience, we weren't trying to drive you crazy, we certainly weren't trying to FORCE you to come back for season 7... we hope you were planning on doing that and still plan on doing that."We did want you to talk. And talk you are."
You can read Kirkman's full statement below. "The Walking Dead" #154, by Robert Kirkman and Charlie Adlard, is on sale now.
"AVENGERS: INFINITY WAR 1 & 2" TO BE RETITLED, CONFIRMS RUSSO BROTHERS
05/04/16 @ 4:32 pm EST
Source:
Comic Book Resources
| Categories:
Avengers
|
Comments
(0) |
E-mail Article
|
Add a Comment
"Captain America: Civil War" directors Joe and Anthony Russo have now confirmed that they're retitling 2018/2019's "Avengers: Infinity War Part 1 and 2," as to not anger fans over releasing the third "Avengers" epic in two parts.
"The movies are two very different movies," Joe told Uproxx.
When asked how the films will be labelled, Anthony said, "It is misleading."
Joe added, "The intention is we will change it, we just haven't come up with the titles yet. But, yes, we will change it. And, yes, that is a scoop: we will retitle them."
Directed by Joe and Anthony Russo and starring Chris Evans, Robert Downey Jr., Scarlett Johansson, Anthony Mackie, Sebastian Stan and more, "Captain America: Civil War" opens on May 6.
MARVEL COMICS PROUDLY PRESENTS ALL-NEW SPOTLIGHT VIDEO SERIES DEVOTED TO THE BLACK PANTHER
05/04/16 @ 4:28 pm EST
Source:
Marvel
| Categories:
Black Panther
|
Comments
(0) |
E-mail Article
|
Add a Comment
Marvel Comics is proud to present an unprecedented approach in introducing the world to Marvel Comics and the next great breakout Marvel Super Hero – the Black Panther. Masterfully merging animated comics with in-depth narration and commentary, this fresh new video series is designed to present a whole new audience to the world of Black Panther timed with his cinematic debut in Marvel's "Captain America: Civil War" and bolstered by the character's best-selling comic book series
.
Black Panther
#1, written by
The Atlantic
national correspondent and National Book Award winner, Ta-Nehisi Coates, accompanied with outstanding art by Brian Stelfreeze, garnered international buzz and attention upon the announcement of this series in 2015 and debuted as the best-selling comic for the month of April. Marvel continues the excitement surrounding Marvel's celebrated Super Hero T'Challa, the Black Panther, through a groundbreaking hip-hop inspired video series.
Working with production house, Bow & Arrow, Marvel will be releasing a series of bold hip-hop driven animated videos devoted to presenting Black Panther, his kingdom of Wakanda, and the Marvel Universe to an all-new audience poised to embrace this powerhouse of an icon.
"
Black Panther
#1 drove new fans into stores across the county, topping the sales charts and selling out in two days," says Editor In Chief Axel Alonso. "This series of videos will direct even more eyes toward the most discussed comic book series – and character – of the year."
Beginning today with "Black Panther 101", fans of Marvel, both new and old, will be able to take a deep-dive into the history of T'Challa to spotlight why the Black Panther is one of Marvel's greatest heroes of all time narrated by current
Black Panther
writer, Ta-Nehisi Coates.
Watch "Black Panther 101" now!
Then, each month, a new "Black Panther: A Nation Under Our Feet"
video will be released with the latest issue of Marvel Comics'
Black Panther
. The "Black Panther: A Nation Under Our Feet"
videos will
educate
new and old fans about Ta-Nehisi Coates'
Black Panther
series through commentary from Mr. Coates, motion graphics, as well as an elevating hip-hop score from some of the world's largest hip-hop acts. "After decades of great work done on
Black Panther
-- everyone from Reginald Hudlin to Don McGregor to Christopher Priest -- it really is an honor to be writing King T'Challa," says Coates.
"Add to that the masterful performance by Chadwick Boseman as the ruler of Wakanda and it really feels like this is Black Panther's time."
Capitalizing on the excitement around Black Panther's cinematic debut within Marvel's "Captain America: Civil War" and backed with an expansive marketing reach and vast digital distribution, this new video series is positioned to reach global proportion and will further emphasize how Marvel is the premiere name when it comes to world building, story-telling, diverse character development and will truly secure Marvel with the moniker of the House of Ideas.
STAR WARS CELEBRATION 2017 ANNOUNCED FOR ORLANDO, FL
05/04/16 @ 4:22 pm EST
Source:
Comicbook
| Categories:
Star Wars
|
Comments
(0) |
E-mail Article
|
Add a Comment
Star Wars
Celebration returns to the states in 2017, heading to Orlando, Florida and the Orange County Convention Center April 13-16, 2017. Tickets will go on sale on the
other
"
Star Wars
Day," May 25, 2016 at 3pm ET onStarWarsCelebration.com.
"Star Wars
Celebration has always been about the fans," said Kathleen Kennedy, president of Lucasfilm in a press release. "It allows Lucasfilm to connect directly with the thousands of fans who have given their dedication and support to the world of
Star Wars
over the years, and is the perfect opportunity for us to give something back."
2015's
Star Wars
Celebration took place in Anaheim, CA, and debuted things like the second
Force Awakens
trailer,
Star Wars Battlefront
videogame, and much more.
Star Wars
Celebration 2016 is in London July 15-17.
JJ ABRAMS JOINS LIN-MANUEL MIRANDA FOR LIVE MAY THE FOURTH PERFORMANCE
05/04/16 @ 4:18 pm EST
Source:
Comicbook
| Categories:
Star Wars
|
Comments
(0) |
E-mail Article
|
Add a Comment
Hamilton
is the hottest ticket in town, with legions of fans lining up outside the theater on Broadway every morning, hoping desperately to get a lottery ticket. Lin-Manuel Miranda, the writer of the Tony-nominated musical, also wrote a song for
Star Wars: The Force Awakens
.
This morning, for May the Fourth,
Star Wars
Day, he was joined by musicians from the show and writer/director J.J. Abrams for a special live performance of that full song. It played during the "Cantina scene" at Maz Kanata's castle on Takodana. Miranda explained that the song is written in Huttese, and essentially is "an intergalactic Shaggy cover" with similar content to "It Wasn't Me."
Video:
https://youtu.be/7Sagk5uKEtQ
NEW TEENAGE MUTANT NINJA TURTLES TRAILER RELEASED
05/04/16 @ 3:57 pm EST
Source:
Comicbook
| Categories:
TMNT
|
Comments
(0) |
E-mail Article
|
Add a Comment
A new
Teenage Mutant Ninja Turtles: Out of the Shadows
trailer has dropped, and with it, a closer look at the Turtle Van and series staples Bebop and Rocksteady.
Video:
https://youtu.be/pXZnASx3ojQ
FROZEN BLACKJACK WITH CHRIS EVANS
05/04/16 @ 3:53 pm EST
Source:
You Tube
| Categories:
Captain America
|
Comments
(0) |
E-mail Article
|
Add a Comment
While promoting "Captain America: Civil War" on the Tonight Show, Cp himself Chris Evans and host Jimmy Fallon compete in an icy twist on blackjack, where the loser of each round gets a pitcher of ice water funneled into their pants by the winner.
Video:
https://youtu.be/7cvWsNEyBm8