WRITER BRANDON JERWA JOINS VAMPIRELLA!!! VAMPIRELLA #21 HITS COMIC STORES JULY 2012!!!
05/04/12 @ 4:36 pm EST
Source:
Dynamite Entertainmnet
|
Comments
(0) |
E-mail Article
|
Add a Comment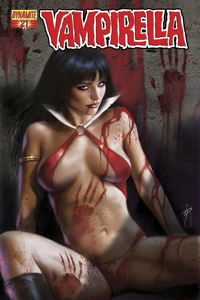 Vampirella gains a new writer this July with Brandon Jerwa! In Brandon's first issue, #21, needs something else here as after here the "after" should start the new sentence. After the startling events of last issue, Vampirella's ready to put everything on the line in an attempt to save one soul and destroy another. Heroes and villains alike are playing toward their own endgame, and the cards are turning with a deadly quickness. We're not kidding when we say that BIG changes are coming, and it all starts here with Part 1 of INQUISITION! Be sure to pick up Vampirella at this great jumping-on point with issue #21!
"I've been a fan of Eric Trautmann's Vampirella since the first issue, and given our ongoing collaboration, this might be one of the easiest handoffs in the history of comics," says writer Brandon Jerwa. "Will my Vampirella book be different? Absolutely. Will I be undoing what has come before? No way. Dynamite has a great franchise here, and I'm going to do my best to turn the amps up to eleven!"
"Eric's told all the stories that he wanted to tell and it's been a great ride. He helped us re-introduce Vampirella and we have been very happy with his stories and we're sorry to see him go," adds Dynamite Entertainment President and Publisher Nick Barrucci. "But Brandon Jerwa has big plans for the series, and it's incredible! I don't want to give too much away but it's a great new direction and fans will be happy."
Brandon Jerwa's comic book career began in 2003, when he submitted a script to Devil's Due Publishing that was accepted, and was eventually published in G.I. Joe: Frontline #11-14. Soon afterwards, he became the main writer on G.I. Joe: A Real American Hero and also wrote several G.I. Joe miniseries. On May 18, 2006, Brandon was featured on episode #24 of the Game Show Network's I've Got a Secret; his secret being that in honor of his work on the G.I. Joe comics, Hasbro used his face as the basis for the G.I. Joe action figure Dragonsky. In 2006 and 2007, Jerwa began writing for Dynamite Entertainment, working on the series Highlander, co-writing the first four issues with Michael Avon Oeming before moving on to a prolific run on Battlestar Galactica. Jerwa and Eric Trautmann collaborated on a project called Wide Awake, which appeared first as a short story in Popgun Vol. 2, then as a Free Comic Book Day special, and then later as a free webcomic. In 2009, the duo pitched an idea for a graphic novel to DC's imprint Vertigo, which was accepted, and soon after Jerwa was contacted about working with DC directly. Jerwa's first work for DC Comics was in September 2009 as the writer of the Inferno co-feature in The Shield, a monthly series that introduced re-imagined versions of the Red Circle Comics superhero characters into the DC Universe.
Brandon Jerwa currently writes Pantha in addition to Vampirella for Dynamite Entertainment!
Become our fan on Facebook at
facebook.com/DynamiteComics
Join the conversation on Dynamite Entertainment's twitter page at
http://twitter.com/DynamiteComics
To find a comic shop near you, call 1-888-comicbook or visit
www.comicshoplocator.com
VALIANT UNVEILS NEW COVER PROCESS WITH BOOK OF DEATH #1
05/23/15 @ 9:53 pm EST
Source:
Bleeding Cool
| Categories:
MIsc
|
Comments
(0) |
E-mail Article
|
Add a Comment
Valiant will be unveiling a new deluxe ultra-coated cover process this July with Book Of Death #1.

The process is said to feature alternating matte and varnish finished on heavyweight cover stock. So retailers can get an idea of what these covers are like, the publisher will be sending out sample printings of Book Of Death #1 with the deluxe ultra-coated covers (can we get an acronym or knickname for this) before June 22nd, the books final order cut-off date.

For fans to get a look at Valiant's new summer event, there will be Inside the Book of Death, a six-page preview running in the Valiant titles shipping in June.

Book of Death #1 is written by Robert Venditti and drawn by Robert Gill and Doug Braithwaite

.
DENVER COMIC CON '15: BRIAN VENEGAS BRINGS ROTORO
05/23/15 @ 9:29 pm EST
Source:
Bleeding Cool
| Categories:
MIsc
|
Comments
(0) |
E-mail Article
|
Add a Comment
Local comic creator
Brian Venegas
is taking his new comic book to Denver Comic Con…
Brian explains:
I started experimenting with the idea of the Rotoro project about two years ago after hearing stories about my grandfather who was born in Zacatecas Mexico in 1878. That's right, 1878. He died the year I was born and was well into his 90s at the time. There was always such a sense of myth and legend in these tales, and it inspired me to create a graphic novel dedicated to the history and culture of Mexico. Some of these stories are sad, but as I discovered in my youth, death and sadness are an integral part of Mexican storytelling. I value this, and in response created Rotoro, a character that is thrust into the vast unknown reaches of what it means to be human. For better, and worse.
Here's a quick peek at the
Rotoro.
DENVER COMIC CON '15: IN THE WORLD OF DC BOMBSHELLS, THE WAYNES LIVED....
05/23/15 @ 9:07 pm EST
Source:
Bleeding Cool
| Categories:
DC
|
Comments
(0) |
E-mail Article
|
Add a Comment
At the DC All Access Panel at Denver Comic Con, writer
Marguerite Bennett
revealed that in the world of the
DC Bombshells
, based on the art of Ant Lucia and set in an alternate World War II, Bruce Wayne's parents were never killed. Instead they were saved by Batwoman…
So there is no Batman.
Bennett says that the "whole conceit of the story is that heroines came first, that there were no women who were derivative of their male counterparts."
The series begins in August.
DENVER COMIC CON '15: THE OLD DC COMICS CHARACTERS WILL SURVIVE THE CONVERGENCE
05/23/15 @ 9:06 pm EST
Source:
Bleeding Cool
| Categories:
DC
|
Comments
(0) |
E-mail Article
|
Add a Comment
Bleeding Cool recently reported that the many different worlds collected on the world of the
Convergence
would be seen again after the event, despite original plans for them not to.
Well, at the DC All Access panel at Denver Comic Con, Convergence writer
Jeff King
stated that the after the Convergence, "Every character will now be available to storytellers. We won't see them all right away, but we will have the opportunity to bring them together again."
Though it seems he was then told he shouldn't have said ir. Oops…
So there you go, folks. They'll be back.
DENVER COMIC CON '15: CREATORS MAKE IT TO AVATAR'S BOOTH
05/23/15 @ 9:06 pm EST
Source:
Bleeding Cool
| Categories:
MIsc
|
Comments
(0) |
E-mail Article
|
Add a Comment
Avatar Press has brought the heavy talent to Denver Comic Con, including Max Brooks, Kieron Gillen, Garth Ennis, and Jacen Burrows, all doing signings and panels at the show. At the Avatar booth today (Saturday), things were heating up for a massive signing of all 4 guests around midday.

Witness:

First, Max Brooks:


Then, Kieron Gillen:


Jacen Burrows and Garth Ennis faced the crowds cheerfully:


Jacen chatted with fans about the new book finally out!


And Garth was rather patient with fans of his many, many works wanting to talk about all of them, pretty much.


(Avatar Press is the parent company to Bleeding Cool, our source for these photos.)
DENVER COMIC CON '15: THE PROTOMEN OPEN (VIDEO)
05/23/15 @ 9:07 pm EST
Source:
Bleeding Cool
| Categories:
MIsc
|
Comments
(0) |
E-mail Article
|
Add a Comment
At Denver Comic Con's Opening Ceremonies Friday, seeing The Protomen perform was quite impressive for many. They have managed to capture a lot of the personality of the convention already and were a great choice to kick off convention events, reported Bleeding Cool.
Here's a video we took of the opening song they played, in part:
https://youtu.be/a0fjK6CnUNk
DOUG MURRAY ON BRINGING A TOUCH OF LOVECRAFT TO JUNGLE GIRL
05/23/15 @ 3:16 am EST
Source:
Bleeding Cool
| Categories:
Jungle Girl
|
Comments
(0) |
E-mail Article
|
Add a Comment
Nancy Collins,
writer of
Swords of Sorrow: Vampirella/Jennifer Blood
#1, talks with writer
Doug Murray
about
Jungle Girl: Season 3
#2, both on sale now. Cover art by
Frank Cho
.
NANCY COLLINS: How do you like working with your artist, Jack Jadson?DOUG MURRAY:
I really didn't work as closely with the artist as I would have liked. I generally work full-script which is what I did in this series. The first time I saw actual art was after Jack had done his pencils. Still, I had no real problems with anything and only suggested (I think) one or two changes. I would be happy to work with Jack on another project in the future.
NC: Does Jana the Jungle Girl normally ride a T-Rex into battle? If so, is the one we see in #2 a domesticated pet or free-range?DM:
The Tree People (Jana's tribe) are very much into green energy and free-range food. Thus Jana kills her meat in the wild—finding it on the hoof and taking it down.Seriously though, in this series I have been subscribing to the current theory that the T-Rex was a carrion eater and not a hunter—thus Jana isn't really afraid of the big guy (although the dirt people are), thus riding one into battle gives her an added 'WOW' factor.
NC: What's the relationship between Jana and Togg? Is he her Tonto/Kato counterpart, or something more?DM:
I wrote Togg as her Tonto/Kato—Togg sees Jana as something special—the daughter of the medicine-father who came from somewhere far away. He is her friend—but at some level, he worships her.
NC: Do the alien Old Ones mentioned in your story have any connection to H.P. Lovecraft's Old Ones?DM:
I'm a huge fan of Lovecraft so, the Old Ones have a lot to do with the Lovecraftian characters—although not as much as I would like—call it an 'homage'.
NC: And last but not least, does Jungle Girl: Season 3 take place before or after the events in the Swords of Sorrow cross-over event?DM:
I have to assume it takes place before—as the reader will discover when he gets to the end of issue #4. Something happens there that would make it impossible for
Swords of Sorrow
to come after.
DF FRIDAY NIGHT REVIEW: A-FORCE #1
05/23/15 @ 3:00 am EST
Source:
Dynamic Forces
| Categories:
Avengers
|
Comments
(0) |
E-mail Article
|
Add a Comment
By BYRON BREWER
It's not often that I say this about the first issue of any magazine, but the debut issue of
A-Force
was nearly perfect. I have a hard time finding fault with anything.
If you are not following the
Secret Wars
event, there was enough information for you to keep up with this story of an all-female Avengers team that acts as a protector of a luscious island hideaway. And if you are following it, you cash in on the extra bonus of being a new reader with a richer view.
Writers G. Willow Wilson and Marguerite Bennett start the reader off with action from the beginning, and we get to see all of these proud, beautiful women working as one … which is what Avengers have always done, right? In saving this island paradise, Ms. America apparently breaks the law and justice is swift in coming at the hands of the Thors (Sam Wilson is a Thor?).
Voices are correct, emotions ring true, and even though the newness of this universe makes the feel a little strange, it is not shockingly so. It has been a long time since I have seen this competence from She-Hulk, maybe all the way back to
Fantastic Four
days.
There were hints of things to come, but there was also an overall prevailing feeling of teamwork, of respect, of justice and of hope all these ladies shared, and that is certainly one of the linchpins around which any Avengers saga rotates.
And the art! Jorge Molina, Craig Yeung, Laura Martin and Matt Milla do it right and capture the essences of these women both as a team and as individuals. The splash page of them zooming in alone is worth the price of admission, and that is one bad-ass shark thingy!
I did not have any hopes, one way or the other, for this book because I am not a big supporter of
Secret Wars
and all the messing it is doing with my 616. Still, this does give a nice presentation of what may be coming.
And it is certainly one helluva book!
MATT FRACTION REFLECTS ON 'HAWKEYE,' OFFERS SEX TIPS ON 'LATE NIGHT'
05/22/15 @ 9:46 pm EST
Source:
Comic Book Resources
| Categories:
MIsc
|
Comments
(0) |
E-mail Article
|
Add a Comment
Writer Matt Fraction appeared last night on NBC's Late Night with Seth Meyers, where he offered sex advice from
Just the Tips
, the book he co-authored with his
Sex Criminals
collaborator Chip Zdarsky, and discussed the inspiration behind his run on Marvel's
Hawkeye
.
"The book was really about what Hawkeye does when he goes home to do his laundry," Fraction explained. "It's like Hawkeye on his day off. To me he's the human heart and soul of the Avengers, so it was fun to do a book like that about somebody who compulsively can't stop helping people, even when he's a human crap-sack tire fire of a human being. That's on the back of the action figure: 'human crap-sack.'"
Fraction's appearance on Late Night follows Joe Hill's in November and Brian Michael Bendis' in January.
Watch most of the Fraction interview right here:
https://www.youtube.com/watch?v=VpVIfaSX77o
BREAKING: OPENING CEREMONIES AT DENVER COMIC CON
05/22/15 @ 9:27 pm EST
Source:
Bleeding Cool
| Categories:
MIsc
|
Comments
(0) |
E-mail Article
|
Add a Comment
Not very many cons have Opening Ceremonies, but
Denver Comic Con
sure planned a big event, complete with geek music from the Proto Men. All passholders were permitted entry to the bash, but advised to turn up early to get access since though the area used for the event was large, every space has its limit. Some of the draw for coming to the event included receiving a swag bag from Geek Fuel, a subscription service, getting early access to DCC t-shirts and memorabilia, and a special Hard Rock Cafe pin available for the con. The draw was significant, as the event did reach its capacity by around an hour before it began, with fans waiting in an alternate hall until it was time to be seated. The mood and atmosphere was very charged, clearly the attendees were ready to get this con started. Of course, for many this is their premier pop culture event of the year and tonight marks the beginning of their geek festival of the year.
Clips from fan-favorite films got the crowd cheering, including Avengers, Big Hero 6, The Princess Bride, The Lord of the Rings, and more. It became clear after awhile that these films and clips were all chosen because they corresponded to guests at the show!
In opening for the "coolest city in the world", to applause, fans were thanked for making the city special. The opening also introduced the idea of Pop Culture Classroom to the attendees, something all fans who have bought tickets have "contributed" to to make a difference "throughout the state" ... (Source: Bleeding Cool)