WRITER BRANDON JERWA JOINS VAMPIRELLA!!! VAMPIRELLA #21 HITS COMIC STORES JULY 2012!!!
05/04/12 @ 4:36 pm EST
Source:
Dynamite Entertainmnet
|
Comments
(0) |
E-mail Article
|
Add a Comment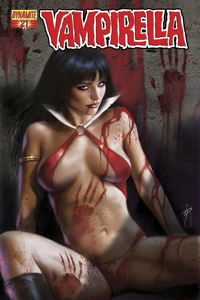 Vampirella gains a new writer this July with Brandon Jerwa! In Brandon's first issue, #21, needs something else here as after here the "after" should start the new sentence. After the startling events of last issue, Vampirella's ready to put everything on the line in an attempt to save one soul and destroy another. Heroes and villains alike are playing toward their own endgame, and the cards are turning with a deadly quickness. We're not kidding when we say that BIG changes are coming, and it all starts here with Part 1 of INQUISITION! Be sure to pick up Vampirella at this great jumping-on point with issue #21!
"I've been a fan of Eric Trautmann's Vampirella since the first issue, and given our ongoing collaboration, this might be one of the easiest handoffs in the history of comics," says writer Brandon Jerwa. "Will my Vampirella book be different? Absolutely. Will I be undoing what has come before? No way. Dynamite has a great franchise here, and I'm going to do my best to turn the amps up to eleven!"
"Eric's told all the stories that he wanted to tell and it's been a great ride. He helped us re-introduce Vampirella and we have been very happy with his stories and we're sorry to see him go," adds Dynamite Entertainment President and Publisher Nick Barrucci. "But Brandon Jerwa has big plans for the series, and it's incredible! I don't want to give too much away but it's a great new direction and fans will be happy."
Brandon Jerwa's comic book career began in 2003, when he submitted a script to Devil's Due Publishing that was accepted, and was eventually published in G.I. Joe: Frontline #11-14. Soon afterwards, he became the main writer on G.I. Joe: A Real American Hero and also wrote several G.I. Joe miniseries. On May 18, 2006, Brandon was featured on episode #24 of the Game Show Network's I've Got a Secret; his secret being that in honor of his work on the G.I. Joe comics, Hasbro used his face as the basis for the G.I. Joe action figure Dragonsky. In 2006 and 2007, Jerwa began writing for Dynamite Entertainment, working on the series Highlander, co-writing the first four issues with Michael Avon Oeming before moving on to a prolific run on Battlestar Galactica. Jerwa and Eric Trautmann collaborated on a project called Wide Awake, which appeared first as a short story in Popgun Vol. 2, then as a Free Comic Book Day special, and then later as a free webcomic. In 2009, the duo pitched an idea for a graphic novel to DC's imprint Vertigo, which was accepted, and soon after Jerwa was contacted about working with DC directly. Jerwa's first work for DC Comics was in September 2009 as the writer of the Inferno co-feature in The Shield, a monthly series that introduced re-imagined versions of the Red Circle Comics superhero characters into the DC Universe.
Brandon Jerwa currently writes Pantha in addition to Vampirella for Dynamite Entertainment!
Become our fan on Facebook at
facebook.com/DynamiteComics
Join the conversation on Dynamite Entertainment's twitter page at
http://twitter.com/DynamiteComics
To find a comic shop near you, call 1-888-comicbook or visit
www.comicshoplocator.com
DAVID AYER SHOOTS DOWN RUMOR THAT JOKER IS ACTUALLY JASON TODD
07/26/16 @ 3:41 pm EST
Source:
Comic Book Resources
| Categories:
Suicide Squad
|
Comments
(0) |
E-mail Article
|
Add a Comment
There were a lot of theories heading into "Batman v Superman: Dawn of Justice," and one of them caught a lot more traction among some circles because of its fascinating possibility: What if the Joker was actually a corrupted version of the second Robin, Jason Todd? We can now say that the rumor is definitely false, as confirmed by "Suicide Squad" director David Ayer.
Todd, in the comics, died at the hands (or crowbar, rather) of the Joker in the "Death of a Family" storyline. The rumor suggested that Jared Leto's Joker may have survived the assault, and driven mad, took up the guise of the Clown Prince of Crime. For evidence, fans of the theory pointed to Joker's cryptic tattoos as a sign, and took the following quote from Ben Affleck in "Batman v Superman" to back up the theory: "20 years in Gotham, how many good guys are left? How many stayed that way?"
While it's fun to think the theory is plausible, it's definitely not the case. Doing press for "Suicide Squad," Ayer was asked (via Chris Van Vliet) which "Suicide Squad" rumor he thought was the craziest. Ayer replied, "That the Joker is Jason Todd. It ain't the case -- he's not."
Check out Ayer's remarks (around the 3:25 mark) in the video here:
https://youtu.be/xSSNk5FZ2Jg
"Suicide Squad," based on the DC Comics team and starring Jared Leto as the Joker, Margot Robbie as Harley Quinn, Will Smith as Deadshot, Jai Courtney as Captain Boomerang, Cara Delevingne as Enchantress, Adewale Akinnuoye-Agbaje as Killer Croc, Karen Fukuhara as Katana, Joel Kinnaman as Rick Flag, Jay Hernandez as El Diablo and Adam Beach as Slipknot, is scheduled for release on Aug. 5, 2016.
"CAPTAIN MARVEL" WRITER DECONNICK COMMENTS ON BRIE LARSON CASTING
07/26/16 @ 3:34 pm EST
Source:
Comic Book Resources
| Categories:
Captain Marvel
|
Comments
(0) |
E-mail Article
|
Add a Comment
In front of a massive 6,000 person crowd in the infamous Hall H at Comic-Con International in San Diego, Marvel Studios announced that Brie Larson would be playing Carol Danvers in 2018's "Captain Marvel" film. The announcement was met with mostly positive buzz both in San Diego and online, yet some skeptics questioned the choice. Former "Captain Marvel" writer Kelly Sue DeConnick recently weighed in on the decision.
DeConnick was the first writer to put Carol Danvers -- formerly the superhero known as Ms. Marvel -- into the Captain's chair when she wrote a new "Captain Marvel" series for Marvel Comics in 2012. In a new interview with "Bitch Planet," but she still has some ideas about how Carol should look in costume on the big screen. "I love the helmet! That is not a universal opinion. After we left the book, they got rid of the helmet," said DeConnick. "I have a lot of boring continuity arguments on the history of the helmet and a list of reasons as to why the helmet exists. I want the helmet!"
Marvel's "Captain Marvel" flies into theaters July 6, 2018.
MATT RYAN IS JOHN CONSTANTINE IN "JUSTICE LEAGUE DARK" FIRST LOOK
07/26/16 @ 3:29 pm EST
Source:
Comic Book Resources
| Categories:
DC
|
Comments
(0) |
E-mail Article
|
Add a Comment
A first look at Warner Bros. Animation's upcoming "Justice League Dark" animated film has surfaced online.
Check out the new "Justice League Dark" video here:
https://youtu.be/cddLDL_kKOU
'JASON BOURNE' SHOULD LEAD BOX OFFICE
07/26/16 @ 3:25 pm EST
Source:
Deadline
| Categories:
MIsc
|
Comments
(0) |
E-mail Article
|
Add a Comment
This weekend, moviegoers will get their choice of three new films — the actioner
Jason Bourne, t
he comedy
Bad Moms
and the thriller
Nerve.
All are said to be decent films. First off,
Jason Bourne
returns with a vengeance this year, pulling together the combo of Matt Damon and director Paul Greengrass for the first time in nine years, and the industry is expecting a good turnout.
Universal is releasing the picture on the same date Paramount did last year for
Mission: Impossible – Rogue Nation,
which at the time looked like $35M on tracking and then ended up grossing $55.5M for its three-day weekend.
Jason Bourne
is tracking the same way as
Rogue Nation,
and Deadline expects an equally big opening on what is the fifth installment of the action franchise which is said to be higher in advanced ticket sales to
Rogue Nation
. We are also taking into account that Damon generates a better box office than Jeremy Renner, who starred last time out.
The film, which also stars Alicia Vikander, Julia Stiles and Tommy Lee Jones, opens at 7 PM Thursday in previews.The film is coming four years after Renner-toplining
The Bourne Legacy
. The actioner also opens in 46 territories this weekend including Australia, Brazil, South Korea and the UK and Ireland. The original group of
Bourne
films did better domestically than internationally, but when China's ears perked up, everything changed.
Jason Bourne
is also expected to suck the demo out of this past weekend's opener
Star Trek Beyond
which could drop 60% in its sophomore frame.
WHEDON, TANCHAROEN REVEAL HOW "AGENTS OF SHIELD" WILL MERGE SCIENCE & MAGIC
07/26/16 @ 3:18 pm EST
Source:
Comic Book Resources
| Categories:
SHIELD
|
Comments
(0) |
E-mail Article
|
Add a Comment
It's official: Ghost Rider will burst onto "Agents of S.H.I.E.L.D." this fall. However, his arrival seems like a complete change of direction for the series, which introduced Life Model Decoys (LMDs) at the end of Season 3. At Comic-Con International in San Diego, executive producers Jed Whedon andMaurissa Tancharoen tackled the subject and discussed their approach to these two disparate topics.
"You'll see this in the movies that are coming," Whedon shared. "In 'Thor,' they famously said, 'Magic is just science we don't understand.' The MCU started with 'Iron Man,' who is a guy who built a suit -- a smart guy built a suit. And then when you put Thor into that world, it started to be like, 'How are these things going to work?' And they worked! So they started to open up into the world of the fantastic, and we will be doing that this year in terms of sort of trying to blend the two and trying to see if there are things we don't understand, why, and then meanwhile we're building things that we do understand, that maybe we start to lose our understanding of them."
"[How to blend these subjects] is exactly what our team may be asking as they encounter something like Ghost Rider. We'll basically be trying to science why," Tancharoen added.
"It's the question we were asking in the room of writers on day one," Whedon agreed.
"I think that we're going to slowly start to develop some very advanced technology this season, and maybe -- as that becomes more advanced and we have strange people… possessed people -- those things somehow merge down the line," he continued.
"We've dealt with normal people who want to… be more than just a man, like Mike Peterson. With Coulson, he has a robot hand," Tancharoen explained. "Then we meet [Holden] Radcliffe, who's definitely into body modifications. This is just sort of a progression and extension of that."
Head of Marvel Television Jeph Loeb also addressed the "Squadron Supreme" Easter egg in the Season 3 finale, where Holden Radcliffe named his LMD AIDA, after Tom Thumb's AI in the cult classic comic series.
Asked if Season 4 would include any other elements from the 1985 miniseries by Mark Gruenwald, Bob Hall and Paul Ryan, Loeb offered an uncharacteristically brief response: "Let's just say nothing is off the table."
Starring Clark Gregg, Chloe Bennet and Ming-Na Wen, "Agents of S.H.I.E.L.D" returns Tuesday, September 20 at 10 pm EST on ABC.
DIDIO & LEE SAYS DC WILL TAKE THE TIME TO DO "WATCHMEN"/REBIRTH STORY 'RIGHT'
07/26/16 @ 3:12 pm EST
Source:
Comic Book Resources
| Categories:
DC
|
Comments
(0) |
E-mail Article
|
Add a Comment
May's "DC Universe: Rebirth" one-shot written by Geoff Johns and illustrated by Gary Frank,Ethan Van Sciver, Ivan Reis ended with a major revelation that helped propel DC Comics into its current "Rebirth" publishing era: That the ultra-powerful Dr. Manhattan ofAlan Moore and Dave Gibbons' seminal "Watchmen" series was responsible for 2011's "New 52" continuity shift by stealing five years of history for an unknown reason, and that the Comedian's smiley face button -- the most iconic piece of "Watchmen" imagery -- had somehow made its way into the Batcave.
That was both a major surprise -- despite residing under the same corporate ownership, there had never even been hints of interaction between the world of "Watchmen" and the DC Universe before -- and a controversial move, given the vocal disdain that Moore has had for any subsequent "Watchmen"-related projects. Early "Rebirth" comics -- namely "The Flash" and "Titans" -- have included some follow-up to the development, but it was said from the start that it'll likely be a while before the story is fully explored. According to DC Co-Publishers Dan DiDio and Jim Lee at Comic-Con International in San Diego last week, they're waiting to tell that story the right way.
"When we went out and we set up Rebirth, we set up a two-year story," DiDio told CBR News during an interview at DC's booth on the Comic-Con floor. "A lot of the questions that are out there will be answered during that two-year plan. The goal is not to answer every question in the beginning, but to roll things out and continue to excite people all the way through. You'll see a lot of twists and turns coming out over the next year or so that will get you to, hopefully, where you want to be."
As Lee told it, despite being introduced in the "DC Universe: Rebirth" one-shot, "Watchmen" seeping into the DCU is effectively separate from the stated main goal of the Rebirth relaunch, which is getting DC's core superheroes back to more engaging and recognizable depictions.
"It's not like the success of Rebirth or the whole creative positioning of Rebirth swings off the revelation of that meeting, or the hint of the meeting," Lee told CBR. "It's almost independent of what Geoff did in the Rebirth special. In a sense, you don't have that ticking clock of, 'What is behind all these teases?' The books really have gone back to the core conceits of the characters, and constructed the most idealized versions of these characters and their continuities moving forward. That gives us the time to do Geoff's story right."
"Time to do Geoff's story right" certainly suggests that Johns himself will be the writer to finish the story he set up in the "Rebirth" one-shot. That likely also gives some insight into timing, as the writer/DC Entertainment Chief Creative Officer has said that, due to his increasingly busy schedule -- including, as widely reported, a leadership role with DC Films -- the "Rebirth" one-shot will be the last comic book he'll write for the foreseeable future.
This past weekend at Comic-Con, Johns told fans during a Rebirth-focused panel that the one-shot would be his last comic "for a while." "I've never been nervous about a comic book coming out before, but I was nervous for this one," Johns told the crowd.
NEW RIVERDALE STILL FEATURES K.J. APA AS ARCHIE ANDREWS & LUKE PERRY AS FRED ANDREWS
07/26/16 @ 10:19 am EST
Source:
Comicbook
| Categories:
Archie
|
Comments
(0) |
E-mail Article
|
Add a Comment
Even though
Riverdale
won't premiere until next year, The CW Television Network was nice enough to release a new official still from its pilot.
The image features a new look at K.J. Apa as the iconic redheaded-teenager, Archie Andrews, and our first look at Luke Perry as his easygoing father, Fred Andrews. Trying to sell us on their familial relationship, the actors are sporting matching outfits, which consist of a navy blue blazer, light-blue dress shirt, and blue jeans.
Based on the dark clothes and somber expressions they are wearing, along with a police car in the background and the fact that Mary Andrews hasn't been cast in the show, could this be a funeral for Archie's mother?
KATANA IS THE DEADLIEST MEMBER OF THE SUICIDE SQUAD
07/26/16 @ 10:15 am EST
Source:
Comicbook
| Categories:
Suicide Squad
|
Comments
(0) |
E-mail Article
|
Add a Comment
There's no doubt that Katana is a lethal fighter. She's an exquisite martial artist and swordswoman. And like any good hero, she has a painful and tragic backstory. How much of it will we see in the film? That hasn't been revealed, but we do know that she will be a widow and communicate with her dead husband via Soultaker, the mystical sword that traps the souls of its victims.
The threat of having your soul stuck in a sword for eternity makes Katana a very scary member of the Suicide Squad, but Karen Fukuhara, the 24-year-old actress playing the character, believes it is Katana's lack of concern for her own well-being that makes her the deadliest team member.
"I think she is the deadliest. Yeah. She is the deadliest. Yeah," Fukuhara told Comicbook.com and other press during a
Suicide Squad
set visit. "Fact. I could fight it with you. Her character, she's not into fighting for herself. That's the giri-ninjo part; it's for someone else. When someone doesn't care about her own well being, to kill someone else, and to protect someone, that makes her the scariest one, because she doesn't ... Try fighting someone that doesn't care about what the outcome is for them. You're going against someone that is going to give it their all, no matter how many times you shoot at them, and that's why she's so badass and awesome."
What also makes Katana stand out from the rest of the team is that she's not a villain. She volunteered to be there. "She's the protector of Rick Flag," Fukuhara explained, "so I'd like to think she's still one of the only characters that's so-called good or heroic."
How well does Katana interact with the other Suicide Squad members? "Throughout the movie, it grows," Fukuhara shared. "In the beginning it's not so friendly. She's her own person, she's a lone wolf. I think by the end of it she finds her family and that's her story and her journey to overcome trust issues as well, in becoming a part of a team and a squad, per se."
JAI COURTNEY IS PRACTICALLY PLAYING HIMSELF AS CAPTAIN BOOMERANG
07/26/16 @ 10:11 am EST
Source:
Comicbook
| Categories:
Suicide Squad
|
Comments
(0) |
E-mail Article
|
Add a Comment
Like many foreign actors working in Hollywood, Jai Courtney has often spoken with an American accent while appearing in American-produced films, such as
Jack Reacher, A Good Day to Die Hard, Terminator Genisys,
and the
Divergent
film series. But because his
Suicide Squad
character, Captain Boomerang (a.k.a. Digger Harkness), is from Australia as well, Courtney was able to utilize his natural accent. On top of that, Courtney was encouraged by director David Ayer (
Fury
) to be his zany self, which we usually only get to see when the 30-year-old thespian is taking part in an interview.
"It's funny because it's, yeah, I mean there's something kind of interesting about, you know, I feel closer to this than anything else," Courtney admitted to ComicBook.com and other press at a
Suicide Squad
set visit, "but from a sort of performance perspective I mean it may feel like, I mean it's more of a character than anything I've had the opportunity to take on. It's actually closer to myself than any other role I've ever played."
And why does he feel that way? "Because I'm a bogan piece of sh-t," he joked.
By the way, "bogan" is an Australian and New Zealand slang word used to describe a person of lower working-class background who speaks, dresses, and behaves in an unrefined or unsophisticated manner.
Suicide Squad
producers Richard Suckle and Andy Horwitz also believe Courtney's version of Boomerang closely resembles the actor's genuinely outrageous personality.
"Jai Courtney, Captain Boomerang. A great actor and a great guy," Suckle praised. "One of the fun things about this character is that I've not seen every film Jai has made but I've probably seen most of them and I don't think he's ever been able to play a role that allows him to really be funny and he's incredibly funny. You can just look at him and I'm sure the way you would describe him without me telling you what he does in the movie would probably be very close to what I'm about to say. He is a wise ass. He's a hunk to a certain extent and he's got an incredible wise cracking sense of humor. At the same time, he is equally dangerous and has these very dangerous boomerangs, one of which he's holding. Now there is a boomerang that is actually a drone boomerang, which plays a role in the movie. He's just a fun character that shakes things up and also has a level of unpredictability as well."
"It's the first time Jai is really going to use his real accent in a movie, and we always say this, Jai is playing Jai," Horwitz added. "His character is based on reality in his real life. He's a whole lot of fun in real life and he's a jokester and he's constantly stirring things up."
POKEMON GO PLAYER SHOOTS WOULD-BE ROBBER
07/26/16 @ 10:06 am EST
Source:
Comicbook
| Categories:
Pokemon
|
Comments
(0) |
E-mail Article
|
Add a Comment
A shootout broke out yesterday after a man attempted to rob a group playing
Pokemon Go
. The Associated Press reports that two people were injured in Las Vegas, NV when a man and an underage driver approached a group of
Pokemon Go
players at a local park and demanded their possessions at gunpoint. One of the players pulled out his own concealed weapon, leading to the two exchanging gunfire.
According to the report, both the alleged robber and one of the
Pokemon Go
players were injured with non-life threatening injuries. A police spokesperson said that charges are expected to be filed against the alleged robber, who was found at a local hospital, and his accomplice.
The shootout occurred at 4 AM at Gary Reese Freedom Park, a popular spot for catching Magikarp. It's unclear at this time if the alleged robber targeted the park because of
Pokemon Go
, or if this was a crime of opportunity.
This isn't the first time people have tried to rob
Pokemon Go
players. Earlier this month, a group of teens used Lure Modules to attract players to a parking lot near St. Louis to rob them. Those teens were quickly apprehended and arrested by police.