WRITER BRANDON JERWA JOINS VAMPIRELLA!!! VAMPIRELLA #21 HITS COMIC STORES JULY 2012!!!
05/04/12 @ 4:36 pm EST
Source:
Dynamite Entertainmnet
|
Comments
(0) |
E-mail Article
|
Add a Comment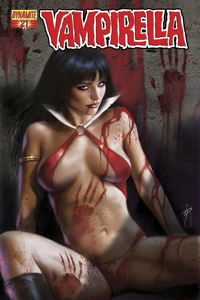 Vampirella gains a new writer this July with Brandon Jerwa! In Brandon's first issue, #21, needs something else here as after here the "after" should start the new sentence. After the startling events of last issue, Vampirella's ready to put everything on the line in an attempt to save one soul and destroy another. Heroes and villains alike are playing toward their own endgame, and the cards are turning with a deadly quickness. We're not kidding when we say that BIG changes are coming, and it all starts here with Part 1 of INQUISITION! Be sure to pick up Vampirella at this great jumping-on point with issue #21!
"I've been a fan of Eric Trautmann's Vampirella since the first issue, and given our ongoing collaboration, this might be one of the easiest handoffs in the history of comics," says writer Brandon Jerwa. "Will my Vampirella book be different? Absolutely. Will I be undoing what has come before? No way. Dynamite has a great franchise here, and I'm going to do my best to turn the amps up to eleven!"
"Eric's told all the stories that he wanted to tell and it's been a great ride. He helped us re-introduce Vampirella and we have been very happy with his stories and we're sorry to see him go," adds Dynamite Entertainment President and Publisher Nick Barrucci. "But Brandon Jerwa has big plans for the series, and it's incredible! I don't want to give too much away but it's a great new direction and fans will be happy."
Brandon Jerwa's comic book career began in 2003, when he submitted a script to Devil's Due Publishing that was accepted, and was eventually published in G.I. Joe: Frontline #11-14. Soon afterwards, he became the main writer on G.I. Joe: A Real American Hero and also wrote several G.I. Joe miniseries. On May 18, 2006, Brandon was featured on episode #24 of the Game Show Network's I've Got a Secret; his secret being that in honor of his work on the G.I. Joe comics, Hasbro used his face as the basis for the G.I. Joe action figure Dragonsky. In 2006 and 2007, Jerwa began writing for Dynamite Entertainment, working on the series Highlander, co-writing the first four issues with Michael Avon Oeming before moving on to a prolific run on Battlestar Galactica. Jerwa and Eric Trautmann collaborated on a project called Wide Awake, which appeared first as a short story in Popgun Vol. 2, then as a Free Comic Book Day special, and then later as a free webcomic. In 2009, the duo pitched an idea for a graphic novel to DC's imprint Vertigo, which was accepted, and soon after Jerwa was contacted about working with DC directly. Jerwa's first work for DC Comics was in September 2009 as the writer of the Inferno co-feature in The Shield, a monthly series that introduced re-imagined versions of the Red Circle Comics superhero characters into the DC Universe.
Brandon Jerwa currently writes Pantha in addition to Vampirella for Dynamite Entertainment!
Become our fan on Facebook at
facebook.com/DynamiteComics
Join the conversation on Dynamite Entertainment's twitter page at
http://twitter.com/DynamiteComics
To find a comic shop near you, call 1-888-comicbook or visit
www.comicshoplocator.com
NYCC '15: "THE WALKING DEAD" SETS DATE FOR MIDSEASON RETURN
10/10/15 @ 1:45 pm EST
Source:
Comic Book Resources
| Categories:
Walking Dead
|
Comments
(0) |
E-mail Article
|
Add a Comment
Fans of "The Walking Dead" were given an early, blood Valentine last night at New York Comic Con: the date for the midseason premiere of AMC's hit zombie drama.
Before the sixth season season
officially
kicks off Sunday, we already know will return from its winter hiatus on Sunday, Feb. 14. Yes, Valentine's Day.
The announcement was made Friday during the massive premiere event at Madison Square Garden in New York City, where more than 15,000 fans gathered with the show's stars, creatorRobert Kirkman, host Yvette Nicole Brown ("Community") and more (including
past
cast members).
The sixth season of "The Walking Dead" makes its broadcast premiere Sunday at 9 p.m. ET/PT on AMC.
NYCC '15: ARCHIE FOREVER PANEL WAS STANDING ROOM ONLY
10/10/15 @ 1:35 pm EST
Source:
Bleeding Cool
| Categories:
Archie
|
Comments
(0) |
E-mail Article
|
Add a Comment
The Archie Forever panel was held Friday afternoon at the New York Comic Con. The room was filled with fans. Alex Segura (editor) moderated the panel that included Mike Pellerito (president of Archie comics), John Goldwater (CEO/Publisher), Chip Zdarsky (Jughead, writer), Erica Henderson (Jughead, artist), Roberto Aguirre-Sacasa (Archie Afterlife, writer), Dan Parent (Kevin Keller, writer), Victor Gorelick (Co-President), Robert Hack (Sabrina, artist).
The panel started with talk about the new Jughead series from Chip Zdarsky and Erica Henderson. Just the mention of the book got a great response from the crowd. Chip told the story of how he got the job. Chip had reached out to editor Alex Segura about doing a variant cover for the Archie relaunch. This conversation ended up in Chip being offered the writing job for Jughead. Erica Henderson signed on to the book as soon as she heard Chip was writing. Chip said that writing dialogue for Jughead just comes naturally to him. Growing up he's tried to emulate Jughead for years. Chip also talked about how each issue of the series will feature a fantasy sequence. This gives Chip the freedom to incorporate some great things like the Super Teens, Time Police, and Agents of Riverdale.Next was some news about the new Archie relaunch. Once the topic of the new Archie comic came up John Goldwater was quick to say that Archie: Afterlife really made this relaunch possible. The success of that book really showed that fans are willing to check out these books when you put top talent on them. Annie Wu (Black Canary, artist) will be drawing issue #4 of Archie. Issue #5 & #6 will be drawn by Veronica Fish. The first three issues will be collected in a Collector's Edition with a new cover by Fiona Staples.The Archie Horror books were up next. Fans were assured that Archie: Afterlife #9 is written and is now in the hands of artist Francesco Francavilla. Because of the long wait the book will be an oversized edition. Fans can think of it as #9.5. The upcoming issue will focus on Reggie Mantle and Sabrina. Josie & the Pussycats will be featured in the book soon. A fan asked a question about a possible Sabrina movie, Roberto Aguirre-Sacasa was able to speak about it. Originally a movie was being developed and would feature an almost super-hero version of Sabrina. That version of the movie is no longer going to happen. It was teased that a very big announcement would be coming soon about a Sabrina movie. It appears that a horror themed movie that is more in line with the current series will be announced soon.
Dan Parent spoke about his upcoming Kevin Keller series. The book will follow an older version of Kevin living his life. Veronica will be featured as a supporting character in the book. Dan really enjoys how she works as a foil for Kevin. Dan also noted that he's keen on Cheryl Blossom and may incorporate her into the book.A new Betty & Veronica series by Adam Hughes was briefly talked about. They are still not ready to announce the full creative team. Mike Pellerito mentioned that he's aware of some the artist that Adam will be bringing to the book and he is very excited. More news on the series will be released soon.A fourth ongoing series was teased by editor Alex Segura. While it was not made official what the title would be, it was strongly suggested that the new ongoing would be Josie and the Pussycats. Other projects that were talked about were the new CW Riverdale series. Currently the pilot is written and directors are being looked at. The series will take a slightly darker take on the Archie characters. The show will focus on the Archie/Betty/Veronica love triangle. Fans can also expect to see The Blossom Twins, and Josie & the Pussycats. The upcoming Archie Musical was touched upon. Adam McKay (Anchorman, writer/director) is writing the book while they look for songwriters. (Source: Bleeding Cool)
NYCC '15: JOHN ROMITA JR DRAWS DARK KNIGHT III STORY
10/10/15 @ 1:24 pm EST
Source:
Bleeding Cool
| Categories:
DC
|
Comments
(0) |
E-mail Article
|
Add a Comment
We told you that
John Romita Jr
would be off Superman.
We told you it would be a Batbook.
We told you it would be
Dark Knight
…
And now at the Batman panel, it's been announced as a 8 page one-shot prequel to The Dark Knight Returns, written by
Frank Miller
and
Brian Azzarello.
(via Bleeding Cool)
DF SATURDAY MORNING REVIEW: DR. STRANGE #1
10/10/15 @ 11:58 am EST
Source:
Dynamic Forces
| Categories:
Doctor Strange
|
Comments
(0) |
E-mail Article
|
Add a Comment
By BYRON BREWER
I am a fan of Dr. Strange going back in same-day reading to the Roy Thomas / Gene Colan / Tom Palmer issues of the magazine, some of the most excellent comics ever produced, and of course I became a big fan of the Stan Lee / Steve Ditko era after discovering it. My point is I have waited a long time for Dr. Strange in a solo comic.
To use a phrase from one of my sports, Jason Aaron and Chris Bachalo hit this one out of the park!
You know, it really does not feel like a first issue, and yet it has everything, all the information for new readers and assurance for longtime readers, that the first issue of a previously published character usually has. But you don't notice it, and that is Jason Aaron's best magic trick.
Being a fan of his
Thor
, I was not as worried about Aaron as I usually am when someone begins a new chapter in the career of Dr. Strange. I really have had a lifelong love affair with this character, I think largely stemming from those early Thomas / Colan issues as well as the genius of Ditko and the emotion of Steve Englehart. So when I saw the script of Aaron and the creativity of Bachalo (he is doing his own colors, brilliant!), I knew I was in the right place. It's been a long wait.
I just really admire the way that Jason is handling
Dr. Strange
. Stephen's seeing to the mystical needs of the common man and the weirdness of both his own world and eternal Greenwich Village, the little things like using his Cloak of Levitation as a stair step down from the window, an appearance of the Eye of Agamotto when we are invited into Strange's world, without mentioning either devise, tells me that this team knows how to handle this character. It is not something every writer or artist, no matter how talented, can do. Marv Wolfman, a great writer with the exceptionally excellent
Tomb of Dracula
, was terrible on
Dr. Strange
.
It was great to see Dr. Strange actually reciting a spell again, although I could have used a longer one with a little more poetry but I think that was to show the readers that spells aren't always available for what he needs. For some reason, I don't know what it is, but I do like the bit with the weapons. We'll have to see how this goes.
The overall feel of this book is right, so right, and I hope it is commercially a success. Also I hope Dr. Strange doesn't get involved in too many "events" the tend to tear up the continuity of today's books. I'm still a print, month-to-month guy.
I also enjoy that Aaron is emphasizing the toll that being the Sorcerer Supreme takes on our hero. It's been done before, but never to this extent and or with this understanding.
Dr. Strange has a good chance to have a decent run this time around, and I hope his creators can accomplish that and I hope this book finds a great audience in today's market.
Me? I'm sold.
But ever since the final pages of this issue's main story, I keep checking my head. Hmm ...
NYCC '15: HOPELESS, LATOUR & THOMPSON CRAFT CROSS-DIMENSIONAL CHAOS IN "SPIDER-WOMEN" EVENT
10/10/15 @ 11:40 am EST
Source:
Comic Book Resources
| Categories:
Marvel
|
Comments
(0) |
E-mail Article
|
Add a Comment
Last year, Marvel Comics' "Spider-Verse" event saw spider-powered heroes from across the Multiverse band together to fight a family of dimension-hopping hunters intent on consuming their very souls. The conflict was harrowing, transforming many of its survivors from strangers into friends. One such world spanning friendship was formed between the Spider-Woman of Earth 616 (Jessica Drew), the Spider-Woman of Earth 65 (Gwen Stacy), and the new Earth 616 hero Silk (Cindy Moon) in the early issues of writer Dennis Hopeless' "Spider-Woman" series.
This spring, Hopeless teams with fellow writers Jason Latour and Robbie Thompson to revisit that friendship in a crossover event that begins in the upcoming "Spider-Women" #1. The story then runs through their respective "Spider-Woman," "Silk," and "Spider-Gwen" titles and concludes in "Spider-Women" #2. The crossover was announced by Marvel today at their "All-New, All-Different Marvel" panel at New York Comic Con.
"THE FLASH": HERE'S WHY JAY GARRICK NEEDS BARRY ALLEN'S HELP AGAINST ZOOM
10/10/15 @ 11:34 am EST
Source:
Comic Book Resources
| Categories:
Flash
|
Comments
(0) |
E-mail Article
|
Add a Comment


While it's no secret that Barry Allen (Grant Gustin) will have a new ally in Jay Garrick (Teddy Sears) when facing the threat of Zoom throughout "The Flash's" Season 2, beyond Jay's desire to stop the bad guy and go home, there's more to the story than has been revealed in the teasers and interviews leading up to next week's episode.

"Zoom stole my speed," Sears revealed in an interview with KTLA. "Season 1 ends, and there'ssort of a rift in the sky, and I get pulled up into it. Just prior to that, my speed is stolen, so the mission is, you know, to get my speed back. And then I need Barry to help me do that."

The title of the next episode, "The Flash of Two Worlds," was the story title for "Flash" #123, in which the Silver Age Flash Barry Allen met the Golden Age Flash Garrick for the very first time, opening up the multiverse for DC Comics and birthing a tradition of team-up adventures between the many Earths of the DC Comics Universe.
"GOOSEBUMPS: NIGHT OF SCARES" GAME TRAILER WILL LEAVE YOU SCREAMING
10/10/15 @ 11:29 am EST
Source:
Comic Book Resources
| Categories:
MIsc
|
Comments
(0) |
E-mail Article
|
Add a Comment
Gamers, beware, you're in for a scare! In preparation of Sony Pictures' "Goosebumps" movie starring Jack Black, Cosmic Forces and Free Range Games have developed "Goosebumps: Night of Scares," a mobile game based on the film and long-running series of Scholastic children's books. Available on iOS and Android devices October 15, "Night of Scares" willallow players to roam through the Goosebumps world, play hide-n-seek in writer R.L. Stine's spooky house and more.
The "Goosebumps" game will feature the voice of Jack Black in the role of R.L. Stine, along with Slappy the Dummy, the werewolves of Fever Swamp, trolls and other monsters taken straight from the classic series and ready to strike at any moment. The point-and-click survival game also offers three different styles of gameplay -- either through movement, using the touch screen, or combining the phone with a compatible VR headset for a 3D virtual reality gaming experience.
Trailer:
https://youtu.be/BbdGG1pdTPQ
NYCC '15: DC DEBUTS "DARK KNIGHT III" INTERIOR ART
10/10/15 @ 11:23 am EST
Source:
Comic Book Resources
| Categories:
DC
|
Comments
(0) |
E-mail Article
|
Add a Comment
After weeks of teases, DC Comics has debuted interior artwork from "Dark Knight III: The Master Race."
The pages by Andy Kubert are from the sequel's first issue, while the page by Frank Miller and Klaus Janson comes from the first issue's mini-comic, starring the Atom."Dark Knight III: The Master Race" is co-written by Frank Miller and Brian Azzarello with art by Andy Kubert and Klaus Janson. The sequel to the seminal "Dark Knight Returns" and its follow-up "The Dark Knight Strikes Again,"
"The Dark Knight III" #1 is scheduled for release on Nov. 25.
NYCC '15: INHUMANS MOVIE CANCELLED BY MARVEL?
10/09/15 @ 7:02 pm EST
Source:
Bleeding Cool
| Categories:
Marvel
|
Comments
(0) |
E-mail Article
|
Add a Comment
At New York Comic Con, it was announced that Marvel Studios would change the schedules of their first black solo lead and female solo lead films,
Black Panther
and
Captain Marvel
, to accommodate a new project,
Ant Man And The Wasp.
This seems like the first public sign of the new Marvel Studios, divorced from the rest of Marvel and reporting directly to Disney as part of a coup by Marvel movie boss
Kevin Feige
against Marvel CEO
Isaac Perlmutte
r.
The status of the planned
Inhumans
movie remained unchanged however, Publicly at least.
Bleeding Cool is reporting from "well connected sources" that the second shoe dropping will be the move of the planned
Inhumans
movie off the slate completely.
That was the film most pushed for by the Marvel TV side, which still reports to Perlmutter. And to which
Marvel's Agents Of SHIELD
has committed to providing three years worth of promotion towards in its storylines, establishing the Inhumans concept to the fans.
Until that point, the TV was mostly an afterthought, having to catch up to the film continuity rather han provide anything for the film's to use.
But, in the great war of Marvel Film Vs Marvel TV that the Kevin Feige coup began, it looks like the first casualty of that war is the
Inhumans
…
NYCC '15: DOMINIC COOPER, BRIDGET REGAN RETURN FOR "AGENT CARTER" SEASON 2
10/09/15 @ 6:50 pm EST
Source:
Comic Book Resources
| Categories:
Marvel
|
Comments
(0) |
E-mail Article
|
Add a Comment
Dominic Cooper and Bridget Regan will return for the second season of ABC's "Agent Carter," reprising their recurring roles as Howard Stark and Dottie Underwood.
The announcement was made this afternoon at New York Comic Con by Marvel Head of Television Jeph Loeb.
They'll be joined by new additions Wynn Everett ("The Newsroom"), Lotte Verbeek ("The Fault in Our Stars"), Currie Graham ("Pompeii") and Reggie Austin ("Devious Maids").
In the second season, Peggy Carter (Hayley Atwell) journeys from New York City to Los Angeles for her most dangerous assignment yet.
Everett will play actress and inventor Whitney Frost, better known as the Marvel Comics supervillain Madame Masque, while Verbeek will portray Ana Jarvis, the free-spirited wife of Edwin Jarvis (James D'Arcy), who befriends Peggy, and helps her adjust to life in Los Angeles.
Graham has been cast as high-powered businessman (and Whitney's husband) Calvin Chadwick, with Austin play Jason Wilkes, a charismatic scientist who charms Peggy.